Suzette Smith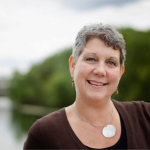 Industry: Small Business, Entrepreneurship, Home / Business Organizing
Expertise: non-profit management, program coordination, business, project management, organizing, systems processes
Position: Professional Organizer / Business Owner
Company: White Space
Hours: 40 – 50 hours / week
Education: Master in Business Administration (MBA)
Residence: Alexandria, VA (Washington DC Metro Area)
Hobbies: dancing, skiing, reading, movies, dinner parties, non-profit volunteering
Education and Career Background
As a single woman, I realized I would not be able to support myself well with my BS degree (from BYU), so I returned to school at age 30, receiving my MBA in 2002. I spent ten years working in the non-profit world as a Program Director and an Executive Director. During these years I honed my skills in project management, team leadership, financial management, and large program coordination.
Current
In 2012, I decided to create my own small business around one of my strong skills: organizing. (See White Space at whitespaceorganizing.com.) I work as a professional organizer primarily in homes – but also in home offices. In growing and building White Space, I have learned the value of structured networking. As a member of the National Association of Professional Organizers (NAPO), I learn continually from other successful organizers. In another networking group (Business Networkers International or BNI), I focus on marketing and referrals, which is important in growing and diversifying my client base. A final group, Executive Women International, helps me stabilize and mature my business. The group knowledge adds to the business skills I have established and builds revenues and profits.
In my organizing work, I focus on organizational flow, encouraging clients to create a physical space that works with their personal goals. I also work on system processes helping them to streamline email, files, and paperwork both physically and digitally. Purging and simplifying are other areas of expertise.
Tips and Advice
Starting and owning a small business takes discipline and focus. It requires networking and using your voice continually to promote the business. If you are a self-starter and can push forward through the initial small returns (without getting discouraged) toward a long term vision, this will be a good fit for you.
It helps to start with a secondary source of income while your business is growing and to have supportive friends and family who will encourage you. In these circumstances, success is more likely.
Self-employment gives a lot of flexibility and allows you to work toward goals that have meaning to YOU, but it involves a lot of uncertainty and risk.
Mentoring
My best professional / business mentor was my supervisor when I worked as a Project Director in a non-profit. She was hard on my work and expected high performance, but also gave me room to grow and allowed for error. She taught me to respect experience – and to communicate with a wide variety of audiences.
My best emotional mentor is a close friend who inquires about and supports my business continually. I can bounce ideas off her because she is intelligent. I can obtain specific feedback on strengths and weaknesses because she knows me personality.