Martha Harrison Stinson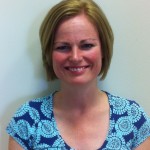 Industry: Federal Government Civil Service, Social Science Research
Expertise:  U.S. Census Bureau data, statistics, labor economics, SAS programming
Position: Economist
Company:  U.S. Census Bureau
Hours:  28-32 per week
Education:  Bachelors Degree, Economics Major, BYU (class of 1996);  Ph.D., Economics, Cornell University (graduated 2002)
Residence:  Alexandria, Virginia
Hobbies:  gardening, playing the piano, reading books (non-fiction, biographies, and children's fiction)
Education and Career Background 
I enrolled at BYU in the fall of 1990.  I registered very late and had a hard time finding available classes.  Consequently, I ended up in a 7 AM economics class.  I loved the class and did well and decided that economics would be my major if I could handle calculus.  After successfully completing a calculus class the next semester, I was on my way to an economics undergraduate degree with a minor in math.
I served a mission from July 1992 – January 1995 and then returned to BYU to finish my undergraduate degree.   I began my Ph.D. at Cornell University in the fall of 1996.  I spent three years in Ithaca, NY, and then my advisor was asked by the Census Bureau to go to Washington, D.C. to manage a new large-scale data project.  I went along as a graduate research assistant and was a student intern at Census.  During this time, I learned to write computer programs to manage large and complex data sets, and I wrote my dissertation using confidential Census data.  I also met my husband and got married in 2000.  As I neared completion of my dissertation, the Census Bureau offered me a permanent job.  I had two other job opportunities in the DC area, one at another government agency and one a university.  However, I decided to stay at Census because I wanted to use the data I had worked for several years to help build, and because I decided I did not want to take a tenure track position at the same time I wanted to have children.
My son was born in 2003 and the Census Bureau agreed I could work part-time.  Federal government pay for economists is significantly lower than the private or university sectors, so it is hard to hire qualified, well-trained people.  Census was anxious to have me stay since it would have been hard to replace me and hence they were willing to be flexible with my hours.
I continue to work part-time to this day.  From 2003-2011, I worked 16 hours a week.  During the 2011-2012 school year, I added 5 more hours, and then in 2012, when my youngest child went to kindergarten, I moved to 28 hours a week.
Current
I have now worked for the Census Bureau for 14 years.  I still use some of the same data I started with in 1999 and have seen the quality and type of data grow a great deal during this time.  I feel passionately about the need for high quality data to make informed policy decisions and about the need for these data to be publicly available to everyone, not just researchers at top-ranking institutions with large research grants.  I am now involved in helping to design a major Census Bureau survey, assessing the quality of the data as they are collected, and producing a public data set for researchers studying the relationships between labor market outcomes and participation in government programs.
My current research interests center around the impact of women's choices on their and their children's long term outcomes and the transmission across generations of economic advantage.  My research topics include the impact of a mother working on her children's adult earnings; the association between a woman's career path in her twenties and thirties and her wage when she is in her forties; and the impact on a son of working at the same employer as his father on the intergenerational transfer for labor market skills.
Tips and Advice
I am able to have a fulfilling career and still have time for my family because I successfully draw boundaries at work, and yet I am still able to accomplish substantial work that benefits my employer.  My advice to people who are beginning to work part-time is three-fold:  ask to be paid hourly, find a team environment and establish successful working relationships with your team members, and work efficiently when you are on the clock but don't agree to more than you can reasonably accomplish.   My reasoning behind each of these suggestions is the following:
Hourly pay:  If you agree to work half of the regularly required hours and receive half of a regular salary for the position, you will end up working extra hours but not being compensated for them.  Hence many women decide that part-time work is a bad alternative because they end up working more hours than they originally planned but get paid far less.  If you decide to work part-time, you should negotiate to be paid by the hour.  Then if you work an extra amount, you are paid accordingly.  This system will prevent you from feeling like you are being taken advantage of and will allow your company to calculate the true cost of your output.
Team environment:  The trick to working part-time is to minimize the amount of work you need to do on your days off.  If you are home 2 or 3 days a week but have to spend a lot of time taking care of things for work, this has the potential to be stressful and throw off your work-life balance.  Working as part of a team can help solve this problem.  When I worked only 2 days a week, I had a meeting with my team at the beginning of the week.  I then worked on my parts of our project while I was in the office and when I left, I passed things off to another team member.  That team member had my cell phone and knew how to get in touch with me if there was something he needed from me to keep the project going while I was out of the office.  When I returned later in the week, my team passed things back to me.  In this way, I knew our project was moving forward even while I was gone, unless I got a phone call otherwise.  This kept me from having to monitor email constantly on my days off.
Efficient but realistic work:  I try to never make personal calls or check personal email at work.  When I am at work, I am focused on getting my work done before it is time for me to leave.  I also try to limit social time in the office, and I usually eat lunch at my desk.  This means I carefully consider every interesting seminar or office gathering and often conclude that at this point in my career I don't have time to join the office basketball pool or serve on the social committee.
More importantly, I try to be very realistic about what I can accomplish in the time I would like to work and then decline projects that I simply don't have time for.  This can be painful.  I miss out on interesting work, useful seminars, and opportunities to do things that carry prestige in my part of the Census Bureau.  However, when I remind myself that I am choosing to miss out on these things and remember that the reason is to have time to spend with my children, I feel comfortable with my decisions.  I have found that working hard on the few projects I have time to do and successfully completing them is more than sufficient to earn high marks in my performance reviews and respect from my supervisors.  I now have a reputation for completing important work in less than 40 hours a week and hence have been given more responsibility and more interesting work over time.
Mentoring
I currently supervise two Census Bureau interns.  These women are graduate students working on dissertations and work for me two days a week.  They are part of my team and we operate in the same manner as I have always done, passing work back and forth between us.  Mostly I direct their Census work, but I also regularly give advice, when asked, about writing a dissertation, finding a job after graduate school, and balancing work and children.  I am also the most senior member of my team at this point and have helped train four new economists over the past 5 years on how to use our data and computer systems.
My dissertation advisor is my most significant mentor.  He still has a contract to consult for the Census Bureau, and I see him regularly.  We recently published a research paper in an academic journal together. 
I believe that the most important parts of a mentoring relationship are a good match in personalities, open and clear communication, and mutual respect.  A good mentor sees a junior person as an equal colleague, just with less experience.