Kristin Mortensen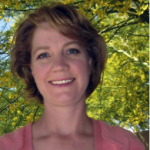 Industry: Nutrition, Public Health, Wellness, Music Education
Expertise: Maternal and Child Nutrition, Writing, Teaching
Position: Registered Dietitian & Piano Teacher
Company: Self-employed
Hours: Part-time; 10 – 15 hours weekly
Education: BS degree in Dietetics from Brigham Young University
Residence: Phoenix, Arizona
Hobbies: Running, Quilting, Reading, Traveling
Education and Career Background
I graduated from BYU with a bachelor's degree in dietetics after completing a coordinated undergraduate program (coursework and internship combined) and passed the registered dietician exam shortly thereafter. I worked as a clinical dietitian in a small, rural hospital in southern Arizona for a year and a half before serving my mission to the Dominican Republic. When I returned from my mission, I worked as a consulting dietitian and WIC (Supplemental Nutrition Program for Women, Infants and Children) coordinator for a migrant community health center in the Phoenix area. When my children were born, I decided to work part-time and eventually began consulting for various organizations writing training manuals, doing nutrition counseling, writing nutrition curriculum, and writing nutrition articles for online companies. I was also asked by friends if I would teach their children piano which started my piano teaching career.
Current
I currently consult for a WIC program in southern Arizona providing their high-risk nutrition counseling. I write nutrition articles for an online company and occasionally write nutrition curriculum when the opportunity arises. I continue teaching piano lessons a couple of days a week.
Tips and Advice
I chose my career as a dietitian because I knew it would be one that I could work as much or as little as I wanted, depending on what my circumstances would be in life. I find the field of nutrition interesting and love teaching others how to be healthy. I also love music and seeing the excitement on my students' faces when they learn to play a song on the piano. My advice is to choose a career you enjoy. Stay in contact with coworkers even after you stop working together. You never know when you might be able to offer each other opportunities. Stay current in your field, even if you aren't working. I remember two women who were enrolled in a course at BYU with us who had allowed their registration to lapse. Their kids were grown, and they wanted to re-enter the workforce so they had to take college classes and re-take the registration exam. It was extremely stressful for them.
Mentoring
I have been blessed to work with some amazing people throughout my career from college professors to bosses and co-workers. Not only have they taught me about the field of nutrition, but they have taught me how to be a professional. My first boss taught me how to successfully work with doctors, even when we didn't always agree. Another boss taught me how to be a good manager. My husband has been a great source of support and business advisor as I've worked for myself for the last several years.