Julie Lynnette Uppendahl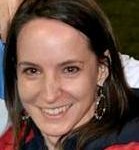 Industry: Government
Expertise: Business strategy, business processes, business finance, IT project management
Company: Chevo Consulting
Position: Business Consultant
Hours: Full-time, 40 hour/week
Education: BA in English, University of Oklahoma (OU), MA in Professional Writing, University of Oklahoma (OU)
Residence: Maryland
Hobbies: Cycling, rock climbing, writing
Education and Career Background
I served a German-speaking mission in Austria. After my mission, I completed my BA in English. During graduate studies, I concentrated on professional writing at OU which involved writing for novels, books, newspapers, proposals, and scripts. After I graduated, I moved to Maryland and began working as a technical writer at the Department of Justice. This evolved into project management and then business consulting.
Current
I continue to work as a business consultant for federal agencies. On the side, I write political suspense novels and faith-based children's books. Although I am not married and have no children, I know that my role as woman is powerful. That role motivates me to write family-friendly material.
Tips and Advice
Knowing that the Lord has put me in my current situation for a reason gives me peace. "Men are that they might have joy" is my mantra. If you take advantage of the situation you are in now and appreciate every part of it, then you will be happy and satisfied. Invest time and money into hobbies that make you feel like you are improving physically, mentally, and spiritually. Identify skills that you want to develop and have the courage to try them. You won't fail if you try, because you will be better at it than you were before you even tried.
Mentoring
The mentors that I have had throughout my life have been people in a higher position than me, either at work or school. They were the leaders that patiently sat with me and helped me learn how to use computer applications or programs. They read my 500-page thesis without a complaint. Also, they were the people to were kind and wise–the people who I wanted to emulate.