Christanne Smith Harrison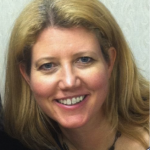 Industry: Nutrition, Public Health, Wellness
Expertise: Training, curriculum development, on-line course development and teaching
Position: Owner, Registered Dietitian
Company: CSH Consulting
Hours: Part-time, ~15 hour/week
Education: BS in Dietetics, Brigham Young University (BYU), Masters of Public Health (MPH) with an emphasis in Maternal and Child Health, University of Alabama at Birmingham (UAB)
Residence: Central New Jersey
Hobbies: cooking, biking, running, reading, playing outside with my kids 
Education and Career Background
I completed my BS in dietetics at BYU in a coordinated dietetics program, which included my clinical experience (this meant I could take my registered dietician exam after graduation).   My first job was as an outpatient and WIC nutritionist at a Migrant Health Center in Arizona. (I served a mission in Uruguay, so I enjoyed working with many of my patients in Spanish.)  After two years, I had the opportunity to receive my MPH through a government grant at UAB.  When I finished my MPH, I moved to Massachusetts and started working for the Department of Education as a training and outreach coordinator for Child Nutrition Programs.
Current
After I had my first child, I decided that I didn't want to work full time.  From a contact I had with my previous job, I started developing and teaching online classes for a university.  Then, I submitted a proposal to create a curriculum for school nutrition employees on managing children with special dietary needs.  I created my own consulting company where I specialize in training (I travel and present trainings 5-6 times a year) and curriculum development on different nutrition topics for people working with children. For large curriculum jobs, I subcontract with other writers, an editor and a graphic designer. I also continue to teach online courses.
Tips and Advice
I love the flexibility of working for myself, but there are definitely pros and cons.  It is nice to be available for my family, and at the same time, stay current in my profession.  But, if you need consistent and steady hours and income this may not be for you.  If you want to do this kind of work, make contacts and keep in touch with them (you never know where your next job will come from). Also, find a niche in your field and get really good at it. 
Mentoring
Two women that I have worked for have been great mentors to me.  It was never formally called "mentoring," but because of their experience, they had more vision than I did and encouraged me to take opportunities (even if I was not sure I wanted to).  Each time I followed their advice, I had experiences and made connections that were invaluable to my career.