Caitlin Magidson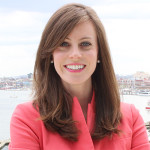 Industry:
 Counseling/Higher Education
Expertise:
 Career Counseling
Company:
 Johns Hopkins Carey Business School and Emily Cook Therapy, LLC
Position:
 LGPC, Career Coach
Hours:
 40 hours a week,
Monday
– Friday
Education:
  BA Corporate Communications, Elon University and MS Mental Health Counseling, Johns Hopkins University
Residence:
Maryland
Hobbies:
Zumba Instructor, Family Google Hangouts, "Mormon Mommy Blogs", Church Activities
Education and Career Background
I completed a BA in Corporate Communications at Elon University in North Carolina before serving a full-time mission in the Czech Republic. When I returned, I reevaluated my interests, values, and goals and decided to pursue a MS in Mental Health Counseling at the Johns Hopkins University. I have worked in several different divisions at JHU including the School of Advanced International Studies, the Krieger School of Arts and Sciences, and the Carey Business School. My job titles have ranged from Admissions Assistant, Registration Coordinator, to Career Coach.  All of my jobs have come through networking…it's all about who you know to get your foot in the door.
Current
I currently work full-time as a Career Coach at the Johns Hopkins Carey Business School and love working with students and alumni to help them progress in their professional development.  My expertise includes coaching in self-exploration, branding, resume and cover letter creation, networking, LinkedIn, interview preparation, salary negotiation, and career management.  I meet with students both in person and online for individualized coaching, co-lead a professional development course, and guide small coaching groups.
Career coaching/counseling is my specialty as a Licensed Graduate Professional Counselor (LGPC) and draws on my counseling skills as I listen, validate thoughts and feelings, and identify strengths as people move forward.  In addition to my work at JHU, I see clients privately part-time at Emily Cook Therapy, LLC;  I feel honored to work with clients searching for healing, wholeness, clarity and direction.  I believe being vulnerable and authentic enables us to build meaningful relationships and hope my clients feel my office is a safe space to explore all aspects of life.
When I'm not coaching or counseling, I can be found teaching Zumba at a local gym, playing "Elsa" at kids' birthday parties, spending time with family, or taking advantage of lots of great events in Washington, DC.
Tips and Advice
Self exploration is the first step to really knowing what you want.  Ask, "What am I passionate about? What are my real interests, and what am I good at?" Match these answers to occupations that align and you are bound to find meaningful work.  Check back in with your alumni career center and see what resources they offer.  When you know and play to your personal strengths, you will find work that feels energizing.  I knew this was the right fit for me because it aligned with my interests and skills in empathetic listening, mentoring, coaching, teaching, and counseling.
Mentoring
I have had several mentors through work and church. My current job allows me to be a mentor to many, and I have found that it is by building relationships of trust with people that matters most. Look for someone you respect and can trust and then talk to them about how you feel; they can be of help to you. Let me know if I can help!