Amy Beth Harrison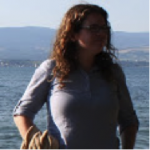 Industry: Visual art, Museums
Expertise: sculpture, mixed media, working with children, teaching art, handmade signs
Position: Independent Artist; Educator, Museum of Fine Arts, Boston; Sign Artist, Trader Joe's
Hours: 20-50 MFA and Trader Joe's per week, 10-15 of artmaking
Education: BFA in Ceramics from Brigham Young University, MFA in sculpture from Massachusetts College of Art and Design
Residence: Boston, MA
Hobbies: cooking, reading, being outside, nieces and nephews
Education and Career Background
Although art-making has been my main focus, I've also spent plenty of time finding ways to pay for it. I grew up drawing and painting and taking art classes. I spent five years at BYU and ended up studying ceramics after falling in love with the material. After that, I spent a summer doing an apprenticeship at the Moravian Pottery and Tile Works where I made Arts and Crafts style tiles. A year later, I did a residency at the Houston Center for Contemporary Craft (HCCC). At the HCCC, I also started teaching outreach classes for them. I was good enough at it that my residency was extended because I was a good teacher. At the same time, I began to realize that the craft world was a bit too insular for me. I came to Boston and did a post-baccalaureate degree at the School of the Museum of Fine Arts and then an MFA in sculpture at Massachusetts College of Art and Design. While in Boston I continued to teach art, first at a Boys and Girls Club and then at a middle school.
Current
I now am an educator at the Museum of Fine Arts, Boston. I lead tours and also teach Saturday and summer art classes for kids. I also recently became a sign artist at Trader Joe's, attracted by the amazing benefits. I also rent a studio space. I don't get there enough, but I am getting there and I am making art. My work situation is the most stable it has been in a long while, and I have already seen my art-making increase. I feel very strongly that I am doing what God wants me to be doing and that we also need more Mormon artists.
Tips and Advice
Finding a combination of paid work and time for your own artwork is hard, no doubt about it. I also think it is totally doable and that there are many more options out there than people outside the field realize. For every artist, there is a different combination. I would recommend at some point spending some time getting what is deemed a profitable skill. I have a studio mate who does web design work three days a week and makes enough money to live well enough and make art. I have done teaching and now some sign art. At the same time, you also have to find something that doesn't take so much of you, you have none left for your artwork. I've dabbled in public schools, but have ultimately decided it was not for me as it was too draining. Some artists manage to just work full-time in the studio. Most artists spend some part of their careers working full-time, working part-time, and being full-time in the studio.
Being an artist means you have to accept that you will most likely have less than other people. I see it in some ways as a blessing because it makes me less materialistic, but it also can be challenging when it comes to difficult choices about what financial problem to fix first.
Mentoring
I really wish I had had more mentors. I didn't grow up in a community with many artists, Mormon or otherwise. My mother was an English college teacher and sometimes poet and understood my artistic drive, which was a great help to me early on. I learned a lot from my professors in college but never had any that I really connected with. I am excited to be part of this project to help create more connections and community among Mormon women.