The Student Record: Megan, MBA Student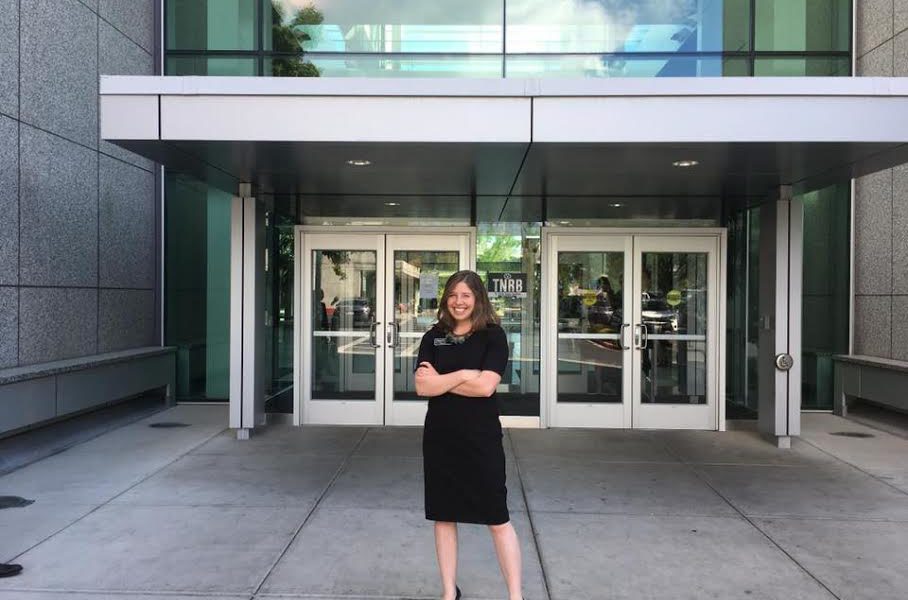 Name: Megan Gessel Brewster
School/University: Brigham Young University
City/Location: Salt Lake City, UT
Major/Field of Study: Master's of Business Administration – Focus on Organizational Behavior, Strategy & Social Impact
Marital status/children: Married
What led you to the program that you are currently pursuing or have completed? Why did you select this major or field of study? 
Why do we separate business and social good? This is the question I have wrestled with over the last few years that motivated me to pursue an MBA.
In my last job, I helped to launch a corporate innovation effort that focused on applying evidence-based models into a Fortune 100 healthcare organization to improve life and health for low-income families. This organization leveraged the expertise and customer base of both a major business, and the insights and evidence created by some of the top social work and public health scholars in this country. Seeing how this cross-sector bridge could make new solutions possible helped me to see that business has an essential role in scaling up social impact.
I chose to pursue an MBA specifically because I wanted to add business management insights to my communications and social sector experience. I considered an MPA or MPP, but ultimately chose an MBA because of how versatile it is across sectors, the earning potential, the quantitative rigor, the leadership development opportunities, and the quality of networking and relationship building.
I chose BYU for several reasons, including the rigor of the program (ranked #34 on US News & World) and how collaborative all the alumni, professors, and students were in my recruiting process (uncommon compared to other top business schools). You also can't beat the cost (1/5 the cost of most top MBA programs) and the whole-life view that also welcomes spiritual insights. I also chose BYU because I knew I would meet amazing women who shared my desire to both contribute professionally and be attentive leaders in our own homes, and I would have a network to work through some of my hopes and concerns.
On a personal spiritual level, I have had several profound experiences that confirmed to me that this was the place I needed to be. For example, my husband is a medical resident, and medical residency is an assignment where students are matched to a single program somewhere in the US (not like a regular job offer, where you can choose between multiple offers). When he matched to a great program in Utah, it confirmed to me that my desire to go to the BYU MBA was right and important. I've had several others as well, including my GMAT studying being magnified in a specific way and the opportunity to connect with current students in serendipitous ways.
What feedback did you receive from friends, families or acquaintances about your schooling?
My spouse Scott has been very supportive of my desire to pursue a graduate degree. Even before we got married we discussed my aspirations and his actions helped me know we would support each other financially, emotionally, and in other ways. One of the reasons I could marry Scott was I knew I could accomplish my dreams with him, from raising a happy and well-adjusted family to pursuing a graduate education and impact-focused career.
I have been fortunate to experience support from many circles, including my spouse, parents, friends, colleagues, and mentors. My parents raised me to recognize the deep value of a formal education and have spent many hours talking with me, tutoring me, taking on more at home so I could study, and encouraging me when I'm feeling overwhelmed. My dad is a great professional sounding board, always willing to make connections, offer advice, and talk through strategy. My mom is a great well of encouragement, helping me to keep my stamina up, see my worth, and remember what matters most. The Church is also a great supporter of education, so I always saw it as worth my time and effort.
My last boss was also an extremely important part of my preparation for this program. As a full professor at a top university, an innovative social impact leader, and a mother of four young children, she helped me to see it was possible to live a joyful life as a professional leader and devoted mother and wife. She also helped me recognize the unique leadership style women can bring that can make new solutions possible.
I've also already benefited immensely from the tight-knit and supportive network of BYU alumni and current students. I've spoken with dozens of alumni and current students over the past year in preparing for and starting the program, and all have been willing to help connect with companies, advance my internship search, and stay positive. They also share a commitment to the wellbeing of families and making that integration of work and family life thrive.
In tandem, I've also really appreciated the empowering support of the MBA Women in Management Club, who helped me to visualize myself succeeding in this program. They are strong, smart, caring women, and their friendship and mentorship has been key in helping me reconcile what I once thought to be conflicting demands.
Finally, the online Aspiring Mormon Women forum has been a great resource for me in preparing for grad school!
What advice would you give to a student pursuing a similar course of study?
Although I'm only a few months into my program, I've already gained strategic skills and confidence simply by getting here.
My advice to students in general would be to recognize that others are very willing to help you if you reach out to them humbly. Also, think about how you can add value back to that person by connecting them with someone else, following up thoughtfully, and getting to know their needs and hopes. Business and so many other sectors truly rest on the quality of our relationships, and you can architect positive relationships to start with by simply reaching out with sincerity and humility. I've been amazed by how willing alumni, students, and local professionals have been to connect with me and to share, not only work advice and connections, but life advice.
I'd also love to share advice specifically for prospective female students, especially LDS women. MBA programs are one of the few graduate programs left that still have a heavily unbalanced gender ratio – about 20-25% women – and BYU is no different. Women's voices and experiences are needed in these programs and in the leadership circles MBAs launch into. Don't count yourself out – instead, be willing to step up and see what value you have to bring. Your voice matters!
Along that same line, don't assume that a fulfilling career and a happy family are mutually exclusive. In 2017, there are many opportunities for women to make significant professional contributions while also joyfully fulfilling family needs, and our voices are essential in leadership. Only a few months in, I've been impressed to already meet many female MBAs who are managing diverse job arrangements, from C-suite executive roles to job sharing positions to starting companies to part-time positions to flexible work and more in every industry. With an MBA, you'll have more options when it comes to compensation, responsibilities, and work structure, which will help regardless of the work situation you want or need (including being a stay-at-home parent). An education is always a blessing.
What did you learn about yourself when you became a student?
As a new business school student, I'm learning to articulate my value and not undervalue my worth. For example, as an undergrad English major, I was concerned coming into the program that I would be behind with the heavy quantitative work. I'm finding that I can keep up well if I put in the effort. Beyond that, I'm also finding that I have unique skills to offer that others lack – like strong writing and editing, relationship building, and the ability to read others closely. I tend to assume some of these "soft skills" are less important – but the reality is that these are often the most essential for the long-term for leadership. The lesson is: don't undervalue yourself and what you have to offer, and learn to articulate what that is.
What do you most enjoy about school?
Three things I'm loving about business school so far:
360 view – It's fascinating to learn about all the interdependent streams it takes to successfully run a business – from operations to finance to communications to human resources strategy, it all matters. All these skills also apply to the social and public sectors.
Applied – business school teaches you how to actually find a job and build a career, unlike my undergraduate program (English – great for critical thinking and writing, but not for pragmatic job strategy). Everything we are learning is immediately applicable and very relevant, from LinkedIn strategy to how to add value in informational interviews.
Interdisciplinary and international – my fellow students are from every background and country, and it's really fun to see all the different strengths and perspectives. We have people that have worked for the FBI, sold rugs in the Middle East, taught school, owned small businesses, worked for major corporations, been life coaches, worked for NASA, led nonprofits, been mechanical engineers– any background you can think of!
What are your current or future plans for employment or future schooling?
My ideal post-graduation position would be a strategy or organizational role at the intersection of social impact and business – possibly in social impact consulting, corporate social responsibility, or organizational strategy/culture for a mission-drive organization. I hope to find work that will allow me the autonomy and flexibility to take ownership of my career and simultaneously manage the needs of my family and volunteer interests.
I also hope to be a voice that empowers women to pursue the right work-life fit for them, whether that is time out of the workforce for caretaking, a full-time leadership position, a part-time professional position, volunteer contributing, or something else. I believe firmly that women have unique, needed insights and skills to offer that are missing in many environments, including professional industries and political circles. I also believe that God calls us to this work individually and will bless us as we strive to follow those promptings. I'm working on a few ideas to help spotlight women who are contributing in multiple ways (stay tuned!).