Voices from the Past: Mary Leicht Oxborrow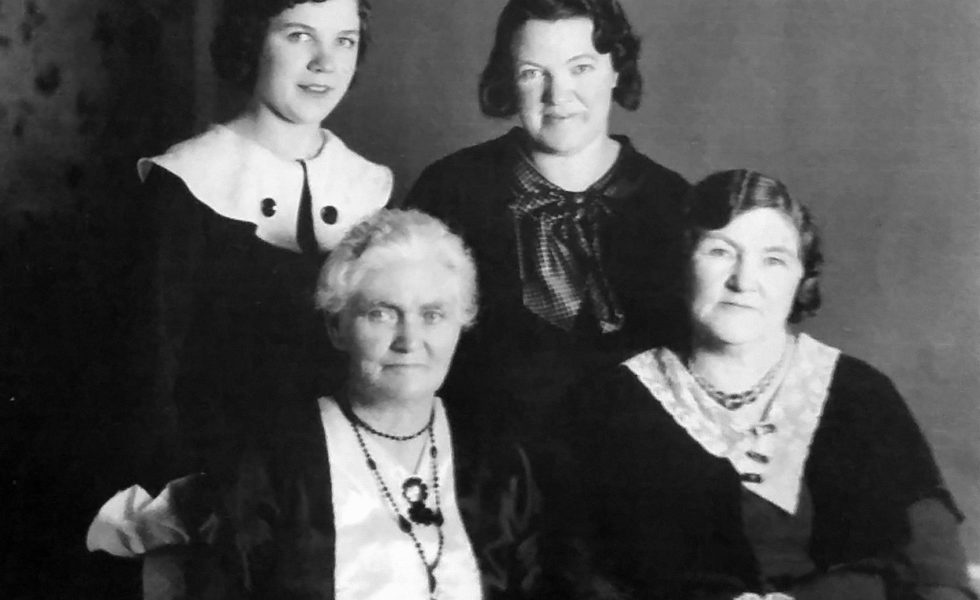 By Marie and Seth Oxborrow and Brooke Nelson Edwards
In 1895, Mary Oxborrow found herself widowed when she was only 42 years old and with seven children. Five of them were still at home, and they ranged in age from 19 years old to just 16 months. Faced with the pressing need to support herself and her children, Mary was offered multiple marriage proposals. But her granddaughter recalled that Mary was steadfast in her refusal to marry after her husband's death, concerned that doing so would separate her children. She felt she "needed to be with the five children not married then, and raise them. She would not think of letting anyone break up her family." Mary was a hard worker with many skills—she had cooked for hundreds of temple workers, assisted in operating a bakery, and had farmed for much of her life, successfully cultivating enough crops to help sustain her large family. However, Mary's opportunities for formal education and training had been limited. She left school in England at 11 years old to come to America and it is unclear how much education she received after arriving in Utah and she married at 17.
Undaunted, Mary turned to nursing. Dr. Cliff, a local doctor in St. George, Utah, where she lived, hired and trained her. She was a natural. Both Dr. Cliff and the community came to rely on her skill in the "sick room." After four years, Mary's reputation had reached Salt Lake City, and she was called by the Church to move with those of her children who remained at home to serve as the nurse and midwife in Lund, Nevada—a new and growing Mormon settlement.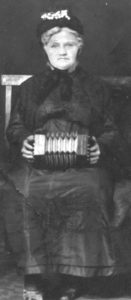 Mary's home quickly became a hub for the young community. Her kitchen table was made out of a door set on two saw horses she called her "operating table." Each night also found a new grandchild sleeping over at her home, presumably to help Mary stave off loneliness, but also to give the grandchildren a special place away from their homes. She also offered boarding to teachers that came through the small community and her home served as the meeting hall for community and church meetings until the LDS chapel was completed.
She served as a counselor in the local LDS unit's Relief Society for many years and was also a talented musician who sang and played the concertina, an instrument similar to an accordion. She was known as a petite woman of exceptional vitality, who wore her shoes a half-size too small to make her feet appear daintier, and who was slightly bow-legged as a result. She always wore at least four petticoats and in one of them was her money pocket. When she went to the store she would shy up to the counter and carefully lift each skirt until she came to the one with the small coin purse. Her great-granddaughter, Mary Hasfurther, recalled driving into Lund with Mary Leicht when the older woman began lifting up her petticoats to get to a pocket sewed in her petticoats where she kept the key to her home.  Mary Leicht then asked her great-granddaughter to get the key out so she could unlock the door.
With the exception of two babies who were stillborn, Mary did not lose a single one of the babies or mothers she facilitated more than 230 deliveries. This was an incredible accomplishment for any health care provider of the day. Many of these babies grew up in the community calling Mary "Grandma." In 1908 she was invited back to Salt Lake City for a short time to train further under Dr. Romania Pratt — one of the handful of women who had answered Brigham Young's call in the late 1800s to attend medical school on the East Coast and the first woman in Utah to earn her medical degree. Her skill and her homemade salves and remedies were infamous among the locals. Her granddaughter Thelma Oxborrow Beam said a tonic Mary provided to patients in the spring made of sulfur and molasses made the whole town reek.
Living in the undeveloped frontier, Mary was also often required to stretch beyond her training as a nurse and midwife. In one particularly notable incident, seven injured men arrived at Mary's house in the back of a wagon from the silver mines located in Ruth, Nevada. The only person trained in medicine for miles, Mary treated their heads, arms, legs for injures, despite her lack of experience. Mary told the men to wait outside while she went in her home to pray. She remained inside in prayer for twenty minutes. After her prayer, she returned to the group and instructed the uninjured ones to bring clean, old bed sheets and pieces of wood from the neighbors to bind up the bones. She also demanded every drop of alcohol around the mines to be brought to act as a painkiller for the men. The uninjured men were not to touch a drop of the drink, as all the alcohol, from whiskey to wine, was now the Lord's for the treatment of the men. She enlisted a few of the men to return to her home every day to help her treat the injured, requiring them to say their prayers both morning and night while they were in her service and to refrain from swearing. Not one of the men died, and all the injured were able to return to work.
Mary's early life was no less exceptional. Born in England, Mary was the fifth child. Her mother died from tuberculosis when she was a baby and her father died of typhoid when she was a small child. At eleven years old, Mary joined the LDS church with her stepmother and set sail with her stepmother's family for America to join the rest of the Saints.
Her granddaughter, Effie O. Reed, recalled this ditty that her grandmother sang along the way:
"Oh, Captain, Captain, stop this ship.
I want to get off and walk,
I feel so flippity floppity flip,
I never shall reach New Yak."
After arriving in the United States, it took six months to cross the plains to Utah and Mary walked the entire way next to an ox team, gathering buffalo chips along the way to provide herself and her family light and warmth in the evenings. Once arriving in St. George, Mary worked seven days a week doing chores all day and late into the evening for another family. She earned just $2.50 a week.
At seventeen, and after encouragement from Apostle Erastus Snow, Mary accepted a marriage proposal to become the second wife of 53-year-old Joseph Oxborrow. She and Jennett, Joseph's first wife, became dear friends despite the conflicts inherent to polygamy and their three-decade age difference. Joseph and Mary had eleven children together, four of whom died in infancy or early childhood.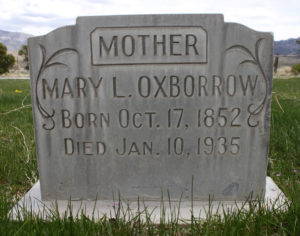 Mary stuck by Joseph through multiple moves and even a failed attempt by Joseph to start his own bakery. The family lived for some time on the temple lot in St. George where Mary assisted Joseph in his duties as temple groundskeeper and cook. She and her daughters did much of the cooking for the 300 men who worked to build the St. George temple. At the same time, Mary took in washing, ironing, she would cook, clean, sew carpet rags, make patchwork quilts and tended small children to supplement the Joseph's inadequate salary. Her children also worked as babysitters for the temple workers, gleaned grain at harvest time, and did many other things to help with the family living. Through it all, Mary was an example of hard work, perseverance, and faith.
Mary died as a beloved figure in her family and her community, on January 10, 1935 in Ely, Nevada, and was buried in Lund.
Other sources: http://www.nevadawomen.org/research-center/biographies-alphabetical/mary-leicht-oxborrow/
https://en.wikipedia.org/wiki/Romania_B._Pratt_Penrose