The Student Record: Sydney, Masters in Educational Leadership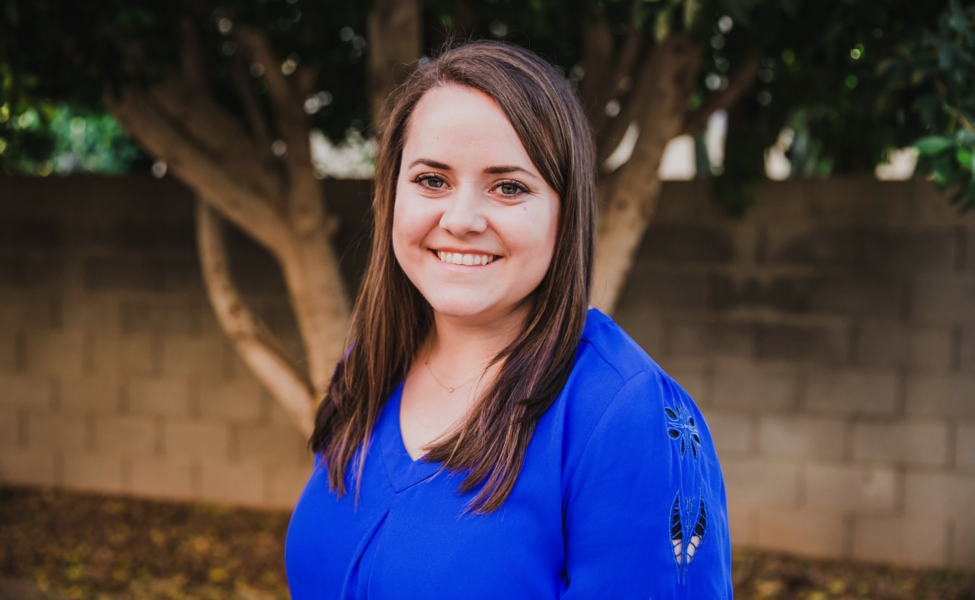 Name: Sydney B. Donaldson
School/University: Northern Arizona University
City/Location: Flagstaff, AZ (however, it's an online program. I'm located in Tucson, AZ)
Major/Field of Study: Master of Education, Educational Leadership
Marital status/children?: Married for 8 years, with one child (a two-year-old)
What led you to the program that you are currently pursuing or have completed? Why did you select this major or field of study? Please tell us about any experiences that inspired you to pursue this area of study.
Growing up, my dad was a college textbook sales representative and editor, so we visited lots of college campuses across the United States. I was always amazed by the unique energy felt on college campuses. My parents placed a heavy emphasis on going to college and obtaining a degree. It was expected. My dad and I began looking at potential colleges when I was in 8th grade. I was taught that a college education is exciting and wonderful and fulfilling.
My first job out of college was at a university, and I quickly fell in love with working in higher education. I want to build a career out of helping students achieve their dreams of a college education, so I enrolled in a Master of Education program that focuses on educational leadership in higher education. I graduate in two months!
What feedback did you receive from friends, families or acquaintances about your schooling?
My family has been nothing but supportive and encouraging. Friends think it's an amazing accomplishment. I didn't initially tell colleagues about my full-time student status – I didn't want to give them any idea that I was slacking at my job because of my schoolwork. I recently told my supervisor that I've been working on a graduate degree for the past year, and she is amazed that I have been able to work full time, take care of a little one at home in the evenings, AND pursue a graduate degree.
When I started my program, I committed to being fully present with my two-year-old daughter while she is awake. My degree is online which gives me incredible flexibility to work full time and be present with my family. I have completed this degree 100% during lunch breaks and after my little one goes to sleep. Some nights I don't get into bed until one in the morning, but it's important to me to be fully present with my daughter for the few hours I see her after I come home from work.
My parents are very encouraging parents and they are proud of this accomplishment. My mom is the only one in our immediate family who has a Master's degree, and I am excited to have this in common with her. My mom passed away about a month ago from cancer. (To say my year has been a very busy and challenging one is an understatement!) As well, my husband has been an incredible support. He believes in me and pushes me to achieve. As cheesy as this sentiment is, he is the wind beneath my wings.
What advice would you give to a student pursuing a similar course of study?
Higher education is evolving. Forget what you think you know about the "traditional student." Thirty-eight percent of today's college student population is over 25 years old; they're likely to also have a family, a full-time job, caretaking responsibilities, and other personal obligations. And this percentage is projected to grow over the next five years. If you think you don't fit the mold of the traditional college student, think again. Universities and colleges are aware of the changing student population and are developing student services to address the needs of this changing group. I am fiercely passionate about access to education for all, and I want others to know that the right program for your unique circumstances likely exists. A more educated society is a better one. Go get that degree!
Specific to my field, it's an exciting time to be involved in higher education. Many colleges really are striving to create a campus ethos that embodies social entrepreneurial thinking. Some of the great challenges of today's society begins with solving issues through formulating ideas on college campuses.
Any program of study is going to be easier if you have the passion for that field of research. I was lucky in that every course I took directly impacted my day-to-day work – and it impacted it very positively. I am a better employee because of my program.
What did you learn about yourself when you became a student?
I didn't realize just how positively my schoolwork would impact my job. The two go hand-in-hand: I apply what I learn in class to my job as an academic advisor, and I use my job as motivation for continuing with my academic research and studies. I work full time and I am so proud of myself for balancing full-time employment with full-time education. I am also very fortunate to receive generous education benefits because of my employment at a university. I would like to think that I would take advantage of education regardless of access to funding, but I am fortunate that I never had to make that decision.
Throughout my program, I learned that there is a time and a season for everything. Right now, it is my season to pursue education and work full time. Although it is a commandment given to me, it is not yet my season to work on genealogy, for example, or even my season to work out. (I wish it was never my season to be folding laundry, but that's one task I have to do, despite my very busy season of life!) I am grateful for access to the Holy Spirit which confirms to me what season of life I need to be in.
I also learned that education is one way that my Bucket of Joy is filled. I feel energized and invigorated by gaining a formal education, and I feel my happiness reserves are filled when I engage in an academic setting. Arguably, being in any educational program can take time away from family, social obligations, callings, and the like, but I believe I am my best self when I participate in things that fill me with joy. I cannot give others joy if my own Bucket of Joy is empty. Women should not feel selfish by gaining an education. You are bettering yourself and making yourself happy! That's something to celebrate!
What do you most enjoy about school?
Being in school fills me with so much pride and accomplishment. It's a great feeling to have – to be proud of yourself! I enjoy many things about school, but I enjoy most how accomplished I feel as a student while managing professional and personal obligations.
What are your current or future plans for employment or future schooling?
I love what I do professionally and I do not see myself making a major job change in the near future. But I do hope to grow in higher education administration. I want to be a leader in higher ed. I want to help all students realize their potential and pursue a college degree. I want to ensure that student services exist to serve the at-risk or underrepresented populations, especially students with children or adult caretaker responsibilities, students with disabilities, transfer students, veterans, and refugees.
I plan on pursuing a doctoral degree in educational leadership. I'm not sure when it will be my season to do this, but I'm ready to begin when it's time. In the meantime, I am looking forward to a summer of going to bed at a reasonable hour. And maybe taking a few naps.