Career Day: Physicist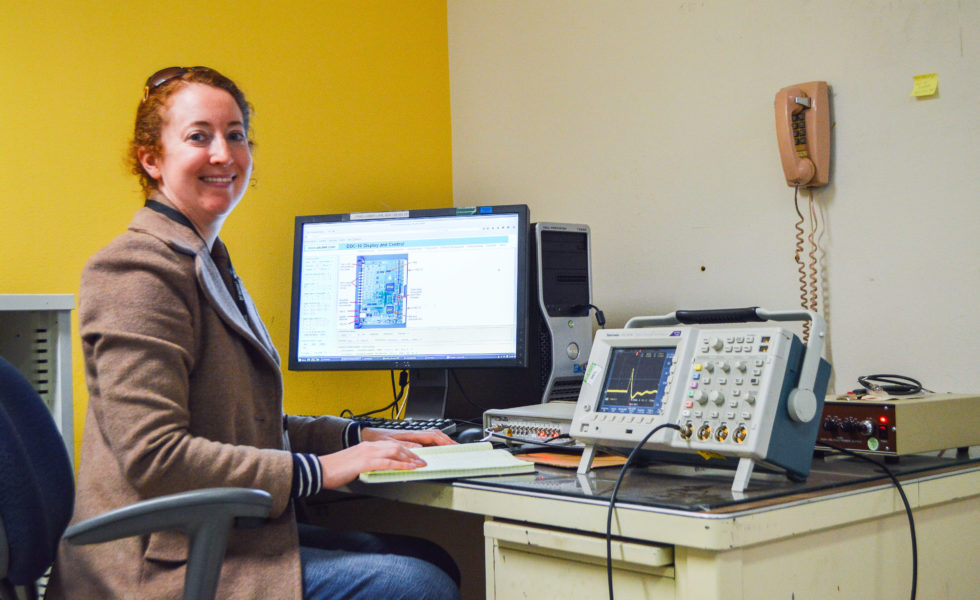 Tell us a little about yourself and about your job?
My name is Elise Tang. I am a nuclear physicist. I am originally from Boise, Idaho, but now I live in Los Alamos, NM. I received my BS from BYU and my Master's and PhD from the University of Kentucky.
What does your job entail?
As an experimental nuclear physicist I do many things you might not expect! Physics is all about proving or disproving theories about how our universe works. Typically experimental physicists work together in collaboration to do this. We design and carry out experiments based on predictions from our models about the way things work. To do this we have to wear many hats. First we design the experiment, which requires not only math and physics calculations, but also precision engineering design and manufacture. Then we build the experiment, which often requires actual construction and manual labor. We also build all the electronic data collection equipment and write the code to run the experiment. After (and during) taking data (sometimes for years), we analyze the data and compare it to the expectations of the model, which gives us new information about the physical world. Then we write about it so that other people know, too! So, throughout my career I have worn a hard hat as well as a lab coat, used hand tools in addition to electronics, and written code as well as equations.
I specifically work with neutrons, using them to probe the basic questions of the universe, such as the forces that bind nuclei together and why there is more matter than antimatter in our universe.
What drew you to physics?
I was initially drawn to physics during my physical science class in the 8th grade. Another student and the teacher began discussing atomic electron transitions and energy levels. This quantization of energy really amazed me and I began studying every physics book I could find!
What kind of education/training is required? What skills/personal characteristics are important to have/develop?
A PhD is required to be a career physicist. However, students are paid to help with research as graduate students and even sometimes as undergraduates. Hard work is necessary for success, and you must be willing to work long hours and overtime. A willingness to learn new skills on a regular basis is essential, as research at the edge of science requires creativity to push the limits.
Patience is also important since experiments don't always go as planned. There can be many setbacks. Often the unexpected happens and you must work hard to figure out how to fix things or do things a different way.
Being able to communicate with others of varying expertise is very useful. Often we work with people who help us with building, engineering, design, and construction, as well as other physicists with different assignments. Collaborating with all these people is easier if your writing and verbal communication skills are well developed.
What kind of job opportunities are there in your field?
The traditional career path of a physicist is to finish a PhD, work for 3 years as a postdoctoral researcher, and then begin an academic career at a university. In modern times, physicists work in many other fields, such as at national research labs, in politics and consulting, and in industries like oil extraction, in Silicon Valley, defense, and on Wall Street.
What types of jobs have you had within your profession?
My daughter was born 3 days after my dissertation defense, so since I received my PhD I have been a "volunteer" researcher working in ultra cold neutron physics at Los Alamos National Lab. I am currently going through the hiring process for a job that would work around my mothering schedule.
What is the best part of your job?
The best part of being a physicist is working to solve the mysteries of the universe. On a daily basis the best part is the thrill of being able to solve problems in every part of research. It makes every day interesting.
What is the worst part of your job?
The worst part of this career is the long education and the long work hours. It takes a lot of work and dedication to be successful, as in many professions, and there isn't much room for anything else until later in your career.
What's the work/family/life balance like?
While establishing your career, a work/life balance is very difficult to achieve. After finishing a postdoctorate, I think it is possible to find some jobs that are more 8-5, but not usually in academia. It takes some creativity and a flexible boss to find jobs in physics that are "mother friendly"/flexible/part time. I've found that the search for this balance benefits from living gospel principles and asking the Lord for help. It certainly can happen. If you don't make your family and family planning a priority, it can quickly become relegated until nonexistent. I've found you have to stick to your priorities, and things usually work out, especially when you have the Lord on your side.
What is the biggest misconception people have about your job?
The biggest misconception about physicists (I think) is that they are all super smart. While being a genius is always helpful, it's been my experience and observation that hard work is what makes success. Geniuses might not have to work as hard as the rest of us, but I've seen smart people be unsuccessful because they didn't work hard, and normal people be successful because they did.
What opportunities have you had because of your education and profession?
I've had many opportunities, such as hearing lectures from Nobel laureates, traveling, giving talks at conferences, and just doing great physics. The best opportunity I've had due to my profession has been meeting and marrying my husband. We met on an experiment we performed at Los Alamos National Lab while we were in graduate school at different universities. He wasn't Mormon at the time, but eventually joined the church after I followed promptings to give him a Book of Mormon. By following my heart, brain, and the Lord's will for my life I was blessed with a husband who is a true equal, and respects my intelligence and education, something that was very difficult to find.
What stereotypes or criticisms have you faced as an educated Mormon woman with her own career?
Interestingly, I've felt nothing but support from most priesthood leaders and other women. I think it has been men of my age that have mostly seemed put off by my career choices. This is illustrated by an experience I had one night at an Institute activity. I was wearing a pink shirt that said "Physics" on it and a guy remarked that I shouldn't wear it since I would scare all the guys away. I was of course stupefied by this, but certainly felt that any man that was scared off by this wasn't worth being around anyway!
What spiritual guidance have you felt as you have pursued your education and developed your career?
I have always tried to put the Lord's will first, and have always felt that He approved of and supported my path if it was what I wanted. There were certainly times when things were hard and I wondered if it was worth it or if I had made the right choices, but in the end the Lord blessed me, both in my career and in family life. I always felt strongly about both my career and my desire to have a family and be a mother, and I was frequently worried about one sacrificing the other, but the Lord is allowing me to be fulfilled in both ways, albeit at the expense of the "all-in" career that most physicists have. However, I find this to be an appropriate sacrifice for my daughter, who I love very much, and I am still able to be involved in the research I enjoy on a part-time basis.
Any other thoughts, advice, or stories you'd like to share with other women?
My strongest advice, especially to those contemplating life paths, is to not allow preconceived notions of what Heavenly Father wants for you to impede what He actually wants for you. There are a lot of ways our gospel "culture" insists we live that may not actually be correct. Be sure to open your mind to allow God to inspire your life in the ways He knows are best for you. Allow the instructions of prophets and the commandments to be a guide, along with prayer and a knowledge of your own self and your dreams. Along with this, realize that our life is finite and we cannot "have it all" all at once. Don't allow mortal dreams to block out opportunities for eternal ones. It is a balancing act in expectation, one with opportunity cost, but this is something everyone deals with. Remember all this, also, when influencing young women, and be careful with how you portray it.