Career Day: International Development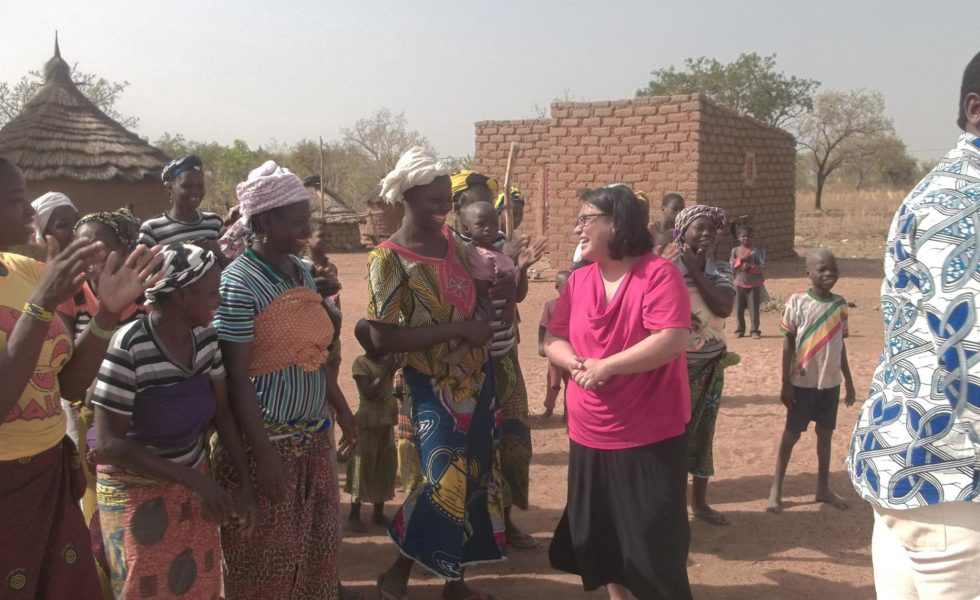 Tell us a little about yourself and about your job?
My name is Sylvia Cabus.  I immigrated from the Philippines with my parents and grew up in California.  I now live in Washington DC with my husband and son.  I am a Senior Advisor at the U.S. Agency for International Development (USAID), working on gender equality and women's empowerment issues in developing countries.  I majored in history at U.C. Berkeley and received an MA in international relations from the School of Advanced International Studies (SAIS) at the Johns Hopkins University.
What does your job entail?
I work with my colleagues to ensure that USAID's policies on gender equality and women's empowerment are applied across our projects and programs. That is to say, "For societies to thrive, women and girls must have access to education, healthcare, and technology. They must have control of resources, lands, and markets. And they must have equal rights and equal opportunities as breadwinners, peace-builders and leaders."  In daily terms, this might mean training staff; making sure preliminary studies include the concerns and interests of both men and women; and designing projects so that men and women contribute to and benefit from those projects equally.
An example in the area of water, hygiene, and sanitation is to make sure that school construction includes adequate and appropriate restrooms.  That's because the onset of menstruation and the lack of safe and hygienic facilities at school are some of the reasons for girls dropping out.
What drew you to a career in international development?
Growing up I always had an interest in women's issues, social justice, and international relations fostered by regular family trips to the Philippines and several exchange student experiences.   After college, I served as a Peace Corps volunteer in Cameroon.  I taught English at the local high school for two years, which is when my interest in women and gender grew.  I witnessed the casual violence that students endured, the systematic sexual harassment of girls at school, and the general lack of rights and opportunities for women.  I also became friends with many strong women who overcame obstacles through education and perseverance, and many men who wanted better futures for their daughters as well as their sons.
What kind of education/training is required? What skills/personal characteristics are important to have/develop?
Of course an interest in other cultures and international travel is an element everyone in this field shares.   A master's degree in addition to overseas work experience and a foreign language are standard criteria.  It's also helpful to have a tolerant attitude, a strong stomach, flexibility and a sense of humor.  I also think that writing and presenting skills are very important, as well as specific technical skills such as training or monitoring and evaluation.
What kind of job opportunities are there in your field?
International development is a very broad field.  You can work at an non-governmental organization (NGO), a private sector consulting firm, a research institution or a university, or for any number of government agencies (many government agencies have an international office).  You can also work in different sectors; my colleagues include specialists in education, engineering, agriculture, microfinance, rule of law, public health, and many more.  Most gender specialists like myself have an additional technical sector; in my previous position I worked on gender issues in agriculture and food security, and now I work with the water and education teams.
What types of jobs have you had within your profession?
I joined an international NGO after graduate school through a fellowship program and worked as a program manager in Kenya, Morocco, Malawi, and Burkina Faso.  When we moved back to the US I worked as a program officer for a couple of different international NGOs and then joined USAID as a gender advisor for agriculture and food security.  Now I'm a senior advisor and work primarily with the water and education teams.  Like most people in the field, I started with internships while I was in graduate school.
What is the best part of your job ?
The very satisfying feeling of serving every day, even if it's a less than exciting task.  I enjoy working with people from different backgrounds and cultures, and the challenge of trying to master a foreign language.  I love representing the American people overseas.
What is the worst part of your job?
Living overseas can be a real challenge – it was hard to be away from my parents and extended family and I know it can sometimes be difficult for the spouse to find employment.  Back in the US, the constant international travel can be a grind.  I love seeing other countries but I'm not fond of sitting on planes for long periods of time.
Kenya was the only country where I lived where I attended church in a traditional ward.  It was a real challenge to live church standards without the support of an active community but I also experienced tremendous spiritual growth with study and reflection on my own.  For example, I read through all the BYU women's conference books – I don't think I would have been motivated to do that in the US.
What's the work/family/life balance like?
My husband also works internationally and to date we have not yet had a time when both of us are on trips but I'm sure that day will come!  If we lived overseas our domestic life would be much easier because we would be able to afford household help.  We both have relatively flexible work schedules and now that our son is at school (in DC kids start at age 3) childcare is no longer a huge expensive ordeal.  My husband is truly an equal partner – we trade off cooking and other household tasks, and he's the primary caregiver for our son.
What is the biggest misconception people have about your job?
People often don't know exactly what I do!  Or they think I am a professional unpaid volunteer.  Also, there is the misconception that working on women's issues come at the expense of men, which is not the case at all.
What opportunities have you had because of your education and profession?
I've learned a lot of new skills, such as writing proposals and developing budgets, and seen many different countries that are not regular tourist destinations, like Bangladesh or Togo.  I've also had many tender experiences with the international church, like seeing the little branch I attended in Nairobi grow into the stake center, or seeing the beautiful African details in the temple in Accra.
What stereotypes or criticisms have you faced as an educated Mormon woman with her own career?
I am an adult convert so I did not grow up with the same expectations or pressure.  I also suspect that more traditional church members considered me "eccentric but harmless."  When I was single, sometimes other members would comment that I would never get married, and then once we started a family, people would "worry" that I was neglecting my husband and son.  But I receive so many requests for informational interviews and am regularly asked to speak on career panels, so I know there is a great interest in this field from both men and women, especially from those who served missions in developing countries.  These opportunities to share my skills with others in the church have allowed me to model the blessings that come from God's commandment for men and women to be equally yoked.
What spiritual guidance have you felt as you have pursued your education and developed your career?
When I finished graduate school and was contemplating whether or not I should go back overseas, I was very worried about my marital status because I knew it would be more difficult to get married than if I had stayed in the US.  But I received a very strong confirmation that to go as a single woman would afford me many special opportunities to serve.
Any other thoughts, advice, or stories you'd like to share with other women?
If you are spiritually prompted to do something "non-traditional" like live in Africa, I'd say go for it. It was a huge leap for me to leave the comfortable life of a member in the US for uncertainty as a member overseas, and it was difficult and tear-filled – but in the end I put my trust in the Lord and received many blessings as a result.
[edited by Erin Cowles]