Entrepreneur Feature: Michelle, Techtonica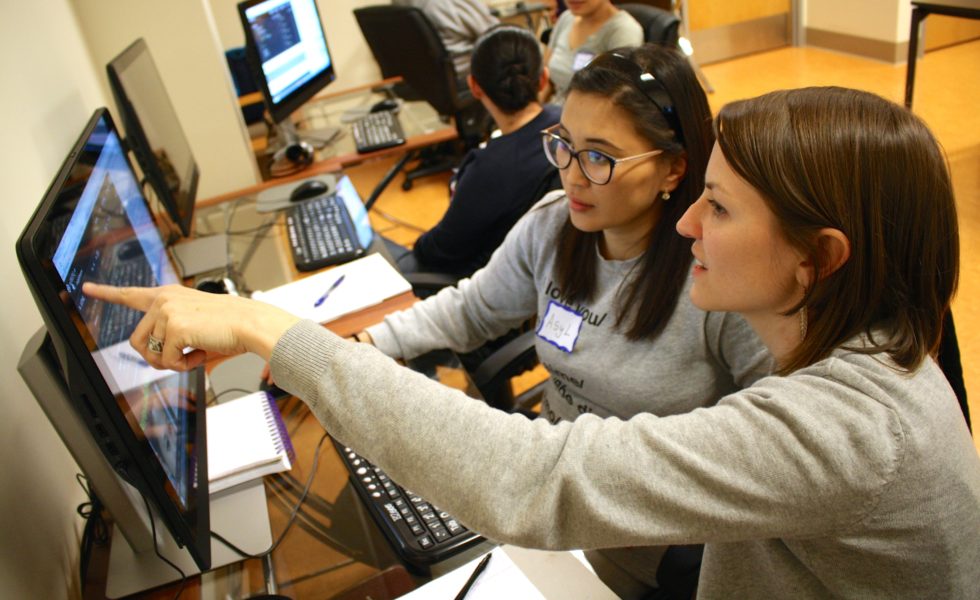 Tell us a little about yourself and about your job/profession?
My name is Michelle Glauser. I've lived in Salt Lake City, Leipzig (Germany), Shanghai, London, and San Francisco, where I currently reside. I've been blogging since 2003 and wrote my Master's thesis on mommy bloggers. In 2012, I made a big career transition and became a software engineer through a coding bootcamp, but in the last year, I've decided to focus my efforts on helping underrepresented people make it into the tech world and encouraging the tech world to be more inclusive of underrepresented people. I raised over $47,000 to put up #ILookLikeAnEngineer ads in the Bay Area, I lead PyLadies SF (a group for women who code in Python), and I founded a nonprofit called Techtonica in San Francisco. When I'm not doing techie or community things, I enjoy baking (and consuming the goods), burying myself in a book, going on hikes, and dog-watching.
What does your job entail?
Techtonica, the nonprofit I founded, offers free tech training, living and childcare stipends, and job placement to low-income women and non-binary adults (people who don't identify as either men or women—there are quite a few non-binary folks in our area). As the founder and CEO, I do pretty much everything—business development, marketing, website development, research, curriculum development, hiring, operations, strategy, volunteer management, etc. The tough thing about doing everything is that I have to learn how to do all the things I've never done before, but that's also the fun part.
What ignited the spark in you to start a new business venture?
I've been an advocate for women and other underrepresented people to join the tech industry ever since becoming a software engineer was so empowering for me, but I kept seeing that there were a lot of issues with lack of diversity and inclusion in the industry, displacement and income inequality in cities with a thriving tech scene, and expectations that people pay upwards of $15,000 for intensive training programs that did not guarantee job placement. I wanted to work on something that would help solve these issues for the people who most need the help, and since I didn't see something like that, I started Techtonica.
What is your best advice for other (LDS) women entrepreneurs?
I'd thought about a solution like Techtonica for a really long time but always felt like it was one of those "one day" things. It wasn't until I was successful with the #ILookLikeAnEngineer ad campaign and other community initiatives that I realized I could start a program and start it now. Sure, there are a lot of things I could have taken more time to learn, but there's no better motivation to learn than by needing to do it for a company you're already running and passionate about. If you have an idea and can manage to make ends meet while getting your idea off the ground, I say just do it now.
What spiritual guidance have you had with developing and growing your business?
I've been blessed with a really open love for people who don't always get the most love, and a passion for connecting people to make positive changes together.
If you had the chance to start your career over again, what would you do differently?
I would have studied business and computer science, and worried much less about dating. I'd always loved technology, but I had no idea I could get a degree where I'd learn to make cool websites and apps. I'd probably be in a much more financially-stable place now if I'd done that.
What is your favorite aspect of being an entrepreneur?
I wake up in the morning excited to get to work, because it's my work. No one is telling me what to do; I get to decide what to focus on, and being so invested because it's my work is really motivating. You'll never feel better while working so hard than when you're working on your own project.
Where do you see yourself and your business in 10 years? 20 years?
I hope to see the Techtonica program and network in many locations, being run by the people who truly know the community and the industry. I'd like to continue making positive changes that support diversity and inclusion, but which roles and companies that will personally take me to, I'm not sure.