Career Day: Pilot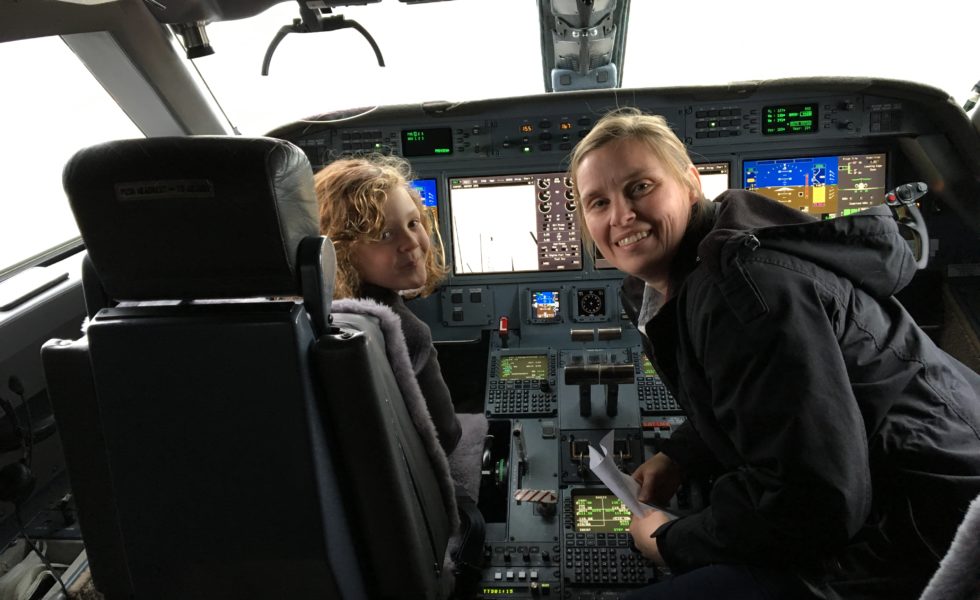 Tell us a little about yourself and about your job?
My name is Alyce Weber. I was born and raised in Hemet (Southern California) and moved to Utah in middle school. I have lived in California, Utah, Texas, Vancouver BC, and Seattle for the last nine years. I am a pilot by profession and a wife and mother of two amazing girls (three and five). I attended UVSC (now UVU) after high school, graduating with a degree in aviation science. I flight instructed my last two years of college before getting hired by a regional airline; four years later I moved to corporate fly—flying a plane for a company. I hold three type ratings, meaning I'm trained/certified to fly three types of jet airplanes (GV, CL604, and EMB 145). I stay current on the GV as a contract pilot.
What does your job entail?
The quick answer is I move people from point A to point B. The day starts with preflighting the aircraft, making sure we have what we need to have a successful trip. Flight planning would have been done the day before; we check the weather and hope the passengers don't decide to go somewhere else. Passengers arrive, we close the door, start the engines, and taxi out. Assuming we've done good flight planning, the weather is good, and the plane doesn't break, we land where the passengers want to be. Some days we are done; others we may sit at the airport for a few hours and then move the passengers to another destination.
What drew you to a career in aviation?
I was raised in a home where the girls were raised to be at home, take care of the home and children. Being a person who needs a goal, I didn't understand the need to go to college if I was not going to work outside the home. My parents value education and told me I would be going to college. I struggled—for me it was a struggle, not having a goal, for the first two years of college not knowing what I was doing. My parents were great about letting me try any classes I wanted to figure out what I wanted to study. I tested this by taking snowboarding and other fun classes. Then somehow I talked my parents into letting me study abroad, so off I went to Capetown, South Africa, for five months, thinking I wanted to study sociology or social work. My brother met me to come home and we spent time on a safari. We were flown into a delta in Namibia by a woman, and I thought, that's what I want to do. My parents thought it was too expensive. I paid for my private pilot's rating with savings and fell in love with the sky.
What kind of education/training is required? What skills/personal characteristics are important to have/develop?
In the United States people train to be a pilot either by going through the military or the civilian route. There are colleges that have aviation programs. You can go to your local airport and learn to fly. In aviation you have to have the ability to deal with different types of people. Most pilots have pretty strong opinions. Most are men, sadly—I don't hate men, just people who don't think women can do things men do that have nothing to do with their anatomy. Dealing with an industry that is male dominated presents challenges.
What kind of job opportunities are there in your field?
We are on the front end of a pilot shortage in the US and worldwide. The US put if off by changing the retirement age for commercial pilots by five years, but those years have passed. The regional airlines have been feeling it for a few years; majors are just starting to feel it. It's a great time to be a pilot looking for a job.
What types of jobs have you had within your profession?
I am a pilot. I have flown as a First Officer and a Captain. I don't care to do much else.
What is the best part of your job?
I love visiting new places and meeting new people. I love the problem solving involved when there is a problem. I love the smell of jet fuel.
What is the worst part of your job?
Sometimes if the plane breaks down you can get stuck somewhere for a few days. Really the hardest part is dealing with closed-minded people.
What's the work/family/life balance like?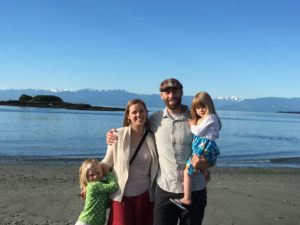 Different pilots have different schedules. When you are gone, you are gone. But when you are home, you are home. Especially with kids, I have had to give up control of things so I can spend time with them. This job requires a SUPER supportive partner and allowing others to help you.
What is the biggest misconception people have about your job?
It's something only men do or that it's a great life for a working dad but can't work for a working mom.
What opportunities have you had because of your education and profession?
People love talking about my job, which is good because I am not super outgoing. The ability to travel, to know I can take care of myself/my family financially if I need to. I've met people who were shocked I was LDS, and that has opened conversations about the gospel.
What stereotypes or criticisms have you faced as an educated Mormon woman with her own career?
Most of the stories I have about criticism come from members of the Church who don't think women do this type of job. I don't worry about stereotypes and criticisms; they are "that" person's problem, not mine.
What spiritual guidance have you felt as you have pursued your education and developed your career?
Pursuing this education/career was done through divine guidance. My first two years of college were done because my parents told me I would go to school. I struggled the whole time with what I was doing. I came home from Capetown, received a blessing for something unrelated to my career, and the answer came in that blessing. There have been times when I have felt I could be done with flying and have been TOLD I'm not. I feel in limbo now—who knows what is next?
Any other thoughts, advice, or stories you'd like to share with other women?
Careers are something we spend SO much time doing. Do something you love. The money will come. I love going to work! I love telling my girls I get to go fly airplanes for work and am so happy and rejuvenated to come home to them after. Life here is so short—don't spend it doing something that doesn't bring you joy.