Career Day – Academia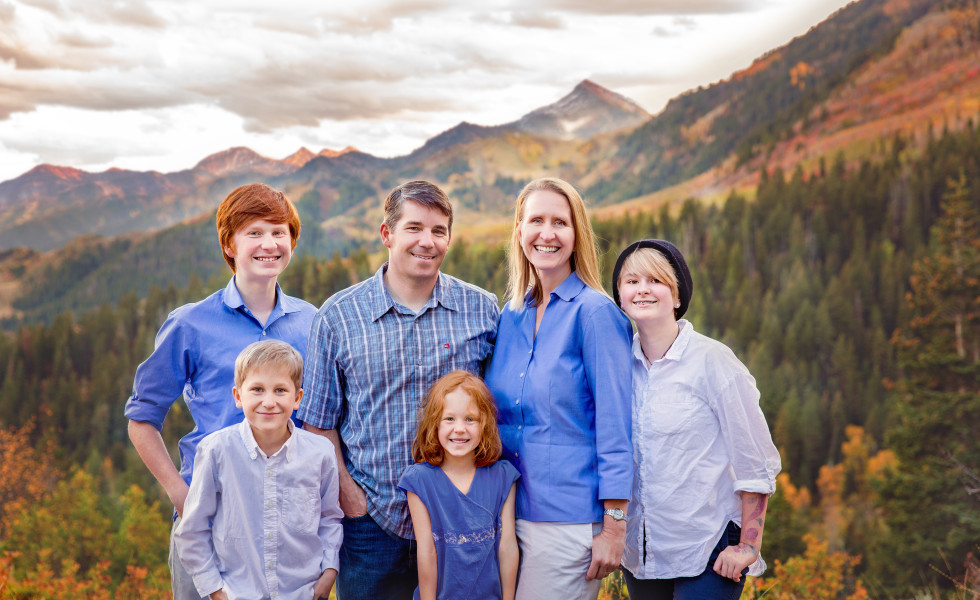 Tell us a little about yourself.
My name is Julie K. Allen. I grew up in Laie, Hawaii, which is a fairly small town on the north shore of Oahu. Growing up surrounded by amazing people with mixed ethnic heritages from Samoa, New Zealand, Japan, the Philippines, Germany, Tahiti, China, Fiji, and so on, I always wanted to be 'hapa' (half) something, rather than just haole (white/foreign). I think that is where I first became interested in the question of cultural identity—how we know/decide where we belong and what factors influence that decision/discovery—that has been a central preoccupation of my research and teaching. In the 11th grade, I went to Germany as an exchange student, learned German, got infected with the travel bug, and discovered I was passionately interested in European history and culture. I majored in European Studies and German at BYU, with an English minor. I spent two years in Provo, a year at the University of Hamburg as a freelance exchange student, then served a mission to Denmark before completing my last year at BYU. I then earned a PhD in Germanic Languages and Literatures from Harvard, which led to my job as a professor of Scandinavian Studies at the University of Wisconsin-Madison from 2006-2016. I loved Madison and UW and my colleagues and students with all of my heart, but we decided to move to Provo this summer to teach at BYU after my husband finished his PhD in Linguistics and see what new blessings the Lord might have in store for us.
What does your job entail?
My job encompasses three major areas—designing/teaching/grading college courses on literary and cultural topics; designing/carrying out/writing up/presenting/publishing research into literary and cultural questions; and providing various kinds of service to students, my department, my college, the university, the community, and the various scholarly fields in which I work. Each day involves some parts of all three of those areas, but in completely unpredictable patterns. Depending on the day, I might spend it writing an article on African LDS women, working in a German archive with old sales records for silent films from the 1910s, lecturing to 250 students about fairy tales, meeting one-on-one with students about their papers, writing grant applications, filling out scholarship recommendations, or attending meetings where we give away a million dollars to various student groups or are charged with evaluating our colleagues' research, teaching, and service records. Email takes far more of my time than I am really aware of in the moment, but it can be very satisfying to spend a few hours at my computer to set up a research trip with flight, hotel, interview subjects, and archive appointments, or answer a slew of student questions and concerns, or to remind a group of fellow scholars about an upcoming deadline for an edited volume or journal issue, or complete a final edit on an article or journal or book manuscript going to press. There are a thousand moving parts and there is never a day when I don't have a to-do list as long as my arm, but I revel in it.
Why did you want to work in academia? What drew you to the profession?
I am the daughter of two college professors (and granddaughter of two more), so my path in life was pretty clear to me from the outset. I grew up in a college town surrounded by college students and professors. From quite an early age, I helped my mom grade English papers at our kitchen table, developing a lifelong disdain for dangling modifiers. I can't remember when I decided that I wanted to get a PhD and teach at a university, but it was, like wanting to serve a mission, one of the lodestars of my youth. I have been an avid reader my entire life and I am drawn to stories, so history and literary criticism were natural fits for me, though in college I toyed with majoring in Political Science and going to law school to get involved in politics. I enjoy making connections between texts and ideas and the world around me. I love to talk and tell stories, so teaching and writing articles are a pleasure, and I love hearing people's stories, so the constant influx of scholars and students into a university setting gives me a steady stream of interesting people to meet.
What kind of education/training is required?
Technically, all you need to teach at the university level in my field is a PhD, which generally requires about 8 years of advanced study, research, and dissertation writing, on top of a  bachelor's degree. Along the way, you need to read thousands of pages of the texts that have been written in your particular area (in my case, German and Danish literature and history of the 19th and 20th centuries), as well as hundreds of pages of critical theory that can serve as a toolbox for unlocking the meanings contained within those texts. You have to pass qualifying exams at various points in your studies to show that you have mastered both the language and content of the material, before you embark on conceptualizing, researching, and writing a book about something that no one else has ever really looked closely at before. In order to pay your way through grad school and prepare yourself for a job in academia, you will need to assist faculty members in teaching their courses, by leading discussion sections, writing intensive sections, grading papers, or doing whatever grunt work needs doing, to learn the ropes of teaching. If you're lucky, you'll also get to design and teach a few courses of your own—in addition to assisting with courses on Scandinavian culture and mythology while in grad school, I developed and taught courses in German language, Danish language, German grammar, and German national identity. That's all pretty standard stuff, though. What makes people really successful in academia, in my opinion, is a passion for ideas that leads them to keep reading and looking for connections and gaps and unresolved tensions and untold stories. That kind of ongoing quest leads to new courses, new research topics, engaging conference papers, enlightening articles and books, and provides fodder for public lectures and community engagement. It takes a lot of energy, in my experience, and a lot of time and patience with yourself and others, particularly students and colleagues.
What is the best part of your job?
The best part of my job is the freedom to explore interesting questions and see where they lead, both intellectually and geographically. I particularly enjoy the possibilities for research and conference travel.
What is the worst part of your job?
The worst part of my job is grading, having to pass judgment on someone else's work and try to explain to him or her both what it needs to be better and how to get there, and be blamed when some people don't do as well as they'd like to.
What's the work/family/life balance like?
Being a professor can be a really flexible job, schedule-wise, which has been terrific while my kids have been young, but the same fluid work boundaries that make it possible to take kids to the dentist in the afternoon make it necessary to sit up until 3am grading papers or finishing a conference paper. It is really hard to keep any distance between my work and family life. I have loved getting to be home when my kids get out of school, but it has been hard to have to run off for meetings or try to carve out time to finish course prep or grading or writing an article. When my youngest daughter was about 2 years old and was going down for a nap, she used to say to me, "Good night, have fun at your meeting!" In many ways, my work is my social life and my main hobby outside of parenting, but one of the reasons we chose to move to Utah was to strive for a better balance by spending more time together as a nuclear family, with grandparents and cousins, and in the mountains.
What is the biggest misconception people have about your job?
From a lot of the rhetoric that circulated in Wisconsin after Governor Scott Walker slashed the university's budget and criticized professors for being lazy, I learned that people seem to think that we don't do much, that we lie around reading romance novels and eating chocolate-covered strawberries most of the time, rousing ourselves to teach a class now and then. Nothing could be farther from the truth—all of the successful academics I know work all the time, moving from task to task to task, motivated more by the love of their work and their students than by the (adequate but unspectacular) financial rewards of the job. Some people also seem to think that what I do is obscure, irrelevant, or restricted to self-described smart people, but that's not true either. It's all about making sense of the world, of human experience, of ourselves, and anyone can get something out of it if they're willing to put in the time and energy to read, think, and talk. There are such great stories to hear!
What opportunities have you had because of your education and profession?
To quote from the satirical blog of the same name, I have been "seriously so blessed" by my education and profession. I have been able to support my family during my own and my husband's graduate studies while still being able to bear and raise four amazing children. I've had financial security and independence. I've had the chance to travel to five continents and work with interesting, thoughtful, smart, funny, wonderful people in all of them. I have the freedom to learn about almost anything that interests me, often by teaching a class about it, and to have stimulating, meaningful conversations with really smart people, young and old, on nearly a daily basis.
What stereotypes or criticisms have you faced as an educated Mormon  woman with her own career?
I haven't really noticed if anyone outside my family has had a negative opinion of my career, but my younger son thinks I'm gone too much, that I'm too busy with all kinds of work, including grocery shopping, cooking, and other household work. I have an incredible emotional support system in my family of origin, my extended family, and my marriage. My older sister and I got our PhDs together in Boston, which meant that I never felt weird or alone for pursuing this path in life, and I have been validated in my choice by all kinds of amazing women and men that I have met along the way.
What spiritual guidance have you felt as you have pursued your education and developed your career?
I feel like the Lord has guided me every step of the way, from before my birth to the present. My grandmother was one of the most important people in my life with regard to the relationship between my spiritual and intellectual lives. She was a sociologist who taught at Utah State University and served on the Relief Society General Board in the 1970s, which allowed her to write Relief Society cultural curriculum and travel the world teaching women in the church about their own worth and potential. She was a thoughtful, compassionate, intelligent, feisty, feminist scholar who taught me to be both patient and generous in my relationship to the church and the gospel. She raised my father to respect and empower women, which turned out to be a very good thing, since he married a strong-minded woman with whom he had seven daughters and a son. He always validated my desire to get a PhD and set an inspiring example of harmonizing faith and the search for knowledge. My patriarchal blessing encouraged me to use my talents. My time in Germany and my mission in Denmark opened so many professional doors that the Lord had to be involved in making those experiences happen. My husband and I have continually sought the
Lord's guidance about how to live our lives and raise our family and have done our level best to follow where He has led us, even when it has seemed paradoxical or just plain heart-wrenching.
Any other thoughts, advice, or stories you'd like to share with other women?
As much as I love my job for the intellectual stimulation and financial security it provides, what I am most grateful for with respect to my career is how it enables me to feel like I am reaching my particular potential as a human being and daughter of God. There is a lot of overlap between my job and my role as a wife and mother—in both of them I get to teach, comfort, counsel, question, and learn constantly—and they inform each other in many ways. Being a wife and mother, however harried and flawed, makes me a better teacher and scholar, while being a teacher and scholar, full of random interesting facts and curious tales and bolstered by the kind of external
validation that I rarely get as a mother, makes me a better wife, mother, and person.