Voices from the Past: Get Out the Vote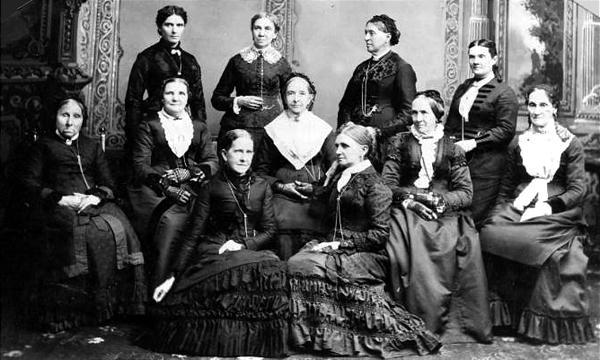 by Brooke Nelson Edwards
You'd have to have lived under a rock for the past year not to know that this election year has been one of the most divisive in history for the United States. Voters were exhausted, "disgusted," and "frustrated" months ago. But it's almost over. The end is in sight. Whatever else happens, the polls will close on November 8.
To help motivate you during the home stretch, rekindle your love of democracy, and motivate you to rise above the discouragement and get out and vote, I compiled a few of my favorite thoughts about rocking the vote from some of our LDS foremothers.
But first, a little background. Women were granted the right to vote in Utah even before it attained statehood. The territory granted women the privilege as early as 1870. No other state or territory offered women the right to vote at the time. But women faced opposition from both fellow Utahns and lawmakers in Washington, DC who repeatedly attempted (and were ultimately successful for a time) to take away the privilege. These lawsuits and pieces of legislation were motivated by animosity toward polygamy but also by plain old misogyny — women were not universally granted the right to vote in the U.S. until 1920 and opposition to the women's suffrage movement and its leaders was bitter and fierce.
Having obtained the right to vote, however, LDS women in the early Church were not eager to see it taken away. After attending the oral arguments at the Utah Supreme Court in the case Maxwell v. Burton, the editors of The Woman's Exponent, a Utah magazine published in connection with the Relief Society, had this to say:
"We have no idea what the legal opinion of this matter will be, but we know that woman's cause is in the hands of a higher tribunal than that of a Supreme Court, and that it will continually triumph over every obstacle that prejudice, tradition, envy or malice may play in the way of woman's advancement and political equality. 'Man proposes, God disposes.'" – The Woman's Exponent, October 1, 1880.
It wasn't only the women in Utah paying attention, however. The eyes of many national suffragist leaders around the globe were on the Latter-day Saint women and their dilemma, knowing that victories related to the question in Utah could mean victories for others. Lydia Beecher, editor of the Woman's Suffrage Journal and a prominent leader of the woman's party in England wrote to the Utah suffragettes:
"It has been reserved for the government of your Territory to set the world an example of real, political justice, and the women of Utah should hold their political suffrage as a sacred and divine trust, held not for their benefit alone, but for the sake of their sisters." "Territorial Convention," The Woman's Exponent, October 15, 1878.
The National Woman Suffrage Association organized a committee led by Susan B. Anthony to petition the President asking him to veto the "Edmunds-Tucker Act" which sought to take away women's right to vote from Utah. Local Utah chapters of suffragist groups were very active and in constant communication with national organizers.
As such, Relief Society publications of the day, particularly The Woman's Exponent, were full of pro-suffrage sentiments by leaders from outside the Territory as well as updates on the rights of women across the Western hemisphere like these:
"People fear the effect upon the family if women should vote and think. They think that the tenderness and sweetness of the family relation has something to do with weakness. It has much to do with fineness but not with weakness. . . .
Once in Athens, no woman could learn literature, eloquence or philosophy unless she were a courtesan. The virtuous mother and wife were denied these refinements, this knowledge, which were thus made the insignia of unvirtue. Since then, woman has steadily progressed through the centuries, until now she is a leader in literature, foremost among artists. Has literature, art and philosophy made her less fit for a wife and mother? Does it take away taste and destroy refinement to ponder deeply? Make mothers more and you make their children more. You will not make them coarse by giving them power. Is God coarse because he is infinite? That which the family needs more than anything else is a higher state of womanly development." Lydia Beecher, "Beecher on Woman Suffrage," The Woman's Exponent, October 15, 1872.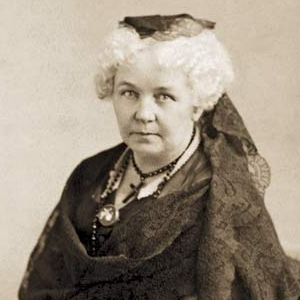 "The admission of Wyoming into the Union as a State with equal rights for women guaranteed in its organic law not only sets its sovereign seal of approval upon woman suffrage after practical experience for twenty-one years, but makes women a recognized factor in national politics. Hereafter the chief executive and the members of both houses of Congress will owe their election partly to the votes of women. The injustice and absurdity of allowing women in one State to be sovereign rulers and across the line, in every direction, obliging them to occupy the position of a subject class, taxed without representation and governed without consent, and this in a nation which by its Constitution guarantees equal rights to all the States and equal protection to all the citizens must soon be manifest even to the most conservative and prejudiced. We therefore congratulate the friends of woman suffrage everywhere that at last there is one spot under the American flag where justice is done to women. Wyoming is all hail! the first true Republic the world has ever seen!" Elizabeth Cady Stanton, "National American Woman Suffrage Association,"
"The last election brought great joy into the ranks of the suffrage workers four states, Kansas, Michigan, Oregon and Arizona each voting for equal suffrage. The fact that Michigan has come under the banner is very gratifying; for it an opening in the middle and eastern states which certainly have good effect. The progressive west is rapidly falling in line, and any keen observer will see that those states where equal suffrage obtains are the ones making the most rapid progress in educational and industrial lines. The earnest and unselfish work of the women is making itself felt in all matters pertaining to the uplift and betterment of humanity. It is seen that the women give intelligent thought and study to economics and are endeavoring to obtain through public sentiment those reforms that will bring the greatest benefit to the home, the school, and the commonwealth." "Four More States for Suffrage," The Woman's Exponent, November 1, 1912.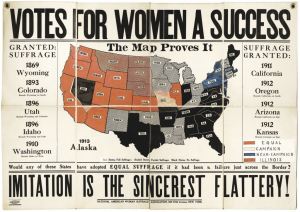 Perhaps one of my favorite blurbs, however, was from this report on a local suffrage meeting held in 1894:
"Dr. Ferguson urged having parlor meetings more would attend; referred to an anti-suffrage society formed in New York they called themselves "The Butterflies" and we all know butterflies soon fade and die."
By far one of the most passionate calls to arms I came across was from a Mrs. Clark of Davis County, Utah in 1896. She exhorted her sisters in this way:
"Ladies and Gentlemen: I can say that I am pleased indeed to be numbered among those who are here today to welcome to our Territory soon to be a state, our pioneer general and her courteous co-worker, a general of the Revolutionary army of peace. She sits here today the peaceful general of a peaceful revolution. Why? Because we would not lose one soul for our cause, we would sooner remain disfranchised forever than to pay the price of our liberty with the loss of one human soul; that is why we call it a peaceful army with these brave generals here to lead us. Like the light of the sun which is reflected on the tops of the Rocky Mountains is the beacon light shining from the two bright stars of the west, and over the tops of these mountains is another star rising and the sun in all its splendor will shine o'er the Rockies restoring lost freedom to Utah.
This light is shining into Idaho into Oregon, into Nevada and California, also New York as Miss Anthony told us yesterday; and we must trust the ships that are sailing toward the light will not be wrecked on the shoals but will come safely into the harbor of equal suffrage. Mrs. Clara Colby who many of you are acquainted with by reading her paper says that a woman's love and a wife's devotion has been the great pride and glory of all the world. Poets have sung about it, orators have exhausted their eloquence upon it, history has painted it in all its glowing colors yet some souls seem to think that those qualities are diminished by legislative enactment. Women's sphere is as varied as the hues of water and that always depends on the vessel which holds it; sometimes it is like a little stream bubbling up from some fountain sometimes like a little brook and again as a mighty river bearing upon its bosom the destinies of nations, and when the last barrier to woman is removed and the ballot is placed in her hands then will she surely be a help-mate to man.
You are all aware that the Statehood Banquet of Utah has been prepared and every loyal citizen will be there waiting the bridegroom he is not to be alone, but leaning upon his arm will be a beautiful and blushing bride clothed in the robes of equality carrying in her right hand the banner of justice and beneath the orange blossoms which wreathe her noble brow will sparkle the word 'Liberty.'"
If that doesn't stir you to action, then maybe this simpler plea, from an 1881 message from the leaders of the Relief Society, Mutual Improvement Associations, and Primary organizations, will do the trick:
"Remember to-morrow is election day. It is our duty to vote, sisters let no trifling thing keep you at home. So many brethren are away, that every sister should be prompt; and help sustain those in office that will sustain the kingdom of God."
So go vote. No matter what candidates you pick, what propositions you vote for or against, "let no trifling thing keep you at home." Unless, of course, you already mailed in your ballot. I'm sure a few of our pioneer sisters would have appreciated that option given the less convenient modes of transportation available at the time. But then you wouldn't get the coveted sticker.
Vote!