Interview with Ashley Mae Hoiland, Author of One Hundred Birds Taught Me to Fly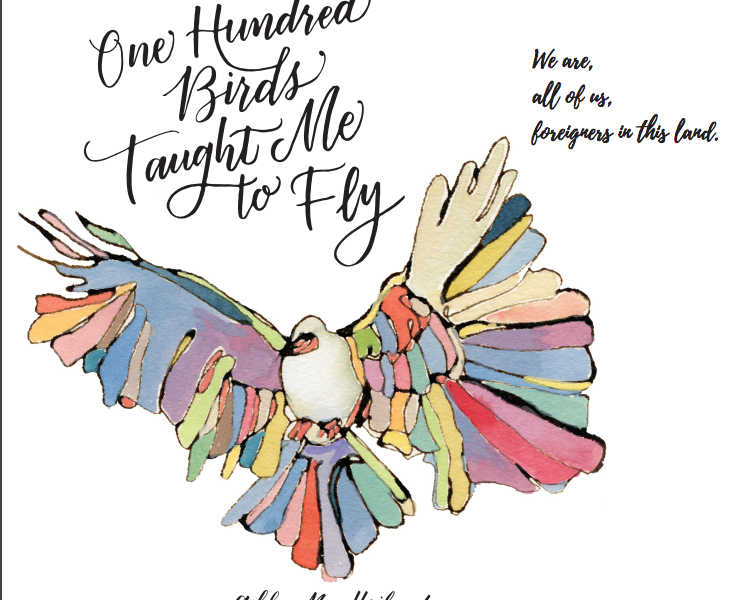 with Dianne Orcutt
I have long been a fan of Ashley Mae Hoiland's art and more recently of her We Brave Women initiative.  I was thrilled when I heard she was writing a book.  One Hundred Birds Taught Me to Fly did not disappoint. It is a beautiful account of Ashley's relationship with the divine as she embraces the tension between faith and doubt, shared from her strong, decidedly female perspective.
I read this book in the midst of deeply difficult and painful time and it was a balm to my breaking heart. It was a particularly powerful reminder to look for God and especially Heavenly Mother in the ordinary moments of life – the happy, the sad, and the painful. I was left moved to extend more grace – to others and to myself. Ashley's openness and vulnerability makes her personal stories profoundly relatable and left me inspired to seek out, and more importantly, share my voice and my story.
Dianne: Tell us a bit about yourself.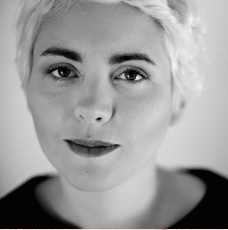 ASHLEY: Hi, Dianne! First, thank you for taking the time to make this happen!   I live in Palo Alto on Stanford campus where my family has been for the past five years. My husband has been working towards a PhD in geology while I've taken the time to pursue a variety of projects. We are in our final year here and trying to figure out what is next. We have two children, Remy who is five and Thea who is three. I came from Provo, where I both grew up and went to school. I got a BFA in studio arts and an MFA in poetry, both at BYU. I served a mission in Uruguay and it's hard to believe it's been a full decade since I've come home.
Dianne: What prompted you to write One Hundred Birds Taught Me to Fly? Why do you feel this book is necessary?
ASHLEY: I remember the first time I spoke with Blair Hodges, the editor for the Living Faith Series, over the phone. He said he was nervous to talk with me because I was such a good writer. I laughed because I was so shocked to hear something like that. I had been writing on my own for well over a decade but had rarely, if ever, taken myself seriously enough to believe that I could do something of much import—I think that right there is both the impetus and necessity of this book. I think the book is necessary because as a culture, we don't know women's stories the way that we should, in fact, it seems that we too often assume they are not even stories worth telling. In the beginning of writing this book I really struggled with the expectations I put on myself to be the right thing for everyone. I worried that Mormon feminists would think I hadn't been bold enough, or that more conservative Mormons would find the book too extreme. I worried that I didn't plan to delve into Mormon history, or touch on specific philosophies. I think it was a process that so many of us go through when we embark on a project.
One day, as I was scrambling with worry in an email to my editor he wrote back with kindness and in the end said, "You need to take yourself seriously, or no one else will." I needed to hear that. I needed that wake up call. I am slightly embarrassed to the degree that I needed to hear and implement that, but that line changed me. From then on, I wrote my own story unfettered by perceived expectation. I wrote honestly and with sincerity and I did not back away from the difficult and ugly in my spiritual narrative, but also, I learned to not back away from the tender, from the sometimes illogical belief that accompanies spirituality. I think, or at least I hope that this book is necessary because it can in some way break open the spiritual narratives of women, which in my own life had been cased in a shell that felt too perfect, too filtered, too unknown. I hope that this book can be a small part in pulling open wide the messy, complicated spiritual narratives that we all carry, and rather than recoil at its immensity, we can learn to sit down in the midst of it and wonder at each part as we examine and celebrate who and what we are.
Dianne: What lessons from your book do you think are most important for women? Why?
ASHLEY: As part of my book events I printed off stickers that say, My Story Matters. As I read my book, I want to look out into the crowd in front of me and see people wearing that sticker, and believing those words. I want it to be so clear that my story, my book, only matters because each of our own insignificant stories carry profound significance and I think it is worth the effort, and even possible pain, to get to the joy and confidence of both owning and telling that story. Our children need to hear us, our young women and young men need to hear us, our leaders, and colleagues need to hear us, and that starts with us speaking aloud so there is something to be heard. I would hope that both women and men gain confidence in their own story by reading this book. I would hope that as a culture we learn to better celebrate the unfolding of a spirituality that twists and turns in unexpected ways, sometimes beautiful, sometimes painful. I hope that people become more invested in writing a spiritual memoir that reveals itself as it is written rather than focusing on a spiritual biography where the beginning, end and middle points are already written and we pass by them as checkpoints.  It seems that so often in religion we believe we've written our story before it has even happened. I found as I wrote this book, I was continually surprised by what my memories and those things I thought were insignificant or average checkpoints actually meant when I spent time dissecting them.
Dianne: What spiritual guidance did you feel as you wrote this book?
ASHLEY: Above all, and perhaps most surprising to me, I felt a strong influence from my female ancestors in ways that I had not anticipated at all. In particular, I felt the influence of my mom's mother, who passed away when my mom was 15. I've never know much about her, and her loss is still so painful for my mom that I didn't have an easy way to access her. I was both surprised and grateful to feel her influence many times while writing. I also find names of women that I know mostly as just names from my family history coming into my head often.
I do also feel, and perhaps boldly, a profound support and kindness from both Heavenly Mother and Heavenly Father, not so much as a directive, but rather a confidence and trust that I would know how to figure things out, that I would do what was best. I still feel that, and I think that is definitely something offered to all of us, and something I hope to continue to feel. I don't think I am unique or particular in feeling or believing I feel that. I was offered an incredible and humbling amount of support both from the women and from the men around me as I've gone through this process. From Blair, to the people at the Maxwell Institute, my husband, friends who read and talked through things with me, people who watched my children so I could write, my family, my ward members. It truly is humbling to be not only witness to, but recipient of so much support and kindness, earthly and otherwise.
Dianne: What did you learn about yourself as you wrote this book?
ASHLEY: Above all, I gained traction in understanding my own self-worth. I gained a belief that I can be efficacious both in thought and written word, so it is worth speaking up. I did not start a single piece in the book knowing where the piece would end up—I was continually surprised by where the pieces went for the duration of the writing period. Memories that I thought meant one thing, were far more complex and far reaching than I had previously believed or known. I learned that writing is a tool for self-revelation. I learned that I am simply a wave in a sea of voices, both historically and contemporarily, and that doesn't make my contribution less valuable.
Dianne: Many of our readers will recognize you as an accomplished artist. You also started the We Brave Women initiative to educate youth about important historic and contemporary women and co-founded the Billboard Poetry Project. Tell us a bit about these professional identities and how they fit together.
ASHLEY: Sure! As an art student and as an artist, I realized early on that I wasn't super interested in making art for galleries, not because I don't think it is a valuable and necessary thing for many artists to pursue, but because for me, it just never felt motivating. My projects from the beginning were geared toward an interruption of the regular—A pause and brief restructuring of the mundane. My earliest projects as a college student included things like going "birding" with friends—I would paint hundreds of little birds, cut them out and then in the middle of the night we would go to a place like an elementary school and tape the birds all over the front doors and windows of the building with signs that said "Take one for you and one to give to a friend." I once sent out dozens of paintings to randomly chosen addresses in the phonebook with an envelope and a note asking the recipient to send something back that made them happy. One of my favorite projects was an installation piece on a city wall, I spelled out the word GROW with little sewn packets of wildflowers seeds and left it with a sign that asked people to take one and leave a note in its place explaining what they would do with the seeds. In all these cases, I've of course come up against failure, rejection, or non-participation, but I've also seen so many touching and thoughtful exchanges through these simple projects.
I think my work will always be interested in making meaningful exchanges between people, between strangers. As I got older then, and especially as I had children of my own, the projects morphed into things like the Billboard Poetry Project (putting local poems onto billboards), and then eventually children's books and art, which I've always felt a deep love for. I did a couple of Kickstarter campaigns and even those to me felt part of the art process as I was able to again make connections with strangers and build community through an interruption of the mundane. The We Brave Women project came about after I had my daughter, Thea, and I knew that I wanted for her a greater understanding and grasp of her capability and power than I ever had. I spent hundreds of hours researching women, painting their portraits, reading their words and then turning that into a set of 60 cards that have now gone into the world to thousands of homes and classrooms. I love that the project is generative, and that each person who takes the time to teach about and know these women gives the project life and vitality. I love projects and want my projects to reach far beyond me. I don't want them to be about me, but rather, I am interested in creating occasions and reasons for stepping outside of ourselves and hopefully experiencing some magic that is out of the ordinary. In so many ways, my book then is just an extension of that. I don't want to be in the spotlight, I don't want people to be thinking of me as they read, I don't even want them necessarily to be thinking of themselves. I want the experience to be a generous and hopeful read.
As for the future, I don't see a path where my art making and my writing diverge into separate things. They've always been married for me, the kind of couple that has lived a whole life together and it becomes impossible to distinguish what belongs to who or who owes who what. Writing, painting, drawing and process will always, or at least I imagine will be endlessly fascinating, challenging and motivating to me.
Dianne: Any other projects in the works?
ASHLEY: I have another children's book coming out this month and beyond that, I'm continuing to write. I function in periods of incubation and observation and then periods of production and creation. I'm not sure what is next in terms of another project, but in the meantime, I'm taking the Brave Women cards into local classrooms, doing lots of book readings and events and am thinking about my next steps, whether that be another MFA, or a PhD. I'm positive there will be more projects, I sort of can't help myself, but for the moment I'm just happy and enjoying this space that I am lucky enough to be in.
Dianne: Any final thoughts or advice for our readers?
ASHLEY: I was asked to speak to a group of MFA students on being creative beyond getting a degree. I thought for weeks and weeks about what advice I would give them and I finally winnowed my ideas down to three things that I hope are useful to anyone looking to create in any capacity:
Take time both with your work (whatever that may be) and with yourself to understand what motivates you and then take ownership of what you find. (I believe this applies to pursuits like writing, art making, music, science, but also things we don't always think of like the creativity and work required to raise children or be an aunt or uncle to children, to cook, to be a community builder.
Practice and refine your confidence in taking up space in the world, even if you fail in that space for a time. Practice unapologetically speaking your mind when you've thought something through.
In my experience, I have to work with real materials in order to understand what I think or want to say. I don't necessarily mean paintbrushes and paper, though that can be a form of materiality. I mean, I need to participate in the material world through nature, through service, through my friends and family in person, through actually writing the idea out onto a piece of paper. When I get caught in the ephemerality of the internet, of social media, of simply philosophizing and pontificating without taking some time to work with my hands, I get lost, I find I compare myself to others more and lose a little bit of myself. When I am actively exploring, interacting, and creating within the physical world, I find that I am excited about what will come next and my work becomes generative rather than overly self-aware and self-conscious.
Thank you so much for letting me speak here. I really do appreciate it!
If you are along the Wasatch Front, there are several book events to attend this week: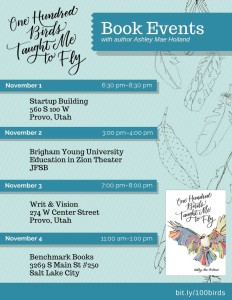 Plus, on November 5, a Salon event hosted by The Mormon Women Project. More details here.