Career Day: Marketing Director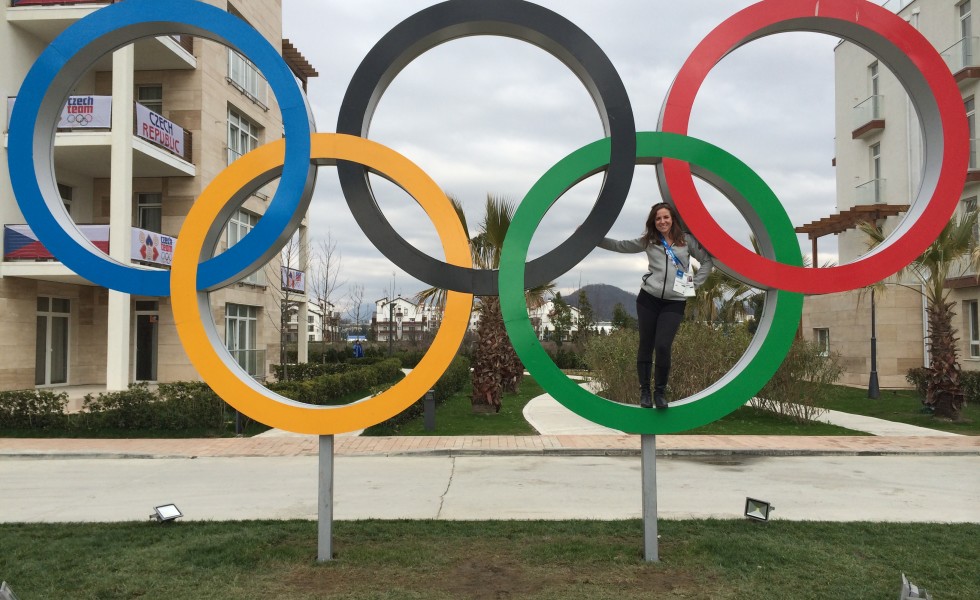 Tell us a little about yourself and about your job?
My name is Katie Clifford and I'm the Marketing Director for a sports design consultancy in Salt Lake City. Our studio was started by a couple of designers who worked for the Olympics in 2002, which happens to have been the first place I worked after college. We do all kinds of design work for sports venues and events—from the big graphics you see at things like the Super Bowl down to the signs that help you find your seat at the brand new NFL stadium in Minneapolis.
I grew up in Salt Lake but moved away right after the Games and lived and worked all over the country. I came back about 6 months ago and got this job mostly because I never, ever let go of a contact. Friends of mine from that very first job connected me to this opportunity and it's been pretty dreamy.
My degree from Southern Utah University is in Advertising and PR. Over the years I've worked in events, sports marketing, brand marketing, and now in a marketing and new business role.
What does your job entail?
This is probably what everyone says but there isn't really a typical day at the office. As the director, I do all the high-level strategy, which means setting the strategy and the goals and working with my team to set the tactics. We are small—only 36 employees—so my three-person team does ALL the marketing work. Our main communications tool is our website, so we take all the photos, write all the copy, and do all the content creation for that site. We also write loads of proposals for new business.
Why did you want to work in marketing? When did you know it was what you wanted to do? What drew you to the profession?
I originally studied advertising because I thought it was a great way to get to be creative but still have a steady income. So my plan after my mission was to go to the advertising agency where I had been an intern and be an account manager. But then the 2002 Olympics were ramping up and hiring like crazy and I thought it would be pretty cool to see if I could get involved. I had a friend there who helped me get an interview and it honestly changed the course of my life. I was not a sports person at all but I got completely addicted to that world. My job was in event management and I got to work directly with the teams. It was a super dreamy opportunity and when it was over, I knew I wanted to stay around sports and events. Working in marketing was a perfect way to blend both, and also develop skills that could translate into other opportunities.
What kind of education/training is required? Any post-graduation? What skills/personal characteristics are important to have/develop?
The educational requirement for my career is just a four-year degree, but beyond that, if you want a job in sports, you need to be prepared to do a fair amount of volunteering and working at low-paying internships. Experience is what really speaks in this field, so you have to hustle. I'm not a naturally extroverted person and that is definitely the kind of person that thrives in this very relationship-, network-driven arena. But I do have a genuine curiosity about people and am interested in details about their lives, so I have used that characteristic to fake some extrovert tendencies.
What kind of job opportunities are there in your field?
Every single company you can think of has a marketing department. So it's a wide-open profession. I have worked for giant brands (PUMA, The North Face), smaller niche brands (RYKA), and then had one-off opportunities like my current small studio and my five years working with the US Olympic Team. So is there something you are passionate about? It probably needs to be sold, and you could do it.
What types of jobs have you had within your profession?
I worked in event management at the start of my career and then have had various marketing manager roles. I took a bit of a side step back into event management about six years ago when I took a job managing team processing for the US Olympic Team. I worked with Nike and Ralph Lauren to do all the athlete outfitting. It was certainly tangential to my field but the most fun I have ever had at work. There wasn't a lot of growth opportunity so I had to move on, but dang, it was a pretty rad job.
What is the best part of your profession?
I think the best part of marketing is that it's just always really different. You might work on a website or an ad campaign or a piece of content—no day really looks the same, and the projects you get to work on are usually fun and creative.
What is the worst part of your profession?
The marketing folks often get viewed as the party kids at the company. Very often the other departments have the impression that marketing gets to do all the fun things, and they don't see how much behind-the-scenes work goes into what we do.
What's the work/family/life balance like?
This definitely depends. I have had a number of jobs that were travel-heavy and that started to wear me out, but that is not always the case. I've also been single my entire career, so my life balance has meant different things at different times. Sometimes I loved the travel part because I could spend extra days in cool cities and meet up with friends—things I might not have done if I'd had responsibilities at home.
What is the biggest misconception people have about your job?
That it's super glamorous. I have gotten to do some pretty awesome stuff, but I also do a lot of budgeting, staring at spreadsheets, stressing out—just like everyone at every job ever. It's not all photo shoots and client dinners.
What opportunities have you had because of your education and?
I mean, the quality of my entire adult life has been a direct product of going to school and then following job opportunities around the country. I've been to four Olympics. I signed Kelly Ripa to be my spokeswoman, I signed Rickie Fowler to represent my brand, I've traveled all over the world, I lived by the beach and ran on the sand every single day. I lived in Boston and I lived in San Francisco. I skied every Saturday for five years in Colorado. I've had a remarkable life and it's all, ALL because I made a good decision when I was 17 and went to Southern Utah University and hung in there even when I got super homesick and wanted to drop out.
What stereotypes or criticisms have you faced as an educated Mormon woman with her own career?
The good news is that I left Utah when I was 25 so for the most part, my coworkers haven't known much about Mormons. I've had a few funny conversations with people who wanted to know if I was "allowed" to not be married at my age which is always funny. But I can't even count how many Relief Society lessons I have sat through—even in a singles ward—where careers are discussed as "plan Bs," and for me, this is just my life, not a fallback. And of course, you do get the guys who remind you that a career girl isn't attractive to a good LDS guy but that's a load, right? Right.
What spiritual guidance have you felt as you have pursued your education and developed your career?
My path has been so twisty and so unique that I have known every step of the way that God has led me. I think that is why some of the goofy comments you get as an LDS woman with a career are easier for me to laugh off—I know I'm following the plan for my life and I'm pretty secure in the knowledge that He's proud of me for using the talents He gave me.
Any other thoughts, advice, or stories you'd like to share with other women?
Number One: I managed the interns in my department for a long time and I always gave them the advice Conan O'Brien gave on his last day at The Tonight Show: "Nobody in life gets exactly what they thought they were going to get. But if you work really hard and you're kind, amazing things will happen."
Number Two: I once had the opportunity to hear veteran Olympians share advice for newbies on what to expect at their first Games. One runner told them that there was a real temptation to get distracted by what other people were doing and worry about whether your training was right. But she said, "Just do you. Whatever you did got you here and it is enough. Do you." I have had to remember that over and over, especially in a world where everyone wants to tell you all the ways in which you are not enough. Do you. I promise, the best you will go way further than a watered-down version of someone else.