Voices from the Past: Louise Yates Robison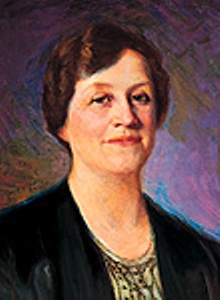 by Brooke Nelson Edwards
It's no secret that Mormon women today are dominating online in lifestyle blogs and Etsy stores.* But long before Etsy and Instagram came on the scene, Mormon women had a long history of using their artistic and creative skills to supplement their family incomes. Meet Louise Yates Robison—the original queen of the Mormon craft world and an incredible example of faith, determination, and resourcefulness.
Louise was born in 1866 in Scipio, Utah. Her parents were there on assignment by Church headquarters to help colonize Millard County. Louise studied at Brigham Young Academy as a teenager, but cut her studies short when she married at age 17 and then went on to have six children.[1] She had, however, completed some vocational training prior to getting married. "A six-month course in dressmaking at age fifteen helped prepare her for future service on the Relief Society General Board, where she directed the Temple and Burial Clothing Department."[2]
Louise was adored by both her children and the youth that she served in the Church. She served for many years as a leader to young women in the Mutual Improvement Association (MIA).  When she was first called to serve as YWMIA president, the bishop "disregarded her selection of two friends as counselors, and called women she did not know.  She found these women to be ideal counselors and dear friends." This was a significant lesson in Louise's life about learning to trust her leaders. But Louise also knew when to not take direction too seriously. One of my favorite stories about Louise was when once, at a stake dance she helped to chaperone, "when the Waltz was strictly prohibited because of its close contact with the partner, Louise cornered the Bishop, keeping him occupied long enough so the youth could dance, just once, the forbidden dance."[3]
Once her children were raised, Louise "enrolled in university extension classes to make up for her lack of education. For years she got up at 4:00 a.m. so that she could study for two hours before her day began."[1] Her example of learning and education was lifelong.
At the age of 62, Louise was called to be the General Relief Society Presidency. She was not informed of the calling before it occurred, and so she sweetly and faithfully raised her hand to sustain this woman who shared her name, having no idea that she was, in fact, sustaining herself.[3]
"'When Mother went to President [Heber J.] Grant's office to be set apart, she felt sure he had been misinformed about her abilities,' said her daughter, 'so she told him she'd be happy to do her best in whatever he asked her to do, but she wanted him to know that she had limited education, and very little money and social position, and she was afraid she wouldn't be the example that the women of the Relief Society would expect in a leader. She finished by saying, 'I'm just a humble woman!' President Grant answered, 'Sister Louizy, 85% of the women of our Church are humble women. We are calling you to be the leader of them.'"[1]
Called just a year prior to the Great Depression, President Grant's calling of Louise was indeed a perfect fit for the sisters of the Church. No one was in a better position to understand and help guide women through that immensely and financially difficult time than Louise.
One of her most significant contributions as General Relief Society President was the creation of the Mormon Handicraft store. Louise created this nonprofit venture as a way for women to monetize their talents and sell goods on consignment so that more mothers could have the means stay home with their children while still helping to provide for their families during the economic devastation of the Great Depression. Everything from quilts to dolls to sweets were sold at the store, and it remained successfully in operation until the 1980s when it was acquired by Deseret Book, having grown as a source of income not just for LDS women in the Salt Lake Valley, but for women all around the world who would ship their completed arts and crafts.[2][4]
Sister Robison was also a crucial assistant in helping President Grant to administer the church's new welfare program, which was created during the time she served. As noted on the Church's biography of her, Louise "spent much of her time focusing on sisters who lacked formal education and material wealth, feeling she was in similar circumstances."[1]
Modest and unassuming, Sister Robison was the "the first Relief Society general president to address a regular session of a General Conference." She was also "the first to visit the Relief Societies in Great Britain, and on that trip she also served as a delegate to the Tenth World Congress of the International Council of Women, held in Paris."[2]
Following her service in the Relief Society, Louise moved to San Francisco to live with one of her children. She passed away in 1946 at the age of 79.[2]
*See for example, Emily Matchar, "Why I Can't Stop Reading Mormon Housewife Blogs," Salon, Jan. 15, 2011, at
Sources:
"Louise Yates Robison," at https://www.lds.org/callings/relief-society/relief-society-presidents/louise-yates-robison?lang=eng
Janath R. Cannon, "Louise Yates Robison," Encyclopedia of Mormonism, at http://eom.byu.edu/index.php/Robison,_Louise_Yates
"Louise Yates Robison," at http://www.ldswomenofgod.com/louise-yates-robison/
Carol L. Clark, "Mormon Handicraft," Encyclopedia of Mormonism, at http://eom.byu.edu/index.php/Mormon_Handicraft