How My Younger Self Got Schooled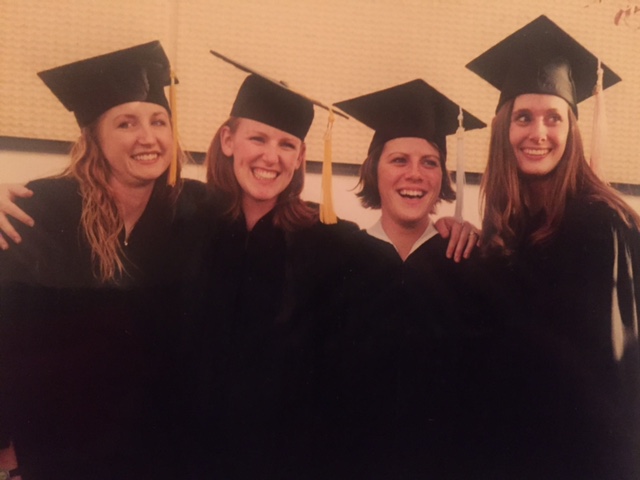 by Naomi Watkins
Last week, Michael Austin over at By Common Consent highlighted the dearth of full-time female faculty members at the BYUs (you can read additional follow-up posts here, here, and here.) The timing of this post was particularly interesting as I was to give a lecture two days later to 150+ female students at BYU as part of a career exploration course that is now offered. This course includes weekly female guest speakers talking about how they've navigated their educational and career paths.
While I have often reflected on my own educational and career path as I have worked to build and cofound Aspiring Mormon Women, Michael's post caused me to reflect on my path in a new way. Seeing the realities in numbers like that had a different effect on me.
During my time at BYU, I had three female professors, two who were full-time faculty members with PhDs. All three professors were in the English department. When I received a strong spiritual witness that I needed to receive a PhD, one of the first questions I pondered was whether Mormon women actually earned PhDs. Was this something that Mormon women actually did? And when considering the answer to this question, I recalled those two BYU female professors. I figured that if they could earn PhDs, so could I. I don't think it's coincidental that my PhD is in the same field as these women.
Preparing for this lecture, I revisited my journals from my time at BYU. I transferred to BYU after 1.5 years at a private liberal arts university in Southern California, and I was a declared English major. For most of my undergrad years, I had no idea what I was going to do with an English degree—most people assumed I was going to be a teacher, and I very much bristled at the suggestion. Yet, I found an entry that I wrote in January 1999 at age 19:
"I have decided that I am going to be an English teacher…And I know how much I was against the whole teacher thing before. I decided that I needed to stop being so stubborn and get over my hangups about teaching. My main problem with it was that's all anyone ever thinks I can do with my degree and that makes me mad…And truly—that is a stupid reason not to do something—because everyone thinks you should."
I read that entry now and I'm mad all over again. While I liked teaching well enough, and was good at it, teaching was the only thing that seemed a possibility because it was really the only viable option offered or suggested. True, the Internet was still years from being something of worth and value—I was reading about job possibilities and career options in physical books that were located in the reference section of the library. The world was so much smaller then. And college advisement centers offered very little in actual advisement.
Yet, several months later, I hadn't made the switch from a regular English to English Education major. I still seemed pretty undecided for about 9 months. I wrote: "I read about various careers and for many of them I'd have to begin at the very, very bottom of the ladder and work my way up to do anything that I'd remotely want to do. That would be okay if I planned on working for the remainder of my life—but I'm not going to."
Ah, the certainty and surety of youth.
Hindsight is of course 20/20. But I am fairly certain—at least hopeful—that if I had expected to work for longer than a few years that I would have made different plans. Maybe, I would have actually made a legit plan. At age 17, this was my plan: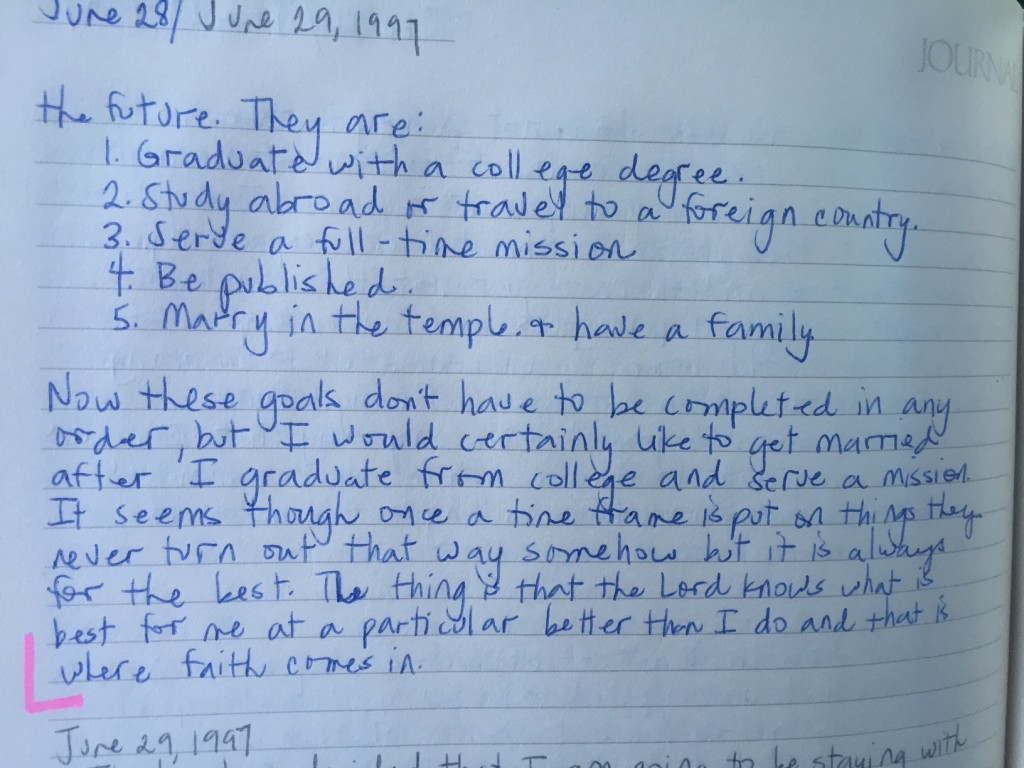 To my youthful credit, I certainly valued a college education and had some ambitions, but gosh, I really wish this career exploration course was around when I was a student, because I really could have used it. I am glad that it now exists—and that at least this group of students—who ended up being both female and male students—will see and hear from Mormon women in a variety of careers and life circumstances.
Based on the conversation that I had with these BYU students on Monday, I can see that they are thinking about their lives in ways that I wasn't doing then. At least this particular group of students seemed more aware of the cultural pressures, and they are so very earnest at trying to figure out how to navigate them and how to hold those pressures at bay.
One student asked how they can best combat the LDS cultural myths and misconceptions about women (and men). And while there's not an easy answer, particularly in application, finding community where we can dialogue about the pressures, where we can sort and sift through the messaging and our own desires coupled with prayer, has been the best tool I've found. It's a big part of why I think Aspiring Mormon Women is so successful. Women have a safe, supportive space for not only practical advice, but also for emotional support and solidarity.
And while I wasn't expecting male students at this lecture, I was glad to see them there. They need to not only see and listen to women as experts, but they also need to hear our stories, our struggles, our worries, and our concerns. At one point, we were discussing the notion that Mormon men don't want to marry ambitious Mormon women—a notion that many, many Mormon women report hearing from others or experiencing firsthand. I could see some of the male students bristle; one raised his hand and said, "Well, this Mormon man does like ambitious Mormon women, so I take issue with that idea." As he should.
While we're not going to see the numbers of female faculty at BYU increase overnight, the tides are changing. I'm hopeful of that. As these conversations come out more into the open amongst the BYU student body, as this course and other events on campus highlighting women who embrace their ANDS, and as young Mormons elsewhere do the same, I really am hopeful that we'll see a shift—because we really, really must do better.