Career Day: Collegiate Coach
Tell us a little about yourself and about your job?
My name is Heather Olmstead and I am from Carpinteria, CA.  I live in Orem, Utah and am the Head Coach of the women's volleyball team at Brigham Young University in Provo, Utah.  I played volleyball and graduated from Utah State University in Logan, Utah.  I grew up on the beaches in California but fell in love with the mountains in Utah.  I have 6 siblings and 4 of us played college volleyball.  My only brother, Shawn Olmstead, is the Head Coach of the men's volleyball team at Brigham Young University.
What does your job entail?
My job is to lead the women's volleyball team at BYU as they get a degree and play Division 1 athletics.  Our team competes in the fall from August through December.  My days consist of attending to administrative duties that include recruiting, travel, marketing, scheduling, scouting, meetings with players, and attending to the needs of our team.  We spend 3 hours a day training on the volleyball court, watching film, and working out in the weight room.  We typically have 2 conference matches a week that take place on Thursday evenings and Saturday afternoons.
What drew you to coaching?
I got into coaching because the coach who recruited me to Utah State saw something special in me and believed in me.  That belief gave me confidence and changed my life for the better.  I wanted to be able to give that back to other young women and help change their lives.  I was given the opportunity to coach at my alma mater shortly after my playing career was over.  I didn't think I was interested in coaching but once I stepped into the gym I was hooked.  It is a great way to stay involved with the sport and give back.  If I had known I was going to coach I would have graduated with a teaching degree.  Coaches are some of the best teachers.
What kind of education/training is required? What skills/personal characteristics are important to have/develop?
Most universities only require an undergraduate degree to coach.  Coaches typically start as a volunteer coach or a 2nd assistant and work their way up from there.  I was the 2nd assistant coach at Utah State University and at the University of Utah before I was given a bigger role.  One important skill in coaching is communication.  It's important to learn how to communicate with players, staff members, and administrators who interact with the program.
What kind of job opportunities are there in your field?
There are many different job opportunities in coaching.  Each staff is allowed 3 full time coaches.  We also have managers, graduate assistants, and director of operations on staff.
What types of jobs have you had within your profession?
I've had many different jobs over the 13 years I have been in coaching.  I have been the recruiting coordinator, the offensive coordinator, and the defensive coordinator.  I've been in charge of team travel, equipment, social media, marketing, and fundraising.
What is the best part of your job?
The best part of my job is the opportunity to be around a bunch of really great young women who are striving each day to be better people and better volleyball players.  I get to pick (recruit) who I want to be around and that makes for some really enjoyable moments.  There is nothing better than having goals as a team and accomplishing them.  Even if we don't win a conference championship every year, the learning and growth that takes place along the way is what changes us.
What is the worst part of your job?
The worst part of my job is losing.  I don't like to lose, but as long as we learn something from a loss, then it's a win!
What's the work/family/life balance like?
Brigham Young University is a great place to work because they understand the balance between work and family.  Coaching requires some long hours but it provides some down time out of season and during the summer.
What is the biggest misconception people have about your job?
I think the biggest misconception people have about coaching is that it's an easy job, especially if you have talented athletes.  Coaching requires an abnormally large amount of emotional and physical energy each day that not every coach is willing to give.
What opportunities have you had because of your education and profession (that you might not otherwise have had)?
I've been able to travel the world because of my profession.  I've played and coached volleyball all over Europe (Croatia, Italy, Slovenia, Czech, Germany, Austria), South America (Brazil, Argentina, Mexico, Dominican Republic), and China.  I've met so many different people and have made great friendships because of the places I have been.
What stereotypes or criticisms have you faced as an educated Mormon woman with her own career?
I have had such great support throughout my career from wonderful mentors and administrators who have only wanted to see me succeed.
What spiritual guidance have you felt as you have pursued your education and developed your career?
There have been many times where I have gone to the Lord for confirmation that the path I was on was the right one.  During my most recent transition from assistant coach to head coach I read a lot of talks about moving forward with faith.  I decided that life is about the opportunity to learn and grow and there is no better way to do that than to be challenged and get outside my comfort zone.
Any other thoughts, advice, or stories you'd like to share with other women?
I always try to be in the right place at the right time and work hard.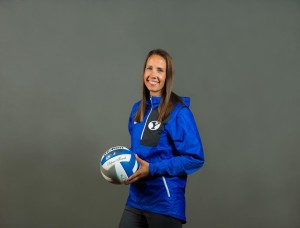 Save
Save