Revisiting the Friend Magazine's 'When I Grow Up' Feature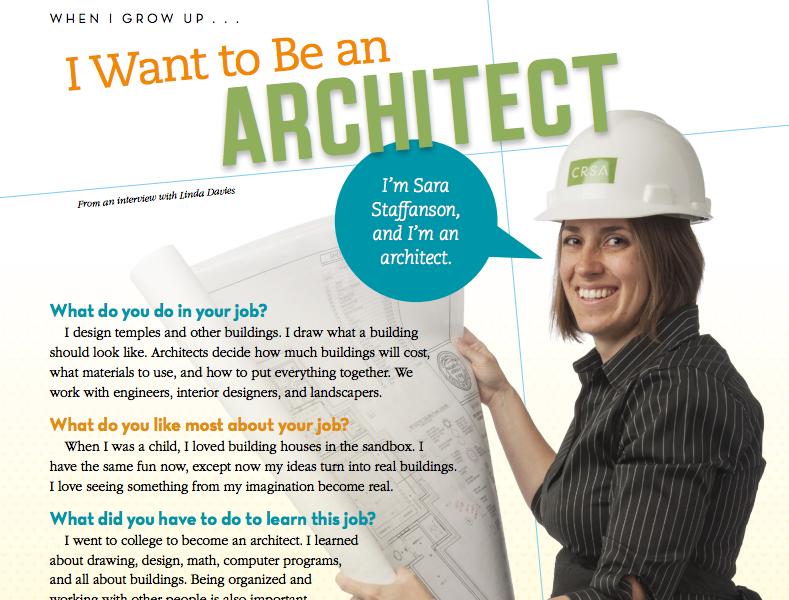 by Naomi Watkins
In May 2014, we noticed the Friend magazine (the LDS Church's magazine for primary-age kids) had started a series of short features called "When I Grow Up, I Want to Be…"that asks people about their jobs in a similar manner to our "Career Day" interviews. We at AMW were excited about this new series, and we hoped for articles that would not simply perpetuate gender stereotypes. For example, we wished for a feature about a female computer programmer and a father.
We were pretty close to these wishes coming true. Since January 2014, the Friend has published 15 features showcasing both men and women in a variety of careers:
Women (8)
Men (7)
Several things that we love about this series:
It showcases both men and women pursuing their professional goals and dreams.
It emphasizes the importance of family and/or parenthood for both men and women combined with their careers. #EmbraceYourAND
It pushes boundaries on what constitutes "women's jobs" and "men's jobs." For example, some of the features highlight women in traditionally male-dominated fields and men in traditionally women-dominated fields. Hello, male ballet teacher and a female dentist!
Both men and women are asked the same questions about their careers, which leads to…
There is an emphasis on how work helps us (both men and women) serve others, including in our families, at church, and in our communities. The focus of these features is not solely about how work provides financially. This distinction is especially important given that traditionally women's work is frequently framed as service-oriented (i.e. think about how your education/work helps you be a better mom), while men's work is often framed in regards to earning potential (i.e. how does your work help provide for your family?). True, financial benefits of work are essential, however, we'd encourage discussions that focus on both types of benefits (service & money) for both boys and girls, men and women.
No disclaimer is provided for why these women have careers. It's not because their husbands have died or they've divorced or because they haven't had an opportunity to marry or because they're earning money to pay for luxuries. Their work is framed as a passion, an interest, a worthwhile pursuit and contribution.
As these features have appeared in the Friend, AMWers have taken notice, mentioning them in our discussion forum. One AMWer commented, "This series is something I NEVER expected the Friend would do. I feel more hopeful that other changes around gender in the LDS Church can change." And another said, "Love this series too – they just did one on a female architect and I might have teared up a little! (And pinned it up on my daughter's wall, lol) I'm an architect." Role models matter.
And since inevitably (some) people on the Internet will probably tell me that this series is "not that big of a deal" and that I "should worry about more important things," let's discuss why this Friend series is a really big deal. For example, the current Eternal Marriage Student Manual (2003) contains an entire chapter devoted to "Mothers' Employment Outside of the Home" plus other chapters emphasizing that women/mothers stay home and nurture children while men go to work and provide financially. The manual includes quotes such as:
"Your wife will be fortunate indeed if she does not have to go out and compete in the marketplace. She will be twice blessed if she is able to remain at home while you become the breadwinner of the family." Gordon B. Hinckley, Conference Report, 1998.
OR
"It seems strange that women want to enter into professions and into work and into places in society on an equality with men, wanting to dress like men and carry on men's work. I don't deny the fact that women are capable of doing so, but as I read the scriptures, I find it hard to reconcile this with what the Lord has said about women—what he has said about the family, what he has said about children. It seems to me that in regard to men and women, even though they might be equal in many things, there is a differentiation between them that we fully understand. I hope the time never comes when women will be brought down to the level with men, although they seem to be making these demands in meetings held … all over the world" (Teachings of Howard W. Hunter, 150).
Or there's the instruction provided in The Parents' Guide: Teaching Children from Four to Eleven Years that is currently available on the Church's website:
"Girls ought to be taught the arts and sciences of housekeeping, domestic finances, sewing, and cooking. Boys need to learn home repair, career preparation, and the protection of women. Both girls and boys should know how to take care of themselves and how to help each other… There are, of course, realities to face also. Boys must learn basic domestic skills, and girls must be able to earn a living if necessary." (italics mine)
OR
"Mothers work along with daughters to bake bread, sew, and plan family menus and budgets. Mothers perform compassionate services with their daughters as companions. And mothers and daughters engage in various mutually enjoyable activities. They sing, play musical instruments, compose music, write poems, and develop artistic talents in all their varieties with their daughters.
Fathers work with sons in repairing things around the house, maintaining the yard or car, and planning the budget. Fathers invite sons to help them perform service and let them observe priesthood blessings. And fathers hike or play ball or engage in other mutually satisfying activities with their sons. Of course, mothers also teach sons and fathers teach their daughters. If a girl is intrigued with a saw and hammer, the father should help her become proficient. If a boy enjoys cooking, the mother should teach him to be a good cook."
As adults, we grew up with this messaging. We heard it from church leaders, from local leaders, from our parents. It influenced our choices, and thus, our present realities. Aspiring Mormon Women exists because there's a need for LDS women to have a safe space to sift through this messaging as they strive to excel educationally and professionally. The biggest support we provide is a haven for women to not only sort through this messaging, but to act on personal revelation that tenses with these messages. Fortunately, as this Friend series illustrates, the messages and ideas about men and women's work are changing.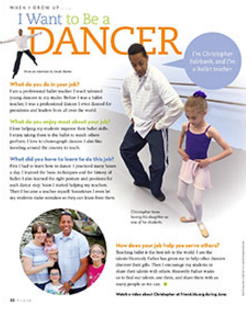 When one AMW mom shared the Friend feature with her five kids who are age 9 and under, she reported, "I was actually really pleased that they didn't seem to notice anything abnormal about a male dancer or female business owner (win win for us!). The articles prompted really great discussions on work ethic, seeking heavenly guidance in our decisions, and developing and sharing our talents in ways that bless not only us but others, too. However, this summer I was talking with my seven-year-old son, an aspiring musician, after his first piano lesson with a new (male) piano teacher. He said, with excited eyes, 'Mom, he teaches piano and writes music FOR HIS JOB!' Up to this point, his music and schoolteachers have all been women, and it was a light bulb moment when he realized that there are men with successful careers as musicians and teachers, too."
And really, isn't this what we want— for our kids to not think it's a big deal that men are ballet teachers and women are dentists, and that both men and women can (and do) prioritize their families and work? The beautiful thing about this Friend feature is that it presents #EmbraceYourAND as a reality—a truth—and not a pursuit that is the antithesis to "righteous" personhood. My hope is that this messaging will provide space for both women and men to pursue a multitude of worthwhile pursuits without cultural limitations. #EmbraceYourAND is even more possible as we expand the possibilities for both women and men.
So thanks, Friend. And hat tip to you, Linda Davies, the author of this series. More of this, please.