The Student Record: Candilyn, Counseling Psychology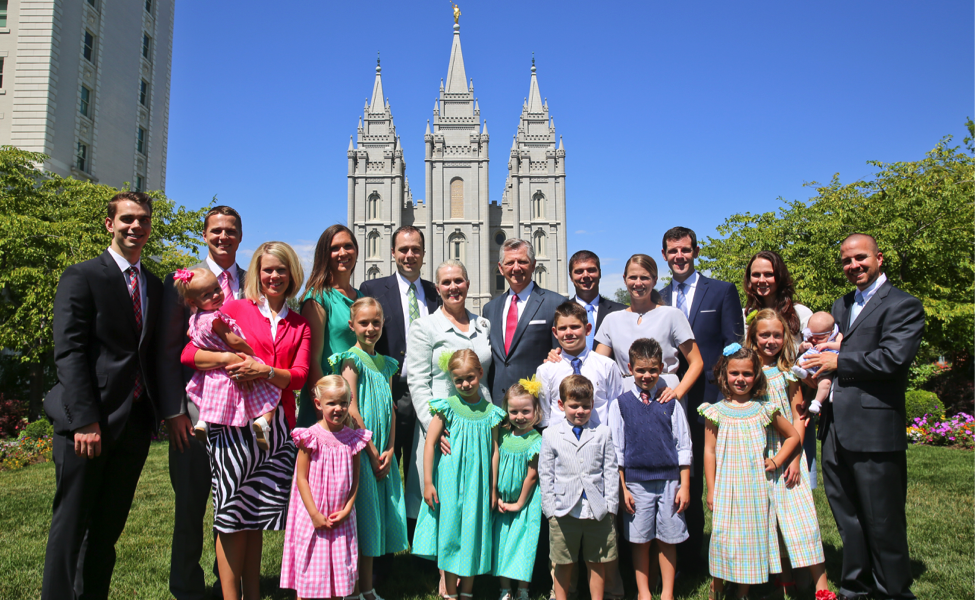 Name: Candilyn Newell
School/University: Brigham Young University
City/Location: Provo, Utah
Major/Field of Study: American Studies/Art History Double Major and PhD Counseling Psychology Candidate
Marital status/children: Married, 6 children and 14 grandchildren
What led you to the program that you are currently pursuing or have completed? Why did you select this major or field of study? 
My decision to pursue a PhD in Counseling Psychology was somewhat happenstance in nature. I had returned to BYU to complete an undergraduate degree as an American Studies/Humanities-Art History double major after an absence of several decades. When I was first at BYU as a freshman student during the 70's, I was a piano performance major. I decided I would return, but knew that I did not want to pursue that path for several reasons.
I remember well the butterflies I had when I first stepped on the campus – and I still have those same butterflies at the beginning of every semester. I soon found I could to this and I was really enjoying the subjects. I had started small with one class and then began increasing my class load until I was a ¾ student.
I thought teaching in a university environment would be something I could do for the next half of my life after my degree. I began exploring graduate programs as I got closer to undergraduate graduation and visiting with professors to see what their work looked like on a daily basis. I attended a luncheon with several professors where I had envisioned this collegial exchange of ideas and edifying conversation, and instead experienced something a bit different and began to reconsider my career path.
I went to visit with a daughter who was a professor on campus and she asked me about Counseling Psychology. I had never taken a psychology class in my life! She then set up appointments with professors in the field. I went and visited with each one, and during our meetings they each said nearly the same thing: "You have counseling psychology written all over you." I went home and looked in the mirror to see what they were seeing. I realized when I returned to school I had to learn all about general education requirements, what classes to take and when, what was an appropriate credit load, what possible career paths majors might lead to and how to have a somewhat fulfilling life along the way.
As friends watched, they asked if I might visit with their children who were either at the University or would soon be entering and would I talk with them about classes and career paths? I felt energized and rewarded after each visit. Little did I realize, this is much of what counseling psychologists do. So, in a leap of faith, after what seemed good counsel, I sent in my application to a graduate PhD program in counseling psychology. I still remember hitting the "send" button on the computer one minute before the deadline and thinking: "What have I gotten myself in to?" I was actually shocked when I was invited to interview for the program. After a full day of interviews, writing and group work I was fairly confident that I would not be accepted. With that said, I was also hopeful that if it was meant to be, it would be. When the email arrived inviting me to the program, I was filled with gratitude.
What feedback did you receive from friends, families or acquaintances about your schooling?
My children were actually the ones who suggested I go back to school. At the time we had 1 in grad school, 3 attending BYU, one in high school, and another in elementary school. After I had been so supportive of their completing undergraduate degrees and going on to graduate school, they told me I needed to complete my undergraduate degree. Unfortunately, this caused some real angst because I had left BYU on, dare I say it, probation. After decades, I had thought BYU would never let me return, and I was very nervous about even beginning the process to see if they might let me back in. Fortunately, probation can be overcome with some humility and courage. Meeting with adult advisors who are younger than you and explaining to them why you had been placed on probation was a bit intimidating, but I learned to eat a lot of humble pie, although it was not nearly as bad as I had envisioned. They were actually great supporters and very positive. I learned to follow their counsel, including staying on campus and doing homework, keeping credit hours balanced with classes of varying difficulty, and mapping out projects and papers over a semester. I have been pretty open about my experience, because I think in many ways we see education as an all or nothing experience. As I have shared my story, I have heard from several who were either in a similar position, or wondering if they would be able to do college again with "old brains." There is life after probation and, if you work really hard, you can even get to graduate school.
My husband has been supportive all along the way. He has rarely complained about all of the packages filled with books from Amazon that arrive as a new semester begins and, as I have gotten farther along in my program and had even less time at home, he has really pitched in and helped with caring for our home, and even sometimes surprises me with dinner. He also has never complained when I call in a panic because I have left a thumb drive at home that is needed for a presentation. He travels a lot with his own work (he has been to over 83 countries during our married life), but he is always happy to do whatever he can whenever he is able. Honestly, I feel very blessed to have such support, because I know not everyone does. That is not to say there have not been any bumps, because there have been, but looking back, it has been doable.
I also have terrific friends. They have been great to work their schedules around mine, and meet for lunch on campus, or do an early morning temple session before classes begin. I even have a lunch group that calls itself The Ladies Who Lunch at Breakfast because we all have very busy days so we meet early for breakfast.
Professors who could be the age of my sons or daughters, have been encouraging. I even found my second major – American Studies – through the suggestion of one of those professors. Colleagues who were already teaching and working the field. Professors who patiently waited for me to understand statistics and measurement theory (I might still be working on that). I have been encouraged almost all the way through.
What advice would you give to a student pursuing a similar course of study?
When I returned to school I was fascinated by how many other women were curious about my experience. I will never forget one woman who came up after a Relief Society meeting on Sunday. She asked how I was finding my time at college – was it hard, how did I balance everything, what did my family think, did I still have a life etc. She said something I will never forget: "You know, all my children are grown and basically out of the house. I look around and know I can only clean the bathroom so many times a week. I really feel like I need to do something – something more."
I shared with her that for me, going back to school was the right thing to be doing at this moment in my life. I still had at least half my life to go and no matter what, the years were still going to come and go.( I was 50 at the time and have told my children I am going to be hale and hearty until at least 93!) I encouraged her to find her passion – volunteering, family history, school, work, whatever – she had lived a rich life, gained new insights and talents along the way, and had a lot to offer. She just had to get started because really that is one of the most scary things, getting started and actually making it happen.
Be prepared to work hard academically. And, be especially prepared to do some tough personal introspection and experience challenging growth. A favorite axiom I share with my students is that "there is no growth in a comfort zone and no comfort in a growth zone." This program requires you to be out of your comfort zone a lot.
I think one of the most challenging components was the tremendous personal growth I experienced, intellectually, personally, socially, and professionally. Little did I realize that in seeking to better understand and support positive growth and change in others, I would experience the same. Also, statistics and test theory have been rough – I do not know if my brain liked learning those things, but learn them I did, although it was admittedly quite awful at times.
Personally I have not been as faithful about physical exercise as I had been previously. I am tired a lot, and wish for more energy most of the time. I need to take the advice I give to students – exercise gives you more energy and helps your brain function better. I hope to repent and get that going again as I have run half marathons and 10K races, and I love Pilates.
Also, trying to balance personal, family, church, volunteer, and friends with the requirements of school, studying and attending classes is just difficult and you just need to embrace that it will be difficult. I recall getting to a football game one evening when a class had ended late. One mother came up and asked if I had seen my son's last reception? "Last reception?" I thought. "There was more than one and I missed all of them?" At that moment I determined I would drop the class, knowing the class could be taken another time, and although it might be more work because I would be without my cohort, my youngest son would only have one senior season of football.
Finally, I remember feeling like I was finally seeing the "light at the end of the tunnel" as I was in the last year of my program and about to begin the process of applying for my the full-time internship that would complete my PhD program requirements. My husband and I received a telephone call from Salt Lake. He was called to serve as the Mission President in Stockholm and I was called as a full-time missionary to serve with him. I remember considering all the reasons we should wait, and why we could better serve another time – after all I was only one year from my PhD – surely the Brethren would understand? But then, when the call was formally extended, all of those arguments simply vanished and I just said "Yes, I will serve."
What did you learn about yourself when you became a student?
In my worst moments, I wonder what came over me? When we returned I had to repeat a few classes for the "currency" requirement in the program, and also had to take the class I dropped to watch my son's football game. What would have been a 5-year program, became an 8-year program (and that does not include the 3 years taken off for our mission). However, I have just completed my last classes, and will begin my full-time internship in August. I have defended my dissertation proposal and hope to complete the research and defend my dissertation this winter. Once again, I can see the light at the end of the tunnel – and it is still pretty bright even after a few years have passed, all things considered.
I learned I have a good mind. Throughout my life I have second-guessed myself a lot, and it is an interesting experience to submit a paper and think of all the things I could have and should have done differently and better. Then I get the paper back with comments that are positive, and the grade is an "A". I really question when I bought in to the idea that whatever I did academically was never good enough. Now, I have also learned that I cannot just "wing it". However, I do know that when I put in the time – and not to excess and obsession – I can do the work, and do it well.
I wish that I had computer skills before I started school. I did not even know how to turn on a computer when I returned to class in the Winter semester of 2002 – and I really mean I did not know how! I have learned Excel, PowerPoint, embedding video clips, research, research and more research, time management, reading and note taking – however, I do admit I am a much better student the second time around.
I am passionate about women having a degree of some type, whether academic, technical or trade, and not just so they will have something to fall back on in case something happens to their spouse. I believe women and men have talents and abilities that should be honored throughout their lives. How that looks and works itself out in each person's life will be very different and unique to them, but I believe having that first degree keeps all of the doors open for future growth, development, and possibilities. Had I finished my undergraduate degree when I was first at BYU, I would have completed my PhD long ago. My dissertation is actually a qualitative study about women who return to higher education to complete their undergraduate degree after an absence of at least 5 years, so I have literally put a passion into my research.
What do you most enjoy about school?
I truly enjoy being on campus and working with and learning from young adults. I love being challenged and facing my fears of failure and knowing that although I did not get an "A" in the class, I did pass. That, for me is quite an achievement as those perfectionist tendencies have been chipped away and I have created space for the Savior instead of trying to do everything myself. I like having ikigai – a purpose with meaning in each day as I seek to become and serve those around me – family, friends and students.
What are your current or future plans for employment or future schooling?
I will complete my current student internship here at BYU this May. As I have interned in various offices on campus related to Counseling Psychology, I can truly say that I love this work. I feel edified and inspired as I work with students, and hope that each person I work with feels valued and valuable. It is very obvious to me that the Lord knew more about me than I knew myself, and thank heaven I had the good sense to pay attention, because it is truly making the "next half of my life" fulfilling and joyful
Then I will take a few weeks off and then I will begin my full-time, 2000 hour internship at Utah Valley University. This full-time internship is required as a part of a counseling psychology PhD. Then, I will be looking at universities to see where there are openings in faculty, administration or counseling. I need to complete my professional boards to counsel professionally without having to work under another professional's license. Everything else, in terms of advisement, administration and teaching will be possible when I receive my PhD.
My dream job would be working in a University setting in administration, teaching, advising and counseling so I might continue advisement/counseling and research. I tell everyone at the age of soon to be 60, I have at least another 20-30 years of working before me so I feel I can still make a contribution to the field.