YW Spotlight: Emily, Ice Hockey Player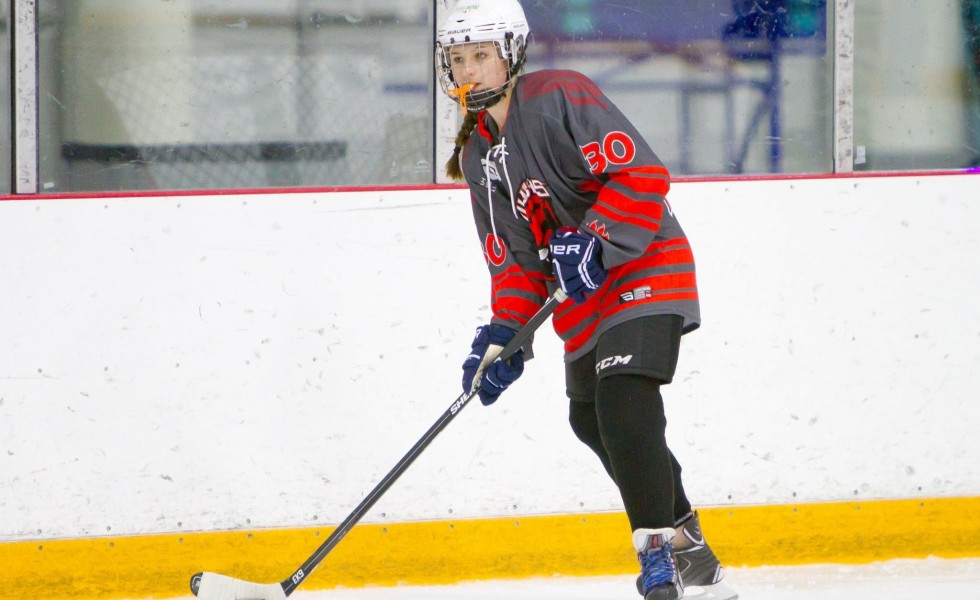 Location: West Jordan, UT
Tell us a little about yourself.
I am a 14-year-old honors student. I play ice hockey on an all-female ice hockey team with girls age 11-18. We play against women's teams. Our first year as a team, we won the Spring Championship. I also play the trumpet. My family consists of my mom, a high school Social Studies teacher; my dad, an instructional designer; my 10-year-old brother, and my Goldendoodle dog.
What led you to your interest hockey?
Since my dad played hockey as a youth, he wanted to get my brother and I hockey skates.  We live close to the Utah Olympic Oval so my parents put us in ice skating lessons to give us exposure.  I wanted to actually play the sport of hockey, rather than just learning to ice skate.  My brother and I were placed on teams and that was the beginning of 6 years of hockey so far.
Did you have any specific experiences or impressions that led you to pursue this sport?
Not really, it was more of an opportunity my parents gave me, along with the convenience of living near the Oval.
What strengths and skills do you have that have helped you to compete at this level?
A good attitude, being open-minded about different strategies and advice from coaches, being willing to accept feedback and put it to use, and determination, are strengths I have which have helped me compete in hockey.
Who has supported you while participating on your team?
My parents.  They drive me to and from practices and games, purchase and upgrade my equipment, and support me on and off the ice. My dad volunteered to coach our team. He is on the bench every game.  My mom makes sure I get there on time and helps with my stinky equipment and laundry.  Until this year she helped me get all the gear on and lace up my skates.  My parents, friends, young women leaders, and extended family have been at games to cheer me on. 
Which aspects of playing have been the most rewarding?
It's a great conversation starter. Most people wouldn't expect me to be a hockey player.  It's also great exercise!  I don't worry about not getting enough activity.  Being on a team has allowed me to make friends I wouldn't otherwise have met, and being friends with teammates helps us play better together.
Which aspects of playing have you found most challenging?
There are some early mornings and late nights.  There are certain skills I have to learn to do better. Mastering what ESPN has listed as the second-most difficult sport to play is an ongoing, life-long process.
What did you learn about yourself from participating in this program?
I have learned that playing a traditionally boys-only sport is not a big deal.
What are your plans for future schooling and employment?
I will likely do something in the medical field and earn at least a bachelor's degree.  I would like to graduate from high school with several college credits. For now I plan to attend the U of Utah.
Any other thoughts or advice would you give to young women?
Don't be afraid to do something that is not traditional for girls or women.  As long as you're having fun, that's all that matters.