Sports as a Focused Meditation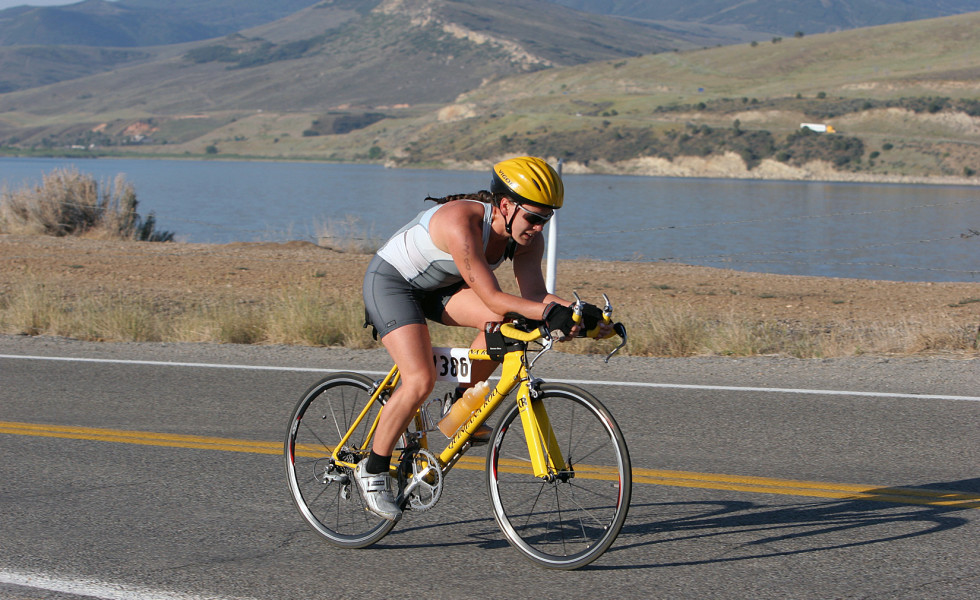 by Mette Ivie Harrison
I come from a very non-athletic family. Of eleven siblings, I remember three being involved in sports (two in cross-country, one a cheerleader) in high school, and none were in sports beyond high school. I was a swimmer for three years in high school and during that time my parents never came to a single one of my meets. I don't mean to disparage them as parents. They were involved in much of my academic life and came to every academic assembly I was ever awarded anything in.
In many ways, my father was very egalitarian. He taught me how to mow the lawn at age eleven and allowed me to swap indoor chores for outdoor ones when I wanted. He even let me unofficially go through the "Cub Scouts" requirements for a year or so when I felt unhappy that my brothers could do something I couldn't. He and my mother both encouraged academic success in their daughters. And if their lack of interest in sports was gendered, I wasn't aware of it. None of my brothers was encouraged athletically, either.
I never particularly excelled in high school swimming and never made it to State, which was my goal when I was a senior, and swimming 5 hours a day. Disappointed, I told myself the story that some people are genetically not "meant" to be athletes and I was in that category. So when I was in college, I continued swimming three days a week for thirty minutes (the government recommendation at the time). I continued swimming through many of my pregnancies in my twenties and thirties, though it didn't go beyond basic fitness level interest.
It wasn't until I was 34 that I signed up for my first marathon, after finally finding a doctor who properly treated my knee problems (they were just IT Band, which could be treated with stretching and proper build up). I did the marathon after only running 6 miles as a max in training, something I do NOT recommend. But it proved to me that maybe I could be athletic as an adult, after all. I signed up for my first triathlon after that, and when I won first place in my age group, I was thrilled.
But I got pr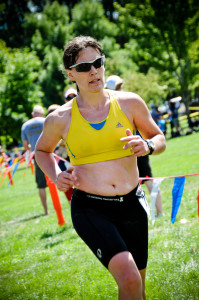 egnant the next year and while I tried to stay in shape with swimming, I didn't do anything heroic. Until my daughter was stillborn in the 42nd week of pregnancy and I was devastated. Suddenly, doing an Ironman, something I'd kept on my "bucket list" until then, felt like a necessity. I needed to have a daily checklist of things I was doing to keep moving toward the future, instead of looking back to the past. It wasn't something very many people understood, except perhaps my husband. I did write a story about that first Ironman race, which in some ways felt like me reliving the pain and the love of my daughter's stillbirth, for our local Relief Society newsletter.
You're supposed to get over grief, though. It felt to me like there was a timetable set on my grief which was shorter than I'd expected. I was called into the Primary Presidency, set over the nursery age kids, only months after my daughter's death, and it was very difficult for me to see children doing all the things my daughter would never do. Doing more Ironman competitions was a way for me to escape from my grief and from my confusion over the lack of comfort my faith had brought me.
Instead of using sport as a way to think about my life or work out tricky problems in novels, my level of exercise increased to demand total and complete concentration on every workout. I began counting steps, counting strokes, counting pedal strokes, to force more intense concentration. While I was working out and especially while I was racing, I could let go of my guilt for blessed hours, and along with my guilt for my lost daughter, guilt over my other children. I wasn't "Mom" while I was racing. I was just a body on a bike, a set of legs putting in miles, pushing, pushing, pushing. And I had some amazing success, becoming an All-American triathlete a couple of years running and often on podiums locally, as well as the top female athlete in my age group in Utah state as a whole. I often did around 20 races a year, collecting medals, T-shirts, and "swag."
I've puzzled over the reactions of other women in my ward. Some told me I was an "inspiration" to them for getting in shape so quickly after my terrible pregnancy. Others would compliment me on my successes and tell me they were jealous of how much food I could eat. I went through a long depression during those years and was confused that no one seemed to guess how my physical fitness was the expression of some of my anger at my own body, which had failed my daughter, or that the extreme level I was taking it to might not necessarily be healthy.
As I grew healthier and came out of my depression, the focus on my physical appearance still confuses me because it is an after-effect, not my goal. Sport still has its primary purpose in keeping me mentally healthy by demanding absolute concentration and thus allowing me to feel "clean" of guilt and swirling thoughts of unworthiness, at least for a few hours a day. Those who imagine I have great self-will seem not to realize that I'd exercise all day if I could. If I have self-will, it's in stopping exercise before I am completely exhausted every day. I don't exercise to look good. I look good because I am broken enough spiritually now to need to exercise to stay sane.
Mette Ivie Harrison is a mother of five, holds a PhD in Germanic Languages and Literatures from Princeton University, was an Ezra Taft Benson scholar at BYU, is an All-American triathlete currently ranked #1 in the state of Utah for her age group, is the author of The Bishop's Wife and His Right Hand, and publishes regularly with Huffington Post on religion topics.