The Day Sports Mattered to Me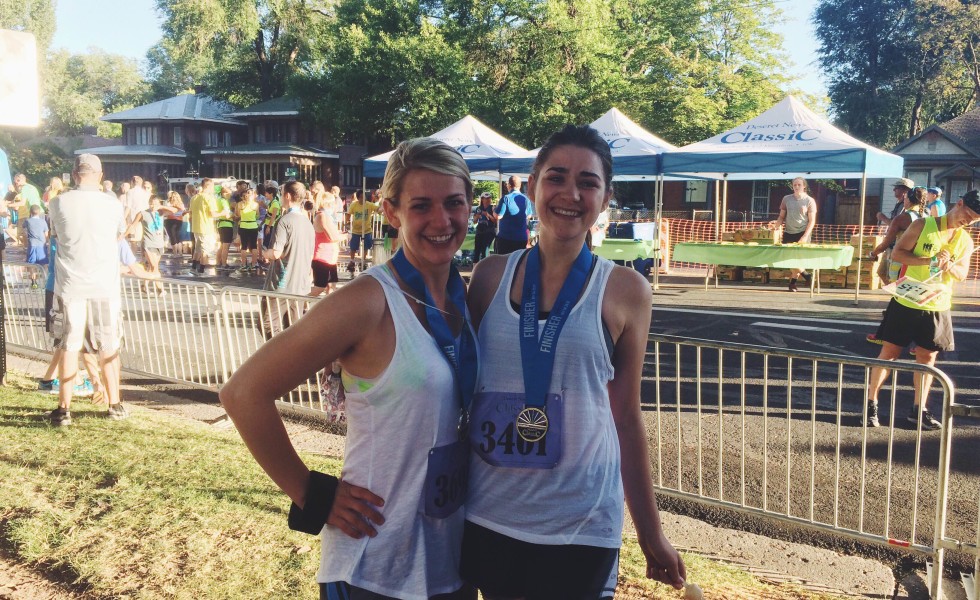 by Celeste Tholen
Growing up, I played soccer every day during recess. I loved running after the ball and maybe getting a piece of it. But I hovered dangerously close to the "picked last for the team" cliche, saved only by the fact that I was friends with the pretty, athletic girls who everyone wanted on their team. I never made a goal and was regularly jeered at for the many ways I found to mess up. Because it was grade school, someone inevitably yelled, "you gonna cry about it?"
In the summers, my siblings and I swam a few days a week at my grandparents' pool. My brother was on the community swim team and taking a lifeguard training class. I copied him, practicing difficult strokes and swimming laps. But when the time came for me to try out for the swim team, I refused to get in the pool, my size 4 feet glued to the tile floor by my anxiety that the coach would laugh me out of the pool like kids on the soccer field.
After that, I pretty much put athletics away and focused on music and words. I accepted my role as the nerdy, clumsy friend who could help you with your school paper but definitely not your free throws. I followed this familiar pattern throughout high school, college, and it even followed me into my career. I turned down team-building activities that centered around sports because I knew how it would go: I'd embarrass myself, let the team down, and smell bad afterward.
But after years of telling myself I wasn't strong or coordinated enough, how my performance would disappoint, I decided to change the narrative. I started hiking a couple days a week. My husband encouraged me to fit running into my routine to build stamina. Then, my cousin invited me on a 20-mile backpacking trip.
The biggest surprise came when I found myself agreeing to run a 10K with my coworkers. Before I realized what I'd committed to, I'd registered. Oh no, I thought. I've never even run a mile. This is the part where I fail–where they ask me if I'm going to cry about missing the goal.
Just about every night after work for the next three months, I laced up my running shoes and ran to the park by my house. My body felt awkward and out of sync. It took over a month of training to break that mile mark and even longer to get anywhere within range of 10K.
But something changed. Instead of feeling discouragement at my slow progress, I celebrated my body's ability. When I didn't think I could run any farther, I unlocked a place of strength inside me to make it to the tree, to the tennis courts, to the corner, to the crosswalk ahead of me. My hikes, too, got longer and steeper. I was climbing mountains literally and figuratively.
When race day came, my coworkers and the cousin I'd dragged along for moral support came over to carpool. My husband dropped us off at the starting line and told me good luck as he waved and drove off. The race started, I hit play on my running playlist, and let my feet guide me.
That day, I finished last in my group at 1:05. And you know what? I cried about it. I cried because it represented hours of hard work, miles of running, and believing in myself. I cried because for the first time in my whole life, I had really tested what my body was capable of and it had shown me that I am capable and strong. When I'd started this journey, I didn't think sports had anything to teach me. I looked at them as a distraction to academics and a hurtful reminder of the ways I came up short. Crossing that finish line that looked like a bounce house, the narrative about myself shifted.
Six weeks later, I hoisted a pack filled with provisions for the next few days on my back. I smiled at my hiking companions, my team. I looked in the direction of my goal. I looked at the desert in front of me and thought about the place where I kept my reserve of strength, waiting for me to call on it when I needed to.
With that, I hit the trail.
Celeste Tholen started her career as a journalist, where she got paid to snoop around. These days, she continues to tell stories as a marketing copywriter and editor and freelance arts reporter. Learn more about her at celestetholen.com.