Entrepreneur Feature: Paula Ruesch, RIK Book Camp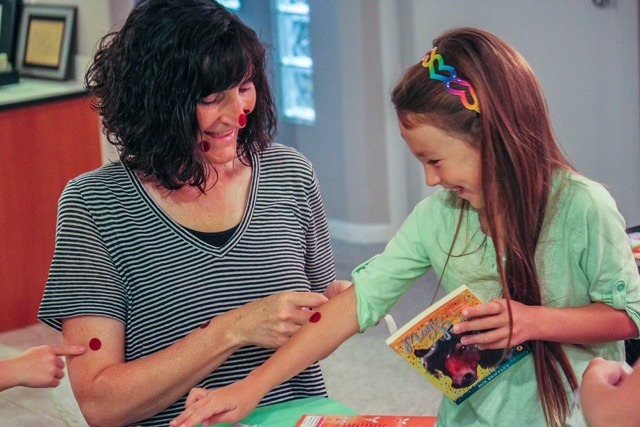 My name is Paula Ruesch. Throughout my 12-year career as an elementary school librarian my greatest joy has been helping children develop a love of reading.  Five years ago I started my first business now called RIK Book Camp. It is designed to create a fun environment which encourages children to read throughout the summer.  My second business, Reading with RIK, evolved from a product I created for my book camps called Reading Incentive Kit™ or RIK™ for short.
My purpose in starting RIK Book Camp was to encourage children to read one book a week for six weeks. The reasoning was based on the seminal study  called Summer Learning and the Effects of Schooling conducted many years ago which revealed that children who read six books during the summer didn't suffer from summer learning loss and either maintained or improved their reading skills. Realizing that reading that much during the summer could be a challenge for some children, I knew I would need a fun way to motivate them. So I created RIK. Each RIK kit accompanies a well-known children's book and contains packages with surprises that the child opens at given intervals throughout the story. Each package contains a note called a "think piece" and a story-related object. Both the object and the think piece are designed to help the child make greater connections with the story, improve their comprehension, and most importantly, motivate them in a fun way to keep reading. I discovered that the anticipation of opening the next surprise, together with the twists and turns of a great story creates an irresistible reading experience for almost all children.
What ignited the spark in you to start a new business venture or to make significant changes in an existing business?
After the children returned to school in the fall I devoted a library lesson to talking about great books we'd each read over the summer that we would recommend to other students. I was always shocked to find how many children hadn't read even one book all summer long. I had always kept my school library open in the summer so the children had access to books and storytime activities, but it became apparent that I needed to do something more.
Adults sometimes make reading part of a child's daily chores or task list, making it an assignment instead of a pleasure. When children view reading that way, they don't want to read in the summer because it feels like homework. My goal was to help children see that you can read for fun.  So I started a summer reading experience called RIK Book Camp.  For a few weeks children read books and do fun activities connected to the stories they are reading, showing children that reading is FUN! Because, when something is FUN it gets done. Right? My Reading Incentive Kit was a natural byproduct of my book camp.
For the first four years I created the kits using paper bags and envelopes. As more and more children used and loved the kits, demand grew. Parents of children who hadn't even attended my summer book camp began asking how they could get more kits. I decided to take a leave of absence from my school library for a year to start my new company Reading With RIK, LLC. and to move the kits from paper bags to commercial packaging and online sales.
What is your best advice for other (LDS) women entrepreneurs?
Surround yourself with the kind of people who would be there for you if you called and needed their help at 3:00 a.m.. Also, take every opportunity to network, and while networking, ask, "How can I help you with what you are working on right now?" And most importantly, never let the long hours and daily business demands get in the way of your personal religious practices of prayer, scripture study, temple attendance, etc. Keep doing the things you do to stay connected to God. Give your life to Him, stay close to Him, and listen to Him. If you do, you will find yourself doing things you never dreamed possible and happier than you ever imagined.
What spiritual guidance have you had with developing and growing your business?
Because I loved my library and am a librarian at heart, making the decision to take a leave of absence and start another business was really hard for me. I spent six months prayerfully considering the decision and seeking guidance before I decided to take the leave. My copy of the Book of Mormon is full of dozens of sticky notes marking the pages where I was given direct guidance and answers to concerns and questions. This direct guidance has continued. It's the kind of guidance that lets you know God is aware of you, knows you, and will bless and help you. I wish I could say that it was the kind of guidance that answered all the hard questions without any effort on my part, but of course it's not. God doesn't work that way and will always require effort from us and wise use of our agency.  
I still remember one particularly discouraging day, as entrepreneurs will have, when things seemed too hard and the effort required too great. I  came across a quote by Elder Jeffrey R. Holland that said, "If it was right when you prayed about it and trusted it and lived for it, it is right now.  Don't give up when the pressure mounts." That's the kind of guidance I've received all throughout this first year to help me through the startup phase.
I truly believe that if you are willing to work hard, listen, and not let your fears get in the way, God will lead you on a path that will bring you happiness and allow you to do the most good with what He has given you.
What has been your most satisfying moment in business?
The most satisfying moments come when I receive feedback from parents and grandparents who are thrilled that their child or grandchild is now an independent reader and loves reading because of their involvement with RIK.
The first subscriber to my RIK-A-Month program is a father I met at a trade show. He couldn't get his two boys to read at all. He bought them each a RIK and book and then called two days later thrilled that not only had the boys read the books but they had read them in two days because they were so motivated by the kits. He couldn't sign up for the monthly shipment fast enough. Nine months later he sent me a note saying the kits were, "the best tool ever for helping his boys improve their reading." Just this week I received a similar note from a teacher who used RIK in her classroom and talked about the energy and excitement for reading it created. Like any business owner, I really appreciate the positive feedback. It definitely is satisfying to hear that my product is doing what I had always intended it to do, which is to help children become readers.