Work, the Family Banner, and Me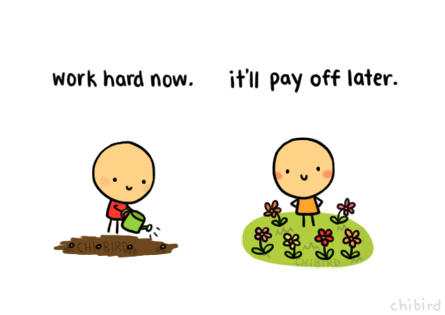 by Rachel Olson Armstrong
Charity. Frugality. Industry.
Mom stitched our motto onto the forest green family banner, which hung above the couch in the family room all the years I was growing up. Industry—work—is so important to my parents that it's one of the three words they used to capture the goals of our family. But my relationship with knowing how to work is still in progress.
My mom spent many years working hard to teach me to work. She made job chart after job chart, with stickers and fancy gold pins that connected to paper arrows to point to who needed to do what for which week. She said things like, "Before you play with friends on Friday, you need to make sure your room is clean" and "Saturday mornings are when we do yard work." She asked the family to brainstorm ways we could use our talents to create a family business: cleaning gutters or writing children's books, for example.
Mom also showed by example. I remember one Fourth of July, my little sister, Beka, and I were the only children still at home. It was a hot night, and we sat at the table eating steak to celebrate the holiday while late into the night Mom and Dad sat on the roof above us, hammering nails into our new roof tiles, their cheeks and jeans and fingers covered in sticky black tar. It was their summer project, and my sister and I sometimes helped.
She did so much yard work and housework, so much service to members of the ward and also to the community. She was the Parent Teacher Association president, the head of Parents as Reading Partners at my elementary school, and the go-between between the community and our curmudgeonly library. So many years teaching early-morning seminary and getting up at 3 a.m. to prepare. So many notebooks full of tiny, thoughtful writing about scripture study, budgeting, and meal preparation.
So I feel like I'm breaking her mother heart (or maybe Mom always knew) when I admit that my 40-hour workweeks, 6 a.m. wake-up times for my 1.25-hour commutes, are really rough for me. I remember sitting in the car with her, dreaming out loud of all the sleep I'd get once seminary ended, and then hearing her tell me that early-morning seminary was preparing me for when I'd need to wake up that early to get to work.
I feel like weak sauce. Some of my co-workers have spent decades getting up at 4:30 a.m. to get to work at 7 to get back home at 4. They have kids and write articles and keep second jobs. They consistently have to work a lot more than 40 hours a week. I sit at a large desk with nice lighting. I can see outside through our huge windows if I lean back in my chair. My job doesn't require physical exertion (except occasional carpal tunnel and eye strain), and I seldom have to work with people I find difficult. When I talk to people about my 40-hour work week, I think I see them calculating the number of people they know who work 50 or 60 hours a week. It's a majority.
I guess I shouldn't be surprised I have a hard time with the standard work week. I did everything I could to avoid looking at our job chart, cleaning my room on a weekly basis, or working a job in high school. I remember spending a summer in Utah during high school to keep my Grandpa Hoggard company after Grandma Hoggard passed away. We went to Grandpa Hoggard's favorite café and watched TV at home, him sitting in his chair in his beige worksuit drinking Coke. One day my aunt Sue asked me if I wanted help finding a job, like with my cousins who worked at a daycare nearby. "Definitely not!" I said chummily. "I want to avoid that for as long as possible." Instead of agreeing with me, she looked surprised and unimpressed. Suddenly, I felt less confident in my position.
Mom and Dad were fine with me not working a job in high school. After all, scholarships can pay more than most high school jobs, and I did get scholarships. Sometimes I'm too hard on myself. I always did my homework and went to class. Often, I didn't do my homework well and slept in class, but I did do both. I was second in my graduating class, received the presidential scholarship from BYU, and got a 730 on the math portion of the SAT and a 5 on the AP BC Calculus exam. I bring up the math because I don't feel like it comes easy to me. I've since learned that my upbringing has made it a lot easier for me to be successful at those things. But I can get things done when I think they need to be done, especially for school. Being good at school just does not always translate to be good at doing work.
The first job I had besides babysitting was 30 hours a week at a daycare, fittingly, in the summer after my first year at BYU. I was living with my older sister Anika and her family in upstate New York. My classroom was made up of fifteen 3-, 4-, and 5-year-olds, many of whom had special needs. They would run out into the hallway (and once into the parking lot) as a "game," and we had to chase them back in. One of them had very pointy teeth and the mental development of a 1.5-year-old. He was very cute but prone to biting. I came home every day, exhausted. I would lie down on the carpet in Anika's living room and take a nap. One day, my eleven-year-old nephew got home from school and finally asked me what I did all day. It felt like a low blow.
Still, I just spent an hour picking up my four-month-old baby when she cried and putting her down when she stopped and picking her up when she cried and putting her down when she stopped and picking her up when she cried. I wanted to stop so bad and to cry many times and I thought it might never, ever end. But we're trying to switch her to a new schedule and we're using the pick-up/put-down strategy to get her to go back to sleep. That's work. And I did it.
Why? Because I love my baby and I love sleep and I believe that sometimes elbow grease and some skin in the game really does get the job done, just holding out a bit longer. And I think my 40-hour-a-week job was hardest for me when I didn't have enough work, when I stressed about stretching out the work to fill the time and not being my fastest or most efficient. I got done the things I needed to do, and I tried to be fair about my wage earning in a way that made sense to me. The days that were full of projects and problems to solve were the better days, where I got lost in what I was doing and didn't have to worry about not doing a good job to fill in the time before the next project.
The lesson I'm learning is that I have it in me to learn to work hard at work worth doing. I just need to work at it. Lately that's been an encouraging thought.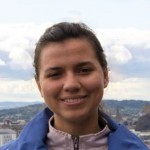 Rachel Olson Armstrong recently finished working for The Church of Jesus Christ of Latter-day Saints as an editor of general publications. She has taken up morning naps and hanging out with her new baby, Lois. A born-and-raised New Yorker and a graduate in English at Brigham Young University, Rachel has done a surprising amount of running in her life compared to how non-athletic she feels: a Ragnar and two half-marathons. She is a subpar juggler, an expert cross-country traveler (48 states), an avid West Wing fan, a writer, and a sporadic at-home comedian.