Takeaways from SLC AMW Event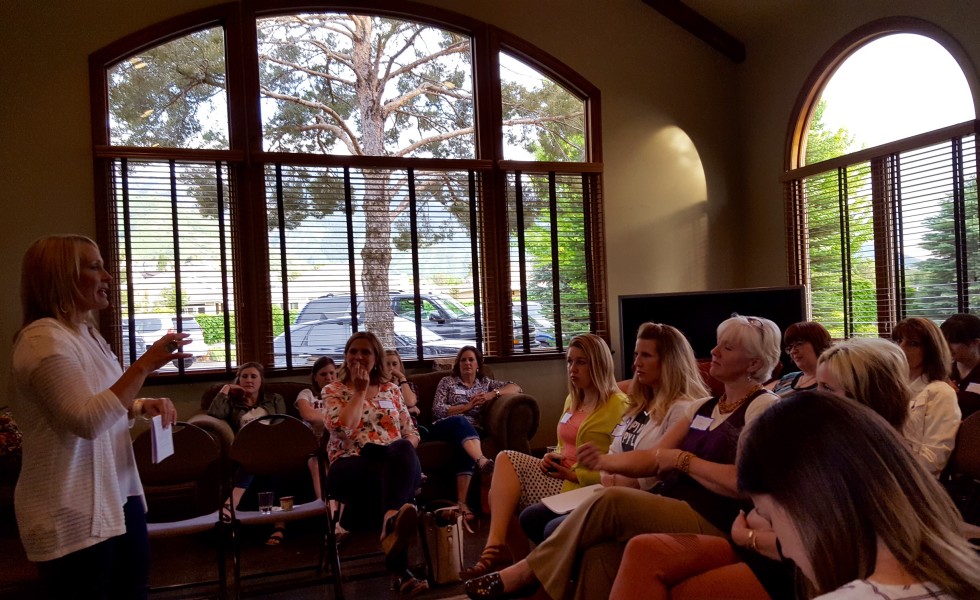 by Julianne Hall Gray
When I first heard Dr. Julie de Azevedo-Hanks was speaking at the next AMW networking event, I immediately put it on my calendar. Her article on aspirational shame really spoke to me, and I was excited to hear her talk about it in person. I also really love the AMW events because of the opportunity to connect with other likeminded women and and to build relationships. I'm also very active on the AMW forum on Facebook, and while I enjoy that venue for connection, it's also fun to meet some of my virtual friends in real life and put a face with a name.
Before Dr. Hanks's talk, we had some time to mingle and meet the other attendees. I looked around and was excited to see women from all stages of life represented. From women still working on their undergraduate degrees, to young professionals like myself, to women enjoying their retirement, we were all there to learn from each other and from Dr. Hanks.
Dr. Hanks first shared with us her personal journey of aspirational shame and then gave us opportunities to share some of our experiences. She joked that as a therapist, she turns everything into a therapy session, but I appreciated hearing others' experiences and loved that Dr. Hanks created a safe place for us to share.
A few of the things that resonated with me from the discussion:
Dr. Hanks talked about how being able to "name" what she was feeling as "aspirational shame" was really powerful. This label provided language to describe this feeling to others and she saw see that this terminology rang true with others.
In addition, she challenged us all to change the language we use to reframe how others think about women and the work they do. First, motherhood is a stewardship, not a role and we should use this language accordingly. She searched the scriptures and found the word "role" in the entire canon only once, but she found the word stewardship 45 times so the word stewardship better reflects our LDS doctrine.
God is abundant and he has given each of us many gifts, talents and multiple missions for our lives and he absolutely wants us to fulfill what we were sent here to accomplish.
One woman in the audience shared her experience of reading Proverbs 31: 10 "Who can find a virtuous woman? for her price is far above rubies" which is very well quoted. But this woman shared how she kept reading and loved how this passage of scripture described a woman embracing her AND:
"The heart of her husband doth safely trust in her, so that he shall have no need of spoil.
She will do him good and not evil all the days of her life.
She seeketh wool, and flax, and worketh willingly with her hands.
She is like the merchants' ships; she bringeth her food from afar.
She riseth also while it is yet night, and giveth meat to her household, and a portion to her maidens.
She considereth a field, and buyeth it: with the fruit of her hands she planteth a vineyard.
She girdeth her loins with strength, and strengtheneth her arms.
She perceiveth that her merchandise is good: her candle goeth not out by night.
She layeth her hands to the spindle, and her hands hold the distaff.
She stretcheth out her hand to the poor; yea, she reacheth forth her hands to the needy.
She is not afraid of the snow for her household: for all her household are clothed with scarlet.
She maketh herself coverings of tapestry; her clothing is silk and purple.
Her husband is known in the gates, when he sitteth among the elders of the land.
She maketh fine linen, and selleth it; and delivereth girdles unto the merchant.
Strength and honour are her clothing; and she shall rejoice in time to come.
She openeth her mouth with wisdom; and in her tongue is the law of kindness.
She looketh well to the ways of her household, and eateth not the bread of idleness.
Her children arise up, and call her blessed; her husband also, and he praiseth her.
Many daughters have done virtuously, but thou excellest them all.
Favour is deceitful, and beauty is vain: but a woman that feareth the Lord, she shall be praised.
Give her of the fruit of her hands; and let her own works praise her in the gates."
I would say this definitely describes a woman who is embracing her AND.
This event served two purposes for me: I had the great opportunity to hear from Dr. Hanks and also to learn from the other incredibly accomplished women in AMW. And there was ice cream too, so that was awesome. I'm looking forward to the next AMW event and the continued association with the other women like me.
*Coming soon–information about an AMW in your area.