Artist Feature: Caitlin Connolly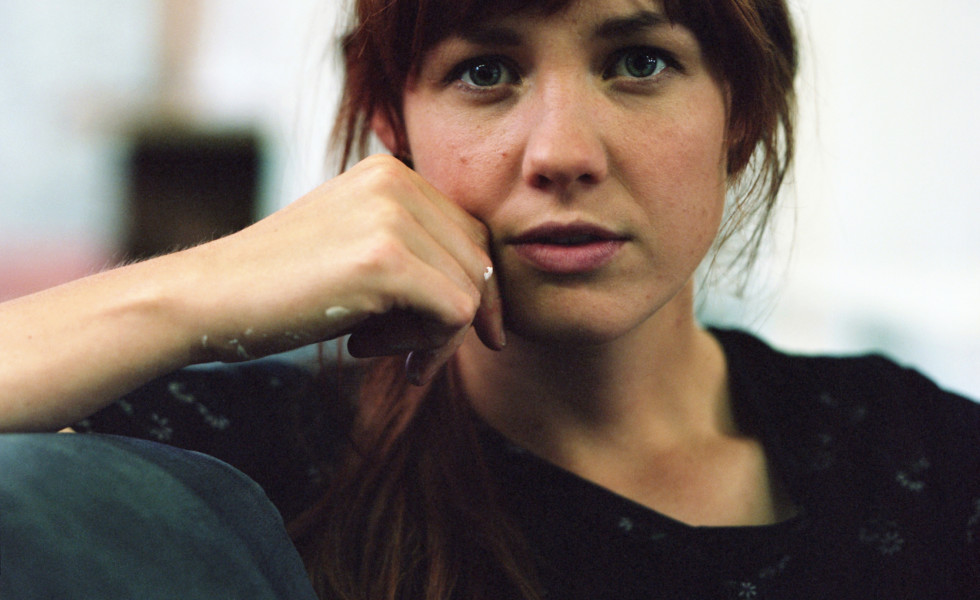 Tell us a little about yourself and about your work.
My name is Caitlin Connolly. I am an artist, wife, dog-mom, writer, musician, and creative enthusiast. My work explores the human experience, most often the feminine experience, through drawing and painting. I love building subtle layers of texture and playing back and forth between looseness and rigidity and watching the pieces that emerge from those practices.
What were you like as a girl and teenager? What did you like to do? What did you dream about doing?
I am told that as a young girl I spent a lot of time drawing and daydreaming. As a teenager I was rebellious and daring. As an adult I find I'm still a little bit of both! I really enjoyed drawing when I was growing up. A pencil and paper was always readily available for me to work with and they are still my go-to tools I turn to the most often and I always have a sketchbook and pencil with me. I remember being fascinated with the possibilities in drawing – shading, line work, hands, textures, perspectives and people. I also remember for a while I dreamed about doing fashion design and would draw figures I found in swimsuit magazines that came in the mail and drape them in fabrics and patterns. I don't think I ever dreamed of being an artist because I didn't even know that was a thing you could be.
Describe what your work day is like as a full-time artist.
I work between a variety of projects and mediums. I have a couple dozen paintings in progress, an open sketchbook, and most recently I've been working with sculpture. I love being able to move the through the studio and engage in whichever project I feel the most drawn to. I often spend the morning getting set up to work, organizing my mind and my studio, reacquainting myself with my projects, and after lunch I shift more fully into creative mode.
In my studio I am always weighing the balance between structure and freedom, predictability and unpredictability. I like to honor a routine schedule where I can put in the hours I want to and surrender the unpainted paintings to be completed (or not) to the future hours and then close the door and lock up to go spend time with my husband, dogs, and people I love. And then other times I lock the door from the inside and stay up all night, when no one calls and the world is quiet, and I chase after ideas and try to pin them down on paper.
What spiritual guidance have you felt as you have developed yourself educationally and professionally?
I remember as late teenager having my own spiritual awaking and feeling my testimony grow. It was around that time that I heard the scripture about being "an instrument in the hands of the Lord". I loved that call to action and it felt tangible and empowering to me. I prayed for years fairly consistently that I could do that, whatever that would be. That phrase still slips into my prayers occasionally and I still find myself asking that question. I have, over time, seen that happen bit by bit. This openness and willingness, I suppose, has led towards a lot of rewarding and challenging adventures and I feel grateful for all of them.
Who or what most inspires you? And why?
Oh, I feel inspired by everything! Music, art, words, nature, people, injustices, love, spirituality, humans. I feel grateful to experience life and grateful for the people that share their life with me because they inspire me too.
At Aspiring Mormon Women, we talk about #embraceyourAND, which encourages women to envision lives of integration. What are your ANDs?
I would embrace a variety of nurturing opportunities. I see nurturing as an opportunity to build and create. I haven't been able to have children for years, and although this doesn't replace that experience, I have felt so fulfilled through nurturing my paintings. These women I draw, paint, sculpt – give life – it is an honor for me to come to know them and it adds meaning to my life and my spirit and I am more because of them. I wish every woman could have the opportunity to nurture something into existence that wouldn't exist except for her touch.
View Caitlin's work here.