Career Day: Engineering and Project Management Professor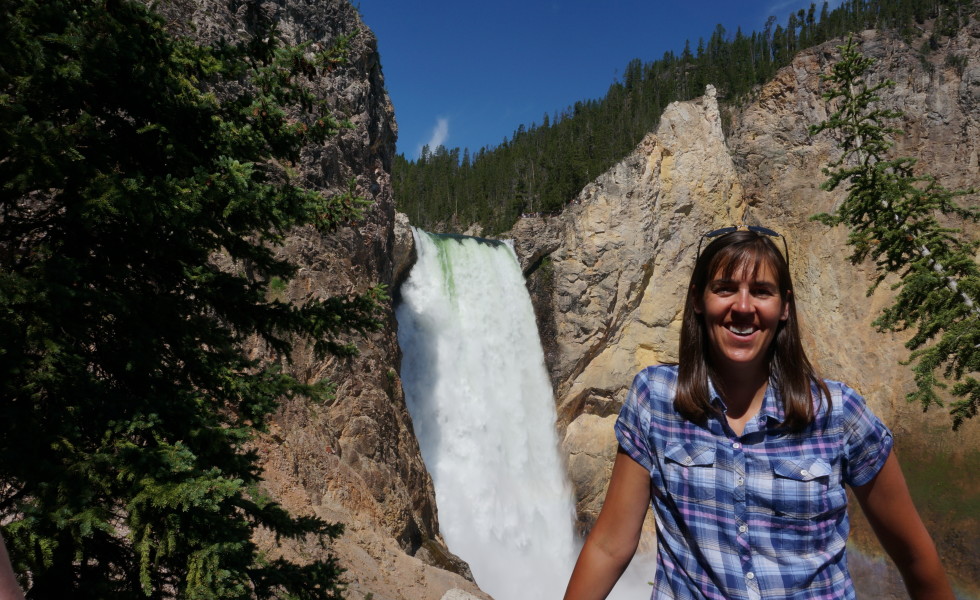 I am a Mormon woman AND an athlete AND a world traveler AND an adventurer AND a board member of a non-profit AND a mentor AND a professor, AND an engineer with a doctorate
Tell us a little about yourself and about your profession?
I'm Angela Trego, PhD, PE, PMP. Those are lots of initials! Strung together they mean that I have a doctorate in engineering (good book learner), am a certified Professional Engineer (so I can actually apply that book learning), and also a certified Project Management Professional (again, I can apply that book learning). I now live in Salt Lake City, Utah after growing up mostly in Washington State and Idaho.
The EmbraceYourAND campaign has inspired some interesting thoughts. I typically think of myself as a gym rat who has a passion for traveling and mentoring more than I think of myself as an engineer or the title of my current position. Maybe it's because I don't want to walk down the street and have someone say, "She's an engineer" right off the bat – I don't want to be classified as a geek too quickly! (Not that there is anything wrong with that.) I've traveled to over 40 countries and played sports most of my life. I enjoy photography, gardening, cooking and eating! I even write a blog: www.trekkingtrego.blogspot.com
What does your job entail?
Currently I work at Utah Valley University as an associate professor teaching engineering and project management, as well as the STEM committee chair for the University. I am also on the board of a non-profit organization called Women Tech Council whose mission is to support women in technology through networking, mentoring and increasing visibility. In addition I work with several other volunteer organizations which are working to increase students entering and continuing science, technology, engineering, and math (STEM) opportunities. I am very active in my professional organizations. I am on a standing committee for the technical aerospace organization AIAA and I am also on the engineering accreditation commission for the Accreditation Board for Engineering and Technology (ABET).
My days typically consist of a variety of items from teaching classes to attending meetings and outreach activities. As a professor I teach several classes a semester and work very hard to always be developing new, engaging techniques and bringing in the latest and greatest technology to my classes. I want my lectures to be exciting and innovative! I also spend a significant amount of time grading projects and interacting with students one on one. I'll admit I hate the grading part but I love seeing the growth of students –especially when they have their "aha" moments.
There are several meetings a week which I attend in order to help coordinate STEM activities both internal to the University as well as in an outreach capacity. We work to develop meaningful programs that will keep kids excited about STEM.
A couple of times a week I'll have meetings either in the early mornings or late evenings for my volunteer organizations and meetings associated with Women Tech Council (WTC). One program I developed through WTC, and in partnership with UVU, was the SheTech Explorer program (www.SheTechExplorer.com). This event was created to encourage high school girls to enter STEM events. In just three short years it has grown into one of the largest events across the US!
At least a couple of times a year I go to various universities around the world for ABET to determine accreditation of their engineering colleges. This involves about 40 hours of reading prior to attending the visit and then four 12-hour days assessing the college. It is a tiring process but great to interact with the various entities and see how they implement engineering standards for their students.
Why did you want to work in engineering, and now teaching? What drew you to the profession?
Interestingly I didn't want to be an engineer or a teacher growing up! I wanted to be a professional athlete and an architect. But, when I found out that to be an architect I had to go to school for 5 years instead of 4 and then do an apprenticeship I switched to mechanical engineering. You can start to see the irony when I ended up going to school for 9 years! From my first class in mechanical engineering I realized that I really enjoyed the ability to use math and design together. It was just the technical version of an architect! I played college volleyball and got hurt. I realized that maybe I couldn't play sports forever so I transferred to BYU to finish out my bachelor's degree. It wasn't until I was working on my Master's that one of my college professors, Dr. Joseph Free, suggested to me that I would be a great teacher and I should get my PhD that I even considered a Doctorate degree. I didn't fully decide to do it until after I had completed my Master's degree. While I enjoyed working in industry it didn't take me many years to realize that I was always seeking was to recruit or mentor young engineers. That's what lead me ultimately to teaching at the university level.
What kind of education/training is required? What skills/personal characteristics are important to have/develop?
To be a professor and consult (which I do on the side as well) does require a Doctorate degree. I think it is critical to be outgoing and have good communication skills to be an impactful teacher. Additionally, to be a great teacher I think you need experiences which you can relate to your students.
What kind of job opportunities are there in your field?
If you are looking to be a professor in a STEM field there are a ton of opportunities –as long as you are willing to move to the university that has the openings (true of all professor positions). There is a critical need for qualified candidates, and especially for women, to apply for these positions. There's a huge shortage of qualified personnel, a shortage that applies to most engineering positions. Last year in the state of Utah hundreds of STEM positions remained unfilled because there just aren't enough trained individuals to fill the jobs!
What types of jobs have you had within your profession?
As a mechanical engineer I've worked at a variety of professions and industries thanks to the fact that mechanical engineering applies to so many industries:
Engineer at Boeing in their Phantom Works Division
Program Manager at Boeing in charge of their Aging Aircraft Program
Engineering Manager at Becton Dickinson
Expert Witness at Injury and Crash Analysis (Consultant)
Structures Director at Practical Aeronautics (Consultant)
Director of Engineering at ATK over development of new rockets
Director of Strategic Technologies at Varian Medical Systems (R&D)
Assistant Professor at Utah Valley University
What is the best part of your job or profession?
The fact that I can do so many cool things! Engineering principles are the same regardless of the  industry! It has also allowed me to travel the world.
What is the worst part of your job or profession?
It sure would be nice if there were a few more female coworkers!
What is the work/family/life balance like?
Depends on the job. All companies are certainly getting more and more flexible as time moves forward. I loved to travel so I took advantages of those opportunities with work, but you don't have to. Currently as a professor I am required to be on campus during office hours and teaching times but I get every holiday and summers off – who can complain about that?!
What is the biggest misconception people have about your job?
That I'm a boring engineer who just writes equations on the chalkboard. As you can see from my AND statement I don't list engineering first…I love to travel and do sports and mentor and yes…even be an engineer.
What opportunities have you had because of your education and profession?
There are countless! First, I would not have gotten a job with Boeing Phantom Works (which is their R&D special projects division) without a PhD. That was a great starting point for my career. Second, the PhD is required for my current job as a professor, as well as an expert witness in consulting. Third, and not so obvious, as a woman I was wisely encouraged to get my professional certificates. I can't tell you how many times when I walk into a meeting it is assumed I'm the secretary. Having those credentials has really helped show that I can not only talk the talk, but walk the walk.
What stereotypes or criticisms have you faced as an educated Mormon woman with her own career?
This is twofold. First, that I must be a career woman and not want a family or husband. In my college days I literally had guys walk off the dance floor mid-song when they found out I was getting my PhD in engineering. Ouch! Second, because I'm an engineer with a PhD I must only associate with people that fit that same academic profiles well. I'm totally the opposite, in fact, most of my neighbors don't know any of my credentials –it just isn't the focus of my day-to-day relationships!
What spiritual guidance have you felt as you have pursued your education and developed your career?
Heavenly Father has greatly influenced my decisions. I was just trying to decide if I should get my PhD when Gordon B. Hinckley came out with the advice that women should get as much education as possible. Certainly in looking for new positions and drastically changing my jobs (from industry to academia for example) I have had divine intervention. Each job has not only taught me something about myself but it has also allowed me to help others which is a huge blessing.
Any other thoughts, advice, or stories you'd like to share with other women?
The biggest piece of advice, something that I'm still learning and have realized as I've gotten older (could I say wiser even though I'm not that old?),  is that you need to define success for yourself. The world defines success one way, friends and family may define success differently, both those definitions can influence you. Just because you are good, or even great at something, it doesn't mean that should be what you pursue and how you should define success. Instead, define success for yourself and follow that ideal. That is what will make you, and those around you, the happiest.