Parallel Lives, Fortunate Friends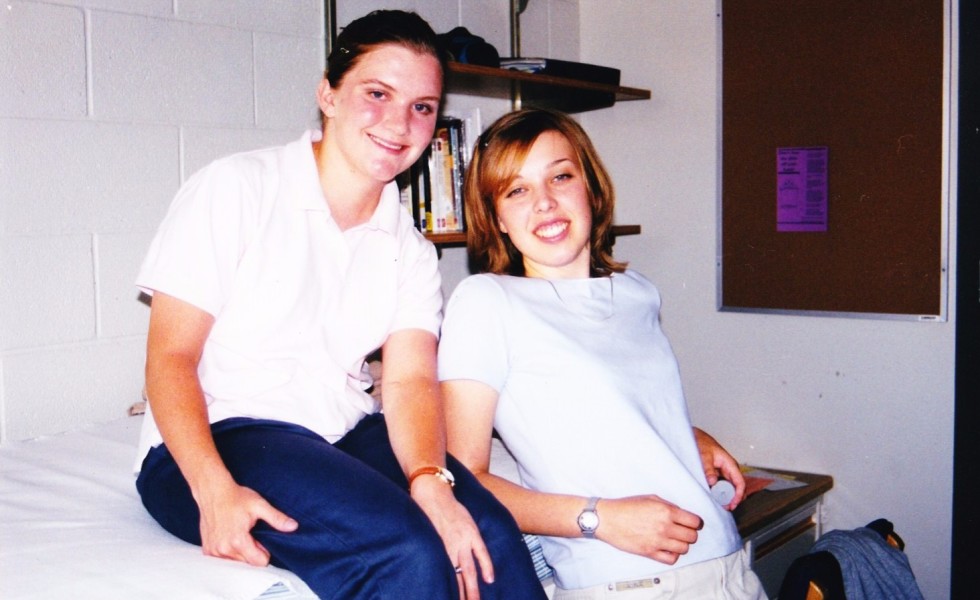 Andrea (right) and Jenni (left) met as freshman roommates in Helaman Halls at BYU. They became fast friends, were roommates for three years at BYU, and since then have stayed in touch through similar life experiences. They discuss how having a friend with a similar life path has provided support in their respective journeys.
Andrea: I guess we'll start with introductions! I'm in my mid-30s and starting to feel like a real adult. I live in a Maryland suburb of Washington, DC, and spend my working hours as Chief of Staff at Goodwill Industries International. When I think about it, my life right now is full of many of the things I hoped for but maybe never fully articulated to have all at once: an incredible husband who loves and inspires me, two cute growing kids, an interesting job I enjoy, engaged service in my ward and stake, and all the mundane and exciting adventures of home life. I never imagined the chickens in the backyard, but my choice of husband brought along some wonderful surprises!
Jenni: I'm also in that 30-something category. I'm an attorney practicing in the area of estate and probate law, with some family business planning. This summer my husband and I will celebrate our fifth wedding anniversary, and we have two kids. Although I grew up on a farm, we don't have any chickens! We do have a lot of instruments in our house, ranging from guitars and basses to an accordion and a piano. A year ago we moved from the Salt Lake Valley on the Wasatch Front to a small town on the Wasatch Back. I have a forty-minute commute to Salt Lake, but we are enjoying living in a more rural setting.
So in terms of how we met, Andrea and I were assigned as roommates in Helaman Halls at BYU, and we started communicating by letter and then email before we met in Provo. We hit it off in our written communication, but it took us a while to warm up to each other in person.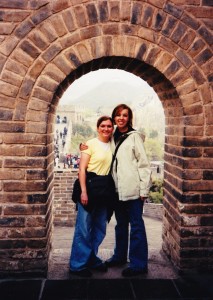 Andrea: On the surface it didn't seem that we had a lot in common: my family has lived in China since I was twelve, and Jenni grew up on a farm. But we soon became best friends and did everything together. She's the one who suggested we study abroad in London during our sophomore year.
Jenni: We've done some fun traveling together. Our study abroad experience in London was one of the highlights of my undergraduate experience, and having Andrea with me made it that much better. The following summer, Andrea and her family were kind enough to host not only me but also my mom and sister at their home in Beijing for a week or two. And, of course, Andrea visited me and my family in Idaho on the farm.
Andrea: And in New York City during your internship! I was jealous that you got to live in New York.
Jenni: I loved New York City! It was a great last hoorah before I left on my mission to Japan the following August. We both planned on serving missions, but Andrea wanted to finish her undergraduate degree before leaving. I tried to talk her into leaving earlier, and she tried to talk me into waiting to go, but in the end we both felt pretty strongly about the timing of things. After we had both returned from our missions and were considering graduate school, I was tempted to attend law school in Indiana because Andrea made the decision to attend grad school there. It would have been fun to be roommates again! But even though our schooling and careers have taken us to different parts of the country, our friendship has proven to be a tender mercy as we've had surprisingly similar life experiences.
Andrea: Our lives are strangely parallel in ways we never expected. I don't think either of us was surprised by missions or graduate school, but marriage and children took longer than anticipated for both of us. As a result, we were both further into careers by the time our daughters were born in 2013, and though each of us has unique circumstances and reasons, we were both full-time breadwinners with stay-at-home husbands by the time our sons were born in 2015 (both sets of kids are destined to be future BYU roommates!). None of this was in the plan back as freshmen at BYU, so I'm not sure you can say that we directly influenced each other in pursuing these choices. But our friendship, shared values, and confidence in each other has definitely proved to be a blessing of support and understanding as we've unexpectedly walked these nontraditional paths.
Jenni: Although our lives have not taken the path we imagined as young girls or even as college roommates (when we were more likely discussing boys than career paths!), having a friend with a similar set of experiences has been a blessing. As our girlhood dreams of marriage and family took more time than expected to be realized, I have been grateful to have a friend like Andrea who can empathize with both the joys and the struggles. Although I sometimes worry (correctly or incorrectly) that others may not understand why I've made the choices I've made, I know that I can have conversations about my life with Andrea and know that she understands and makes no judgments.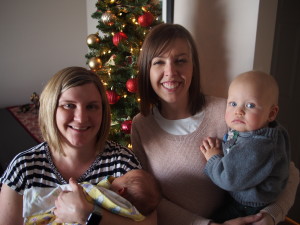 Andrea: So much of this journey has been having to open my own mind and heart to what my path is, could be, or should be, allowing for other possibilities outside what may be considered the norm. Having friends like Jenni who know what I'm feeling and learning has helped to combat loneliness and self-criticism. Sharing my experiences with Jenni (and with AMW!) helps me to recognize how my life has followed unique inspiration tailored to who I am and what is best for my family. As I look back on the choices that led me here, I am happy and grateful.
Jenni: I'm sure that if Andrea and I could have seen our 30-something selves when we were freshmen, we would have been very surprised at the paths that our lives have taken. And maybe we'll be even more surprised by what the next ten or twenty years have in store! But, like Andrea, I can look back and see that I was receiving inspiration and guidance, and I am very grateful for the experiences that have brought me to where I am now. Although we have not followed the path we envisioned as freshman roommates, Andrea and I have both been blessed with education, family, and fulfilling careers.
Andrea: We are living the dreams we didn't know we had. In the spirit of #EmbraceYourAND, I am grateful to be finding my own life of integration: I am a daughter of God AND an adoring wife AND a happy mother AND a working professional AND a Relief Society sister AND a list-maker AND a black-thumb beginning gardener AND someone who delights in growth and progress. I embrace these ANDs through daily gratitude and recognition of God's attention to the details.
Jenni: Can I just say "ditto?" We do lead parallel lives, after all.
Andrea: Then I will add "AND a fortunate friend" to both of our lists!