The Student Record: Tiffany, B.A. in Psychology + Nursing Prereqs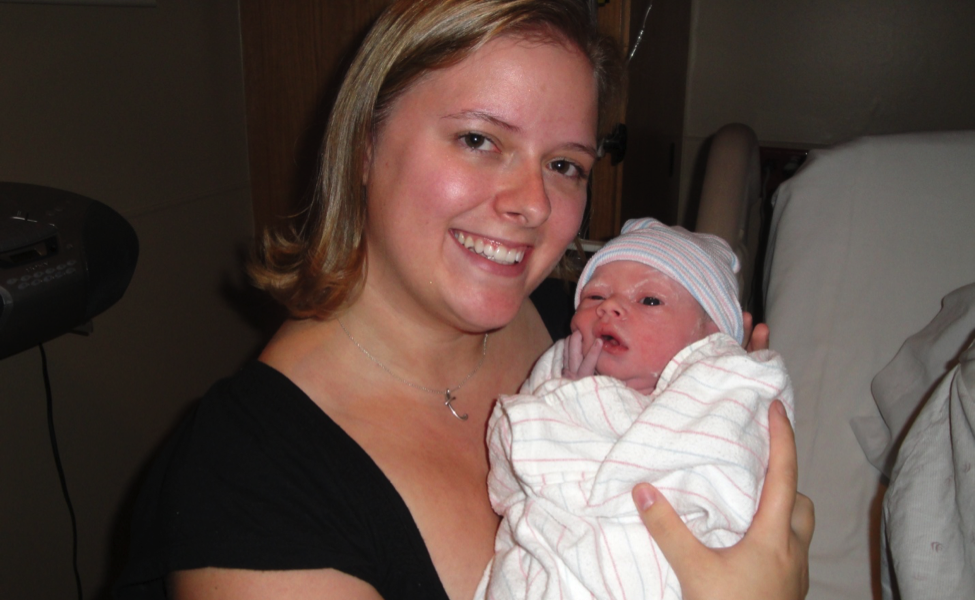 Welcome to our ongoing series, The Student Record, which profiles current or recently graduated college students, vocational school students, or students enrolled in certificate-type programs. Nominate a woman you know (or yourself) for this feature by emailing us.
Name: Tiffany Blue-Diaz
School/University: BA Psychology, University of Colorado; currently attending Tulsa Community College for nursing pre-requisites
City/Location: Tulsa, Oklahoma
Major/Field of Study: Psychology, Nursing
Marital status/children: Married, one 10-month-old child
What led you to the program that you are currently pursuing or have completed? Why did you select this major or field of study? Please tell us about any experiences that inspired you to pursue this area of study.
When I was getting my Bachelor's degree, my original goal had been to attend medical school. While I was a student, I worked in various physician offices and at a local hospital to get a feel for the medical field. This work experience, combined with a research project comparing the medical model of care for pregnancy to midwifery care, prompted me to change my course in my senior year of college. I decided at that point that becoming a physician would not fit my personality and would not allow me to have the kind of patient contact that I desired in the healthcare field.
I determined that nursing would be a better fit for me, and my ultimate goal is to earn a Master's in Nursing, specializing in midwifery. I'm currently completing my last pre-requisite class to apply to nursing school in the fall.
What feedback did you receive from friends, families or acquaintances about your schooling?
I've been very lucky to have a spouse who is completely supportive of my educational goals. He is my biggest cheerleader and support. My child is too young to have an opinion on this.
I've had some wonderful professors and worked with great medical professionals along the way that have been very inspirational.
What advice would you give to a student pursuing a similar course of study?
It's been very hard to balance work and school. I worked 2 jobs throughout my Bachelor's degree. I wish that I had gone in with a clearer goal. I spent a lot of wasted time taking "fun" classes that were unnecessary, and I changed majors a few times along the way. I struggle with math and chemistry courses, but after a couple of attempts I've checked them off the list.
What did you learn about yourself when you became a student?
Going to class and actively paying attention is a much more valuable use of my time than hours spent reading dry textbooks. I wish that I had better study habits, I'm a terrible procrastinator.
I worked full-time during my undergraduate years, usually juggling 2 jobs at once. My employment was a positive because of the exposure I gained in my desired field, and it was also a negative because it was very difficult to balance work and school. I also funded my studies with grants and loans. LOTS of loans.
I think that being female has definitely steered me toward an interest in women's healthcare, but it was a subject that has always been fascinating to me. I think that the stereotype of female nurses being the norm is certainly still very prevalent. The biggest criticism that I often hear is that I should have aimed higher to go on to medical school, instead of "settling" for nursing (which is not how I view my decision).
What do you most enjoy about school?
I love sitting and listening to lectures given by excellent speakers. I could be a professional student if it weren't for all of the busy work and expense.
What are your current or future plans for employment or future schooling?
My employment plans are finally related to my field of study! I plan to earn my RN degree (AAS), then begin working as a nurse while I complete my Master's in Nursing concurrently.
To fulfill my goal of becoming a nurse midwife, I need to complete my RN, MSN, and pass the nursing board exams for each to become fully licensed. I hope to complete my education within the next 5 years.