Her: Celebrating Heavenly Mother through Photography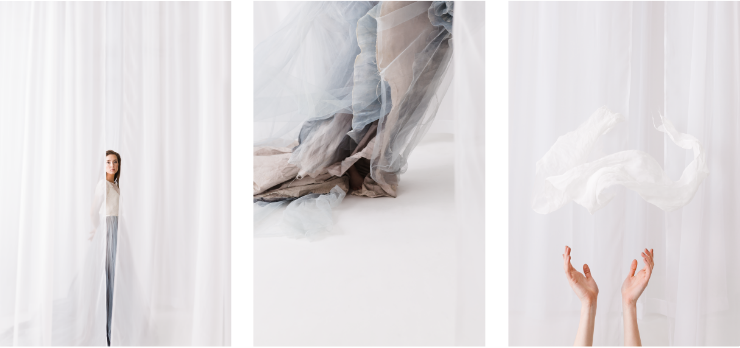 by Anna Killian
It started out as a far fetched idea I never thought would come to be.
Back in spring 2015 I saw Katie Payne's beautiful art installation about Heavenly Mother with its dozens of beautifully embroidered white sheets. These hangings formed somewhat of a path that guided viewers to the center where a beautiful pillar of light stood. The quotes and images embroidered on the hangings were ones from general authorities, hymns, church history, and even the Young Women's theme changed to reflect Heavenly Parents rather than Heavenly Father.
It got my wheels turning. I couldn't stop thinking about our lack of discussion of Heavenly Mother and I became hyper-aware of how often we use Heavenly Father where Heavenly Parents would be more appropriate. As I approached the end of my degree at BYU, I started thinking about my final Bachelor of Fine Arts photography project. I'd seen many beautiful pieces in the Harris Fine Arts Center throughout my four years, but I wanted to create something that would make an impact and touch people–be something more than just pretty. I started thinking about Heavenly Mother again, and decided exploring Her within the project would be a good way to answer some questions, find out more information, etc. I brought the idea to my professor who was my mentor for my final project, and he wasn't sold. In fact, he almost persuaded me to pick a different topic. It was discouraging. He didn't think many people would be interested in the topic, and if there were they would just be women. I decided to prove him wrong.
I came up with a vague concept, shot some test images, but was really frustrated with the outcome. Not photographically, but more in the sense that it wasn't communicating what I wanted. It lacked feeling. My professor agreed and I left for Christmas break relatively depressed. Over the break I met with Alisha Stamper, a talented creative I'd looked up to for a while. What started as a simple dinner conversation turned into a five hour errand–running brainstorm session that helped me solidify a concept about Her that I was ecstatic about.
I came back from from the break with ideas for my professor, who still wasn't sold, but I went forward regardless. I created a rough electronic questionnaire to see who and how many people believed in a Heavenly Mother. I asked a few questions about beliefs, journeys, gospel background, etc. After sharing it on social media (including AMW), I got 120 responses within the first day. A week and a half later I had 300, and for the sake of my sanity and because of limitations within the project, I closed the survey. I spent hours and hours reading through experiences, beliefs, feelings–some so beautiful or painful they made me weep. I knew these words had to be incorporated into my project. It was from those responses that I also got the title, as one response read, "[I learned about Her] in primary where my teachers told me about Her (that's the first time I've typed a capital Her, and I liked it)." I knew that was it, and when I decided to pick a quote to go with each image, my concept took even stronger form.
I chose to do 12 images, not only for composition sake (it fit well within the gallery space), but also because of what the number represents–completeness. I numbered my images, starting with experiences of those just beginning their journey and ending with women who felt confident in their beliefs. With that slight significance I decided to make sure every decision I made within this series was made intentionally and represented something. The blue in the dress, the textile of the drapes, the order of the images, and the composition of the images all meant and represented something.
With that in mind, visually formulating the concept was tougher than I expected. I knew what I wanted to say, but photographically representing such a sacred topic intimidated me. Thoughts like, "How do you use such a realistic medium like photography to describe God?" and "How do I begin to realistically represent something and someone who seems so vague and unexplored?" ran through my mind daily. Eventually I came across an inspiring image and the ideas came to me. By that time, I had a few weeks before I had to shoot. I stayed up nights trying to find the perfect woman, clothing, and textiles to photograph; it was draining. Eventually, through some major miracles, things came together. I had the 12 quotes picked and visuals to go with them, had gathered everything for the set, and shot all the images within a ten block time.
From there printing, framing, mounting, and hanging started and although that was a lengthy process and a steep learning curve, it went quickly. I never saw the heavens part or had an awe inspired experience with this project, but I am confident in saying that it was one of the most powerful experiences I have ever had. A few days after I shot I sifted through the images, feeling content but not impressed with my work. It seemed underwhelming. I became discouraged and panicked as I thought about how badly I wanted this to turn out well, how badly I wanted my name associated with something big. As these thoughts crept in I distinctly heard in my head, "This isn't about you, Anna." It wasn't said in a degrading or demeaning way, but it was strong. Then and there I realized that this project was going to be big and important, but in a different way. Sure, it was the last work of my college career, something I wanted to be proud of, but that wasn't its purpose. I decided I wanted "Her" to reach as many people as possible, not to get my name out, but to get Her name out. I wanted people to learn of Her, to know other people think of Her, and have an opportunity to reflect on Her. I hope this artwork continues to do so.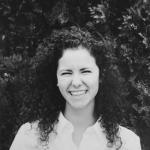 Anna graduated from Brigham Young University with her Bachelor of Fine Arts in Photography in 2016 and plans to continue to do big things with her life.