Career Day: Historian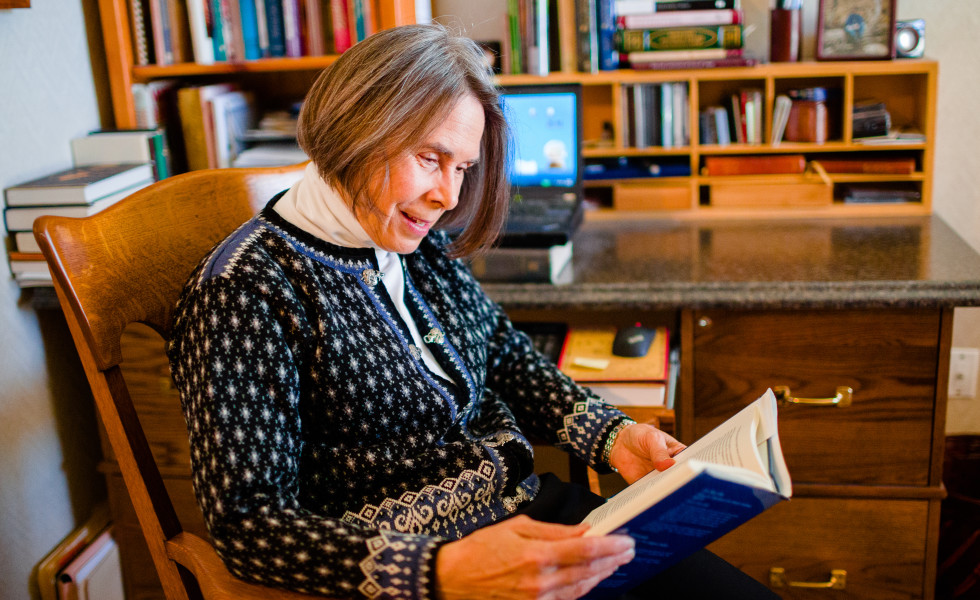 Photo Credit: Melese Spaulding Miller
Jill Mulvay Derr, one of the volume editors of the recently published The First Fifty Years of Relief Society: Key Documents in Latter-day Saint Women's History, worked as a senior research historian with the Church History Department. She previously served as Managing Director of the Joseph Fielding Smith Institute for Latter-day Saint History at Brigham Young University, where she was also Associate Professor of Church History. Her research and publications have focused on the history of Mormon and Utah women, and she is a past president of the Mormon History Association.
Why did you want to work as a historian? What drew you to the profession?
I remember going to the library as a girl and checking out various biographies written for youth. My courses at the University of Utah further stimulated my interest in history and it became my minor. Most of my undergraduate and graduate studies were in English, not history. After I had been teaching school for two years in the Boston area, I heard a presentation by Maureen Ursenbach Beecher on the life of Eliza R. Snow and was fascinated by the information she had discovered. That was just before I moved back to Utah, my home state, where I planned to find a long-term teaching job. However, I was unable to find a job at that moment and I learned from a friend, Kathryn Hansen [Shirts], about a very different possibility. The newly formed History Division in the LDS Church Historical Department (under the leadership of Church Historian Leonard J. Arrington) was offering fellowships, so I applied and obtained one and had the opportunity to work with Maureen Ursenbach Beecher collecting and cataloging the poetry of Eliza R. Snow. I loved it and when the opportunity presented itself, I stayed on as a full-time employee.
What kind of education/training is required? What skills/personal characteristics are important to have/develop?
Ordinarily, professional work in history requires a Master's or PhD in History. I was fortunate to get a job without that specific History-based training, though I did hold an undergraduate degree in English and a master's degree in teaching from a prestigious university. My fellowship and subsequent employment in the History Division proved to be an apprenticeship with first class historians, and that was invaluable training. There are many writers of history who do not have academic degrees in history. I know scholars who have come to history from many fields, including law, English, medicine, chemistry and homemaking. (Think of Juanita Brooks!) Those who make enduring contributions as historians are skilled researchers and gifted writers of narrative.
What kind of job opportunities are there in your field?
A background in history is not only helpful in many professions, but brings textured understanding to many aspects of life. Those wanting jobs in history can work in the public sector, finding employment in historical societies and museums, national and state parks and archives, and public and private schools. The film industry also draws on historical consultants. Those who pursue PhDs in history usually hope for university appointments that provide opportunities for both teaching and research. There is some contract work available for historians who want to work on corporate histories, and institutional histories (as for a company, organization, university, etc.), community histories, and family biographies. A small number of distinguished researchers/writers have made a profession of writing historical fiction or popular history.
What types of jobs have you had within your profession?
I have worked as a research historian at the LDS Church History Department and at the Joseph Fielding Smith Institute for Latter-day Saint History at Brigham Young University.  I was also Associate Professor of Church History at Brigham Young University. I have written two institutional histories under contract, including Women of Covenant: The Story of Relief Society, (Deseret Book, 1992); and an unpublished history of social services in the Church, a program first established and operated under Relief Society direction and later combined with the Church's broader welfare program.
What have been some favorite professional moments or highlights?
I have enjoyed the discovery of new information. I sometimes tell people I spend my time reading other people's mail. It's fascinating to become acquainted with the lives of men and women of the past, and better understand their relationships, their challenges and their gifts. Early on, as I began to study Mormon women, I came to appreciate the wide variety of their life experiences and their individual strengths and weaknesses. As I saw their nobility I gained new reverence for the value and dignity of every human life.
What's the work/family/life balance like?
Work/family/life balance is different for every individual. Generally, I think university work and public sector work allow for some flexibility. I had the opportunity to begin work in my profession when I was single. I was able to work late nights and weekends to establish myself without long hours having an impact on a husband or children. Once I married and had a family I cut back my work hours and moved in and out of the work force. I quit full-time employment and took up some contract work for a while. When I reconnected with colleagues at BYU, I worked on a part-time basis and that allowed me a lot of flexibility. Part-time work was financially possible because of my husband's full-time employment. Not everyone has that kind of financial backup. I worked full time for eight years before I retired and it was a challenge to make that adjustment to a more rigorous schedule.
What is the biggest misconception people have about your job?
Sometimes people assume that those who publish books make a lot of money from royalties. Generally, that is not the case with history books.
The Church recently released The First Fifty Years of Relief Society: Key Documents in Latter-day Saint Women's History.  As one of the editors of this book you had a unique opportunity to examine documents that explore the history of the founding and early development of the Relief Society. Why do you think it is important for Latter-day Saints to understand the history of the Relief Society?
Many women who attend Sunday Relief Society meetings have little or no understanding of the essence of the organization. Nor do men generally understand the critical importance of Relief Society. The "society" (or "quorum" as Eliza Snow called it) is singularly significant because through a prophet of God, women were organized "according to the law of heaven" and given a ministry they could execute under priesthood direction and with priesthood authority. Joseph Smith gave women a mandate not only to assist the poor, but to increase in knowledge and in righteousness and holiness, and to save souls. This book is intended to demonstrate the importance of that ministry, and women's efforts to carry it forth in cooperation with men, whose callings and ministry are generally better understood. As the men who worked on this volume have observed, it is impossible to understand the history of the Church without understanding women's collective and personal experiences.
What did you learn that was particularly interesting or surprising?
Documents are powerful. They allow women and men to speak in their own voices, in their own time. Their world was different from ours in so many ways. The First Fifty Years seeks to provide historical context that makes that world understandable. I admire the strength of the women in this volume. They were patient, but not passive. They were actors and innovators who seized opportunities for service and advancement, yet they were committed to working within Church patterns and structure. They embraced priesthood order and ordinances. They encouraged and assisted one another in moving into new Church callings, which they considered "holy callings." Most of them had never spoken in public, especially not in mixed audiences. There is such energy and empowerment evident in their personal and collective growth as their temporal and spiritual responsibilities expanded. I think the challenges and rewards of women and men working toward unity shine through in this volume.
What do you hope that Latter-day Saints, particularly, women, take away from this work?
I hope Latter-day Saints will better understand what Joseph Smith expressed: "how the Sisters would come in possession of the privileges& bles[s]ings & gifts of the priesthood." Nineteenth-century Latter-day Saint women felt connected to, rather than separated from, priesthood. Pondering that concept has strengthened me and brought deeper meaning to my experience as a daughter of God and a member of His Church.
What spiritual guidance have you felt as you have pursued your education and developed your career?
There have been few moments when the heavens have opened for me. Rather, I've felt gentle nudging all along the way. I've tried to follow promptings of the Spirit, even when they've led me in a direction different from what I'd envisioned or planned. The Lord has blessed me with wonderful colleagues and with many opportunities to collaborate. Co-authors and co-editors have compensated for my weaknesses and I am grateful for their strengths. I have sometimes wished my career as a historian looked like the more traditional careers of some of my colleagues, but I've come to understand that my path was individually mine and that in pursuing that path, rather than some other, I have been able to do the work that was mine to do.