Career Day: User Experience Design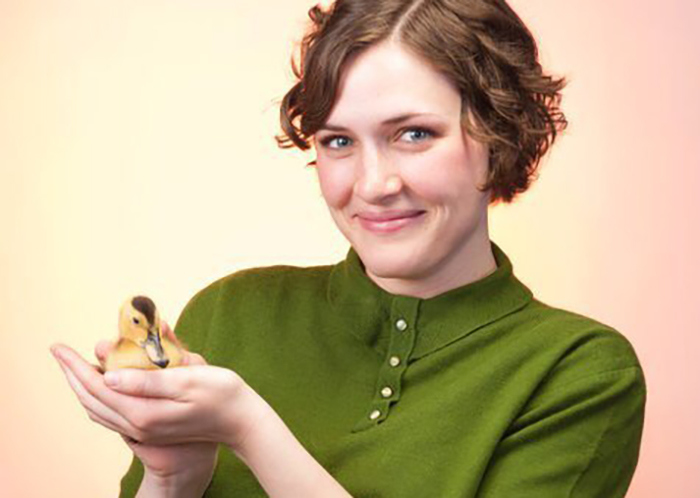 Tell us a little about yourself and about your job/profession? 
My name is Laura Leavitt. I love graphic novels and riding my bike. I'm also a User Experience (UX) Designer at Domo (a Business Intelligence tech company in Utah). I graduated from Brigham Young University with a BFA in Graphic Design in 2011 and moved to New York City despite the fact that I had no job prospects. I ended up working at a stationery company, a small studio that did work for the NFL and off-Broadway theaters, an Australian cosmetics company, and Johnson & Johnson, where I worked on licensed Band-Aids for kids (like Star Wars and Dora The Explorer). I married my husband out there (we'd met 12 years earlier attending the same high school in Utah) and had our daughter out there too. We decided to move back to Utah in December of 2014 when she was 18 months old so she could get to know her grandparents in Utah a little better. That's when I started working at Domo.
What does your job entail?
My job is ultimately to present complex tasks and information in a way that is easy to do and understand. What I create also needs to be visually engaging. Aesthetics and typography are a big part of my job responsibilities.
At the beginning of a project I work very closely with people (called Product Managers) who know a lot more than I do about how what we're creating is going to be used. All of the software I help make at Domo is intended to help business users grasp data and statistics about how various parts of their business are performing. I know that sounds boring, but I get to make beautiful infographics that help answer peoples' questions in a way they didn't think was possible. (Maybe just I'm a nerd, but I actually think that's exciting.) When we're starting a project, the Product Manager and I make sketches of what we think a solution might be based on customer feedback. After we both agree that we've got a pretty good plan put together, I get on my computer and design the actual layout including all of the infographic charts, buttons, user flows, and page views. Depending on the complexity of the project this step can take 1 day to maybe 2-3 for a first draft. After that, we consult other stakeholders in the project including upper management, and refine what we've got. (Sometimes it takes a lot of tries. Staying patient and humble and not getting discouraged is also a part of my job.)
Once the design is approved by everyone, the development team starts coding it to make it all working and real. I work closely with the developers once this process starts. Developers are typically experts at coming up with questions that the Product Manager and I didn't think of yet, and sometimes their questions are so good that I have to design new things during this stage because we didn't address every scenario in the beginning stages. I love developers. It's awesome to see them work their magic and make what you've been planning real.
Why did you want to work in user experience design? 
My move to user experience design was very intentional. I used to work in print and packaging. Honestly, one day I realized that all of the design I enjoyed the most was happening on my phone or computer screen. I really wanted to be a part of it and I couldn't get hired as a UX designer with my background in print. So I withdrew all of our savings and took a UX bootcamp class. It felt like a gamble at the time but it's been so worth it. I love the challenges presented by UX design, they move beyond what I was doing in print where the objective was usually selling or advertising something.
What kind of education/training is required?
People come to UX through all kinds of channels because it's skill-based more than certification-based and it's a growing market. Some of my coworkers have traditional design degrees like me. Some have business or humanities degrees and just started designing stuff for people. I think you'll have an easier time getting a job in UX with a degree, but if you've got good design sensibilities and exhibit some really smart design thinking through a design portfolio, you can break into it. There are many facets of UX design. Some people are only interested in the research aspect of it (since what we design should ideally always be validated by user testing.) Some UX designers have IT degrees, psychology and sociology degrees, and Human-computer interaction degrees. There are a lot of interesting master's degrees related to UX design, but aren't absolutely necessary for a career in UX.
What skills/personal characteristics are important to have or develop? 
A big buzzword in UX design is empathy, but it's true. You have to have empathy. You need to understand the motives of the person who will be using what you've built, you need to understand the motives of the stakeholders in project. I work with so many people so closely that I need to understand each of them in order to work successfully with them. You've got to have good critical thinking skills because we are in essence, problem-solvers. In roles where you're designing the user interface, you've got to have a good eye, knowledge of typography, and a command of design principles like hierarchy and color. You've also got to be patient. Sometimes you love something you make and it gets shot down. You've gotta be willing to move on and generate new ideas.
What kind of job opportunities are there in your field?
UX is booming. It's a great field to get into right now.
What is the best part of your job?
My favorite part of my job is the people I work with. I'm a real, genuine people-person and I need good and genuine people around me. I'm really lucky to have found that. I have real friendships at work.
What is the worst part of your job?
The worst things I ever run into at work are when expectations aren't clear or communication gets crossed. Sometimes I'm asked to design something and I'll just really miss the mark and have to start over again because we didn't have a clear objective or understanding of what I was making to begin with. It can be hard to stave off frustration in those circumstances.
What's the work/family/life balance like? My work/family/life balance is about as good as it gets. Very 9-5, flexible, lots of vacation, I can work from home when I really need to. UX design jobs are typically like that. Every once in a while there's a big push to get something done and I'll take work home in the evening, but that's fairly rare.
What is the biggest misconception people have about your job?
People think I know how to code! Coding skills are great to have as a UX designer, I would never discourage it, but I don't code at all.
What opportunities have you had because of your education and profession?
UX design keeps my brain sharp as I look for ways to solve problems I see around me. In the last year I've been working on a crowd-sourced platform that aims to help people learn more about where the everyday things we're buying and consuming come from. It's something that myself and two of my friends wished had already been made so we could use it ourselves. It's awesome to be involved in that kind of problem solving and have part of the necessary skills required to create something like that.
What stereotypes or criticisms have you faced as an educated Mormon woman with her own career? 
I think for a long time my mother and mother-in-law were like, "So, when are you guys going to switch roles?" because my husband stays at home with our daughter. He's extremely smart, hard-working, and actually more educated than me, but his master's degree in Italian Studies doesn't offer the same work opportunities that exist in UX right now. The bonus is that he's very diligent about teaching our daughter Italian. I am lucky because I have an older sister who's a gifted Evolutionary Biologist. She's worked extremely hard through failures and successes and has shared it all with me. She is wonderful mentor. I don't think I've even been aware of some of the stereotypes and criticisms because she's always been such a good example of a Christ-like career woman to me.
What spiritual guidance have you felt as you have pursued your education and developed your career?
The whole story is way too long, but my career path is one of the biggest testimony builders in my life. I've felt guided through every major step of the way. At a few points in my life it's been crucial to be self-sufficient. The Lord guided me to help me find that path when I needed it most.
Any other thoughts, advice, or stories you'd like to share with other women?
I'd like to put this quote from President Hinckley out there. It's from "Let Virtue Garnish Thy Thoughts Unceasingly" given during the Relief Society Meeting in April 2007. Hearing this was a major catalyst for the first big step I took to becoming a UX designer. At the time, it felt impossible to go to college but this quote inspired me to push forward despite the obstacles I faced:
Beyond ecclesiastical study there is the challenge of education. Resolve now, while you are young, that you will get all of the education you can. We live in a highly competitive age, and it will only grow worse. Education is the key that will unlock the door of opportunity.
You may plan on marriage, and hope for it, but you are not certain that it will come. And even though you marry, education will be of great benefit to you. Don't just drift along, letting the days come and go without improvement in your lives. The Lord will bless you as you make the effort. Your lives will be enriched and your outlook broadened as your minds are opened to new vistas and knowledge.