Entrepreneur Feature: Sarita Venkatapathy Naidu, Amaithi Yoga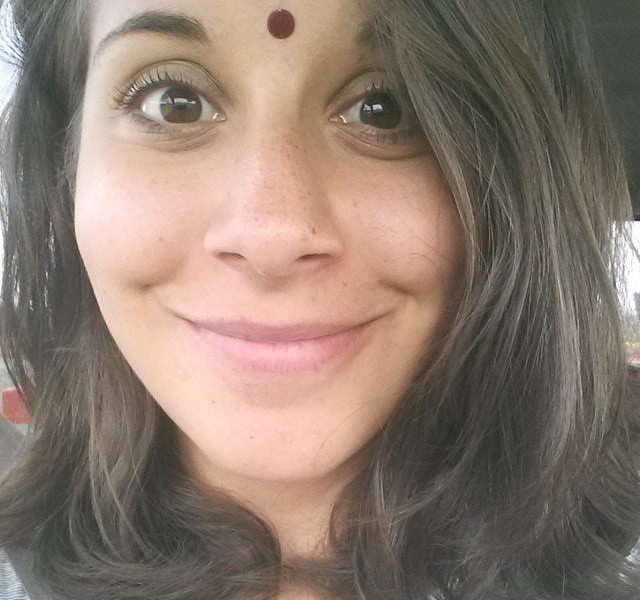 My name is Sarita Venkatapathy Naidu, or Shareeta depending on who you ask. My father is from India and my mother is "pioneer stock" (in her words), and my business is called Amaithi, LLC (Tamil for "peace"). I've invested my time and energy in running a yoga, energy work and nutrition business for several reasons – to connect with my Indian Heritage, to design an ethical business plan that allows students to vote for non-profit support with their dollar investment in yoga classes, and to find a place of healing, growth and positive change for myself and my students/clients. Amaithi is modeled after the business and entrepreneurship of my father, but with an added element of philanthropy. I work with a local and an international non-profit, dedicating time, energy and money to support worthwhile causes. When students come to take a Amaithi Yoga class, they get an excellent yoga experience, but also know that they're investing in the well-being of others who can benefit from education in yoga and nutrition.
What is your best advice for other (LDS) women entrepreneurs?
There will always be those that don't understand, believe in, or support what you're doing and why you do it. Don't let those people become a driving force in your attitude toward your entrepreneurship. Find communities that both passively and actively support your efforts and energy. Surround yourself with people who love you unconditionally and support you unequivocally.
Do you believe there is some sort of pattern or formula to becoming a successful entrepreneur? If so, what?
Yes – never, never, never give up! Success in entrepreneurship is about determination. It's important to recognize that bad days will come. You will get discouraged. You'll want to throw in the towel. On those days, tell yourself, "This too shall pass."
What has been your most satisfying moment in business?
There's not just one moment, but there's one kind of moment that makes it worth all the effort – the moment when a student lingers after class to spend time with me or with their classmates. Really, I'm learning so much more from my students than they are from me, but I know that they are starting to understand the brand of Amaithi yoga when they feel tied to the community that they've connected to in class and want to stay with us.
How do you go about marketing your business? What has been your most successful form of marketing?
There are a lot of ways to market, some have been successful and some have not. I've probably invested in the wrong way more than once when it comes to marketing, because my best marketing is not just word-of-mouth, but developing relationships! If someone feels connected to me and what I'm doing, they're a lot more likely to show up for class. If a student feels they can trust me in helping them move their body, they're a lot more likely to trust me in advising them what to put in it. Spending time showing people the love I'm asking to manifest for themselves in others is my most effective and most important form of marketing – and its hard to do, sometimes. I can't expect people to want my services unless I show them how much it can improve their lives and build a desire in them to be a part of the story I'm telling and the lives I am impacting.
Where do you see yourself and your business in 10 years? 20 years?
In 10 years, I'd like to be giving people more and more exposure to the concept of Karma Yoga (the branch of yoga relating to the impact our newfound centering and compassion has on the world) by way of studio space and classes in multiple states.
One of the greatest impacts I can have is in finding like-minded people to employ and treat well. If I treat my managers well, they will create an invitation to come to Amaithi with the same element of relationship that I use to seek out students. If my managers treat employees well, Amaithi employees will be magnetic in their relationship building and more and more students will come and learn about the deep, heartfelt, spiritual roots of my ancestry and how it can help them build a life worth living. It's important that I focus my energy on being a leader, even in this first year of business, because it's impossible to multiply my impact without good people beside me. I have to grow and acknowledge that, while this business is my baby, it will change into something I had never imagined because I don't have all the ideas and answers yet – some of them are locked away in the heads of other brilliant people, waiting for the key of respect and admiration from me.