YW Spotlight: Sydney, Aspiring Thespian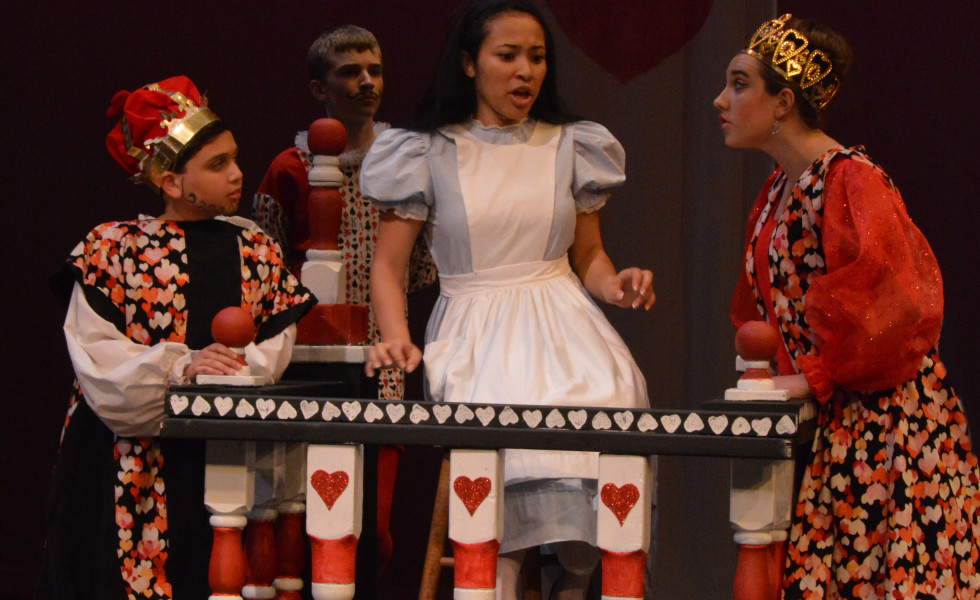 Sydney D.
Arlington, VA
I am 14 years old, the only girl in my family, and the oldest of three brothers. I was born and raised in Arlington which is very close to Washington, DC. I have had a lot of interesting people in my life as I have been surrounded by people who have traveled all over the world and done incredible things with their lives. The people who I am so inspired by are so successful and happy with what they do, which is my end goal. At school I am in choir and involved in the theatre with people who share my interests. If I'm not on stage I am designing and creating costumes for the shows, and doing hair and makeup. I love the atmosphere of the theatre and think that its influence has definitely molded my personality.
What led to your interest in the theatre?
I have been "performing" for longer than I can remember. My mom has told me about my performances of Disney music in the middle of church when I was 2 or 3. The lights pointed at the tree in my backyard that had originally served as landscaping turned into "stage lights" when I was 7, giving me the ability to produce, direct, and star, in skits and talent shows for my family. I was in my first real play (with lines and everything) in 3rd grade; I was a sassy honey bee who helped teach my peers about the importance of saving the environment. From there I played a skunk and a student, a lady-in-waiting, and a queen, to name a few. Everything I've experienced has shaped my love of acting, from speaking or singing in church, to giving speeches at school, and watching Broadway performances.
What strengths or skills do you have that have helped you to be successful?
Everything boils down to confidence. With lack of confidence comes insecurity, self esteem problems, and body image issues. I have worked to reach the level of confidence that I am at ever since I could evaluate myself over the way I look, how many friends I have, and how talented I am. In the end, what really matters, and what I try to remember, is that God loves me for the way I am, and I am a princess, with immeasurable worth. I have been rejected from casts more times than I have been in shows. The first time I read over a callback sheet that lacked my name I was completely devastated, it turned into a "What was wrong with me?", "Why am I less than this person?", and "Why not me?" which really damaged my confidence. But the reason I have been successful is because instead of dwelling on the things I couldn't change, I pushed myself to work even harder and audition even more.
Who has supported you during this process?
My parents have easily been the most supportive not only during this process, but also in regard to others skills I have gained from acting. My parents never got me the most expensive pair of stage shoes, or pushed me to audition more, or got me voice lessons from the best vocal coach they could find, but that's not something I needed, or wanted. My parents have supported me by driving me to rehearsals, volunteering during shows, and almost always backing up my decisions in where I take my life. My friends have also played a huge role in performing, but mostly, performing has played a huge role in my friends. I met my solid friend group during the school play in seventh grade and have stayed with them ever since. Acting has helped me make new friends (my cast becomes my second family), and my friends have helped me in my acting, (positive peer pressure and beneficial critiques).
Which aspects of performing have you found most challenging?
Placing yourself into an environment where everything you do during rehearsals and auditions is analyzed can sometimes be very hard if you haven't developed a thick skin. One thing I've learned as I've been with so many different directors and actors is that no one apologizes, and neither should you. This sounds harsh but putting on a show is like painting a picture, or writing a song, you can't apologize when you accidentally smear a section of canvas, you just have to work with it or start over. Saying "oops, sorry" won't change the fact that you have a smeared canvas, and saying "oops, sorry" when you mess up a line or break character won't make the show look better. Everyone makes mistakes, it's part of the process, so you can't apologize every time you do. If you don't make mistakes, you can't grow, but, if you make a mistake and apologize without fixing it or moving on, you actually set your progress back. This is the same as life, you have to keep moving on. It's hard to say to yourself, "okay, that was awful, let's try again and make this fantastic", because you want to be good at what you're doing. Performing forces you to have a thick skin and accept your failure.
Which aspects of performing have been the most rewarding?
Being a part of theatre has really pushed the boundaries of the things I can accomplish. Because I act I can also give public speeches. I can sing to an audience of 600 or more people, which lets me feel more comfortable about my voice. I can write and direct skits and shows, and make friends quickly, which has helped me to become a leader. Aside from the traits I've gained from being on stage that help me in other times in my life, acting is really fun. Everything from auditions, which aren't really a rollercoaster of emotions, they're more like being in a tiny boat in the middle of the ocean during a hurricane, to the cast party, where sometimes there are more emotions and tears than what you would expect. The in-between is full of stressful and scary moments, but fulfilling and joyous ones also. The few minutes it takes to read a callback list can ruin or make your day. And the process isn't easy, memorizing lines, blocking, and in some cases lyrics and choreography, plus rehearsing for more than six straight hours on some days. But during shows you receive the same rush of exhilaration as being on a rollercoaster. After that it's the final bow, hearing the applause of a sold-out show, meeting audience members in character, laughing with your cast, and hearing the appraisal from family, friends, and even strangers.
What have you learned about yourself from these experiences?
Sometimes it's hard to brand yourself as an actor; you take on a very defined character, and a list of expectations that you now have to meet. But that personality is also a good thing. To me it means confidence and determination that I can use every time I meet a difficult situation. What I've learned, though, is that the "actor version" of me, is just a part of me. I can be confident, and expressive, and opinionated, because that's just who I am, and I don't need the label of an actor to be those things. I've learned that it's okay to be powerful, and to be a leader. On a different note, I've noticed how often I compare myself to others and focus so much on how other see me and less on how I see myself. While it's important for others to see me as who I am, or who I'm striving to be, it's equally as important not to compare yourself to others. I'm increasingly trying to balance these things- trying to show the Christ-like attributes I'm working toward, but to not measure myself off of other people's growth.
Do you have plans for schooling or employment?
Because acting has helped me to develop so many other skills, I don't feel like acting is my only option as a career. I'm considering going into marketing or communications, possibly for fashion, design, or film production. I'm interested in the costumes, hair, and makeup departments of movies and TV. I could also see myself as an editor or head of a fashion magazine or director of some other company in that industry. I'm still not positive on my future or career, and I might go into something completely different than what I'm envisioning right now. But because of acting I know I have the opportunity to be a leader, a voice of action, and a confident and creative thinker.
Any other thoughts or advice you would give to young women?
Ultimately that your worth is not determined by the grade on your report card, the size of your dress, or the amount of followers you have on Instagram. An important thing to remember is that the opinion that matters the most is the Lord's, and the second should be your opinion of yourself. Be the person our Heavenly Father and you would be proud of, the opinions of the people that matter the most to you will also be proud of that person; if they're not, then you shouldn't worry about them. My second point of advice is to create and reach goals. If you want to be good at something, then work toward that and do that thing, nothing is stopping you if you have enough ambition. Be the change you want to see in the world.