YW Activity Plan: Community/Civic Engagement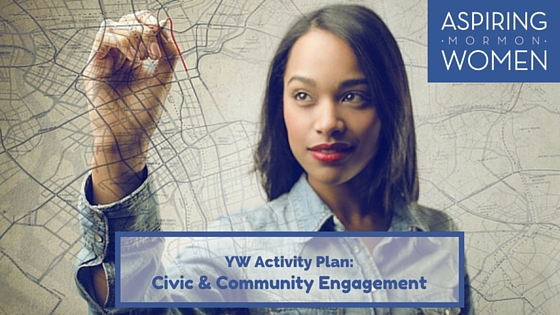 Prepared by Laura Durham
PURPOSE:
Working to make a difference in the life of communities often begins with one individual. It requires a combination of knowledge, skills, values and motivation to make that difference. Understanding the role individuals make in the governing of our cities, towns and country is important for young women to understand so they have confidence in their ideas, and know that they have the ability to change their communities for the better. This activity on civic engagement can also foster a sense of civic duty and responsibility for the young women and encourage them to be active in making a difference.
OBJECTIVES:
To help young women recognize that they a responsibility as members of a larger fabric of society.
To help young women see how different communities are affected by different policies.
To empower young women with the skills and confidence to take action when needed.
PERSONAL PROGRESS:
Choice and Accountability #3
Good Works #3, #6
Value Projects as appropriate
PLAN AHEAD:
Ask the students to bring ideas of issues they care about at their school, or in the local newspaper. Make sure you have a white/chalk board for this activity, or a big sheet of paper to write down ideas. Maybe even attend a community or neighborhood meeting to learn about the issues in the community that the girls might be involved with.
 INTRODUCTION:
Discuss the difference between input and participation. Citizens can give input through public hearings and during comment periods, but this is usually just a way to express their opinions, and sometimes complain. Explain how effective solutions emerge only when citizens participate in decision-making through forums where they engage in listening, collaborating and weighing the trade-offs. Share stories of women who made a difference through civic engagement, either locally or from history. Examples of LDS women include: Alice Merrill Horne who ran for the 3rd Utah Legislature specifically to advance an arts agenda, Martha Hughes Cannon who beat her husband in the election to then become the first female state senator in the U.S., Mormon suffragists, and Olene Walker who was Utah's first female governor.
ACTIVITY:
Make a List
Have the girls list issues in their school that they care about (healthy food for lunch, elective classes that are offered, etc.)
Have them talk about issues in their neighborhood or communities that they care about (well-lit streets, safe parks for play, etc.)
List reasons why people don't speak up or participate in decision-making (laziness, fear of not being heard, lack of knowledge, lack of time, etc.)
Divide into Action Groups
If you have enough good ideas from the list you made with the young women, let them choose which issue they want to tackle. If not, bring some hypothetical issues or issues of your own from the community such as a need for a traffic light, or a round-about, or the need for a park, raising money for trees, or putting on a benefit or festival.
Help the girls craft a statement about why their issue is important and what they think needs to be done, and how they are prepared to help make it happen. Talk about timeline, budget, and what other people from the community (stakeholders) should be consulted and invited to participate.
When they are done, have them present their statement to the entire group. Invite girls to ask questions and even challenge the idea of those presenting, and assist them in how to respond in a respectful and composed manner.
WRAP UP:
Once all the ideas are presented ask the girls to choose which one they think is the most important issue (if there is more than one that is fine). Talk about what next steps might be. How do they find the right people in the community to make their idea a reality, or voice their concern effectively? If appropriate, accompany them to the meeting and help them make their voices heard and see what happens! Explain how many ideas don't get very far, and sometimes it takes persistence to convince the right people to move forward with something.
Ideas for where to find civic involvement:
There are many rallies at the state capitol, if it happens to be in your neighborhood. During the legislative session, there are always designated days for certain issues where they can meet and talk with legislators (arts, education, museums, etc.)
Neighborhood councils/meetings are always open to the public
Many non-profit and government board meetings are also open to the public to sit in and listen to the topics at hand
Political caucuses
 OTHER IDEAS:
Take a tour of City Hall
Take a tour of the Capitol Building
 QUOTES:
"In the early days of the Church here in this valley, the leaders of the Relief Society, other stalwart women of the community, and the presiding Brethren of the Church worked together to establish suffrage for women among the Saints. It was not expedient. It was not even judicious, in the light of the desperate struggle for statehood, and yet the right of women to vote was unanimously agreed upon and written into their constitution by the first legislators of Utah territory because it was a righteous principle.
Today, Latter-day Saint women with more opportunity for education, with the right of voting, must step forward to be part of the solution of society's problems. We must exercise responsible citizenship."  –Barbara B. Smith. Relief Society General President, "Women's Greatest Challenge," October 1978 General Conference
"You can't lose heart, or grow cynical if there are twists and turns on your journey. The cynics may be the loudest voices—but I promise you, they will accomplish the least. It's those folks who stay at it, those who do the long, hard, committed work of change that gradually push this country in the right direction, and make the most lasting difference." — President Barack Obama
"Tell me and I forget, teach me and I may learn, involve me and I learn."   – Benjamin Franklin
 RESOURCES:
Good teaching strategies when it comes to discussing contentious issues with maturity and compassion
On why it's important to be informed, especially during a presidential election