The Student Record, Erica, B.A. in Communications — Journalism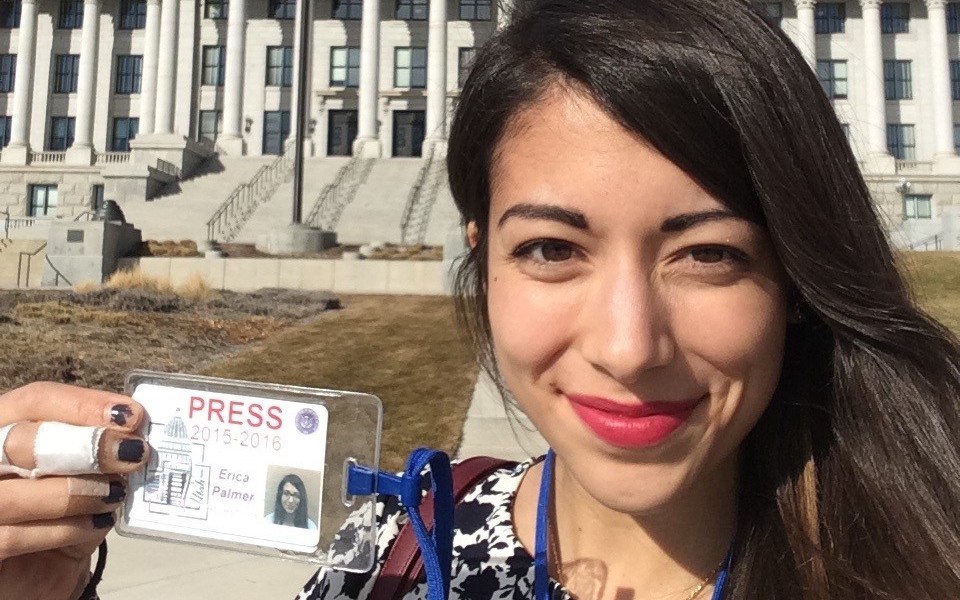 Name: Erica Palmer
School/University: Brigham Young University
City/Location: Provo, Utah
Major/Field of Study: Communications – Journalism (print/multimedia) and Mandarin Chinese
Marital status/children?: Married with our first baby on the way!
What led you to the program that you are currently pursuing or have completed? Why did you select this major or field of study? 
I was not one of those people who began college with any idea of what they wanted to do. My problem was I loved every subject and was obsessed with learning, and the thought of choosing one thing and being stuck with it for the rest of my life made me anxious.
One day I was walking past the Brimhall Building on the Brigham Young University campus and saw a sign advertising the journalism program. I realized that journalism was a field where I could develop and put to use my talent of writing, without confining myself to just one field of study. I could make it my career to learn! I was accepted to the program and have thoroughly enjoyed the diversity of knowledge and experience it has given me. I love to write and I especially love to learn about other people and help them tell their stories.
I decided to minor in Chinese after my husband and I spent our first year of marriage doing business in China (which was totally his thing, but I went along for the ride and loved it). I learned the language as much as I could while I was there.  When I came home, I decided to set aside my two years of university Spanish for a Chinese minor instead. We hope to move back there one day, so I figured I'd better take advantage of the opportunity of learning the language while I'm in college. I would highly recommend studying a language in college as it makes you more marketable, opens up a whole new way of thinking, and will be so much more difficult to do once you leave college!
What feedback did you receive from friends, families or acquaintances about your schooling?
I have always grown up with the idea that education was one of the most important things I could do as a young adult. My parents always supported me growing up, telling me I could be the first female governor of Utah or a successful lawyer or whatever I wanted. That and support and praise from my teachers helped me to grow up valuing education and having confidence in my academic abilities.
My husband and I met in high school, and he always knew I was academically driven. Neither of us ever questioned that we would both graduate from college. We are absolute equals when it comes to the academic world and we love having academic and philosophic discussions. He constantly tells me how proud he is of me and is always pushing me to do my best and excel in all that I can (and I feel the same way about him). The support of him and my entire family has meant the world in my educational career.
What advice would you give to a student pursuing a similar course of study?
Take advantage of every opportunity, including internships, study abroad, contests, clubs, grants, etc. I am graduating college with not only a bachelor's degree, but two years of professional experience that relate directly with my major, including internships with Deseret News, the Salt Lake Tribune and experience as editor-in-chief of BYU's newspaper. This field is all about connections and experience. Working for the school paper has been a priceless experience and a chance to learn and progress in a real-world atmosphere, but with amazing mentors there to help me every step of the way. I know the relationships I have developed with my mentors in the program and with those who I worked for in internships will prove to be very valuable to my professional success after school, as many companies in this field hire almost exclusively from interns and personal recommendations.
Honestly, I would recommend doing every internship or other professional experience you can as a student, no matter your field of study. Getting paid to do something that coincides with your professional goals as a student sure beats waiting tables to pay the bills. Trust me, I've done both. I have also found time to travel extensively as a student, and this has contributed to my education by really opening my eyes and giving me a broader, more open mind about the world.
I was one of those kids who has always loved school and excelled in it, so I didn't have trouble transitioning to college. I would say the hardest thing for me to balance my freshman year was social versus academics. I was so concerned about getting straight A's that I didn't take as much advantage of the relationships and fun that you can also have in college. I've learned to strike a better balance in my remaining years of college. While I still value studying and getting good grades, I don't worry so much about the grade itself that I stress myself out.
I would say the hardest thing as a student is learning to find this balance, and also being driven enough to take advantage of these opportunities instead of just going through the motions of school and getting by. College will be so much more rewarding if you come away with something other than just good grades! Experience, relationships, and personal learning and growing are priceless. Even to this day I am still finding out about new study abroad programs, clubs, and groups that I wish I had known about when I started college.
What did you learn about yourself when you became a student?
I learned that learning is one of my passions, and something that I will always pursue, in whatever circumstance I find myself in life. My husband and I both graduate in April, and we were talking the other day about what we have learned in our majors. While I couldn't list specific things that I had learned studying journalism, I realized that I had developed numerous skills. A journalism major isn't a major where you sit and learn facts and theories; instead, you spend two years practicing and developing skills within yourself. I have learned how to write, how to ask questions and make sense of answers, how to work professionally others, and how to be confident in myself. These skills have been so valuable to me, not only in my education and future career, but in my personal life. As I have learned to develop myself, I feel much more confident in what I can do in the future. I guess I always thought college was all about filling your head full of knowledge, but I am so grateful for the personal growth and learning that I have also done along the way.
What do you most enjoy about school?
Everything! I love the structure, I love learning. Honestly I am a little bit scared to graduate and go get a job because I feel like the thing I am best at and enjoy the most is learning and being in school. I'm sure I will be back for more.
What are your current or future plans for employment or future schooling?
My husband and I are expecting our first child to be born in April, literally a week before graduation, so that shook up my professional plans a little. I plan to do freelance writing, while being a stay-at-home mother, until I decide I am ready to jump back into the workforce and pursue a job as a journalist. My husband and I plan on moving back to China sometime in the future so he can pursue his goals as an entrepreneur. If we move back there, I would love to be a reporter, either for an American newspaper or a Chinese newspaper. I have considered law school after I have a few years of experience doing what I love as a journalist, but we'll see what happens!
Whatever happens, I am thrilled to have the opportunity to be a mother and have so many professional/academic opportunities open to me. I think the most important thing is feeling like I have options, which I wouldn't have if I didn't get an education and marry a wonderful man. Then I'll take life as it comes and decide what is best for me and my family along the way. There's a certain excitement in having so many dreams and options and having no idea where you are going to end up!