YW Spotlight: Ivy & Mazzy, Baking Entrepreneurs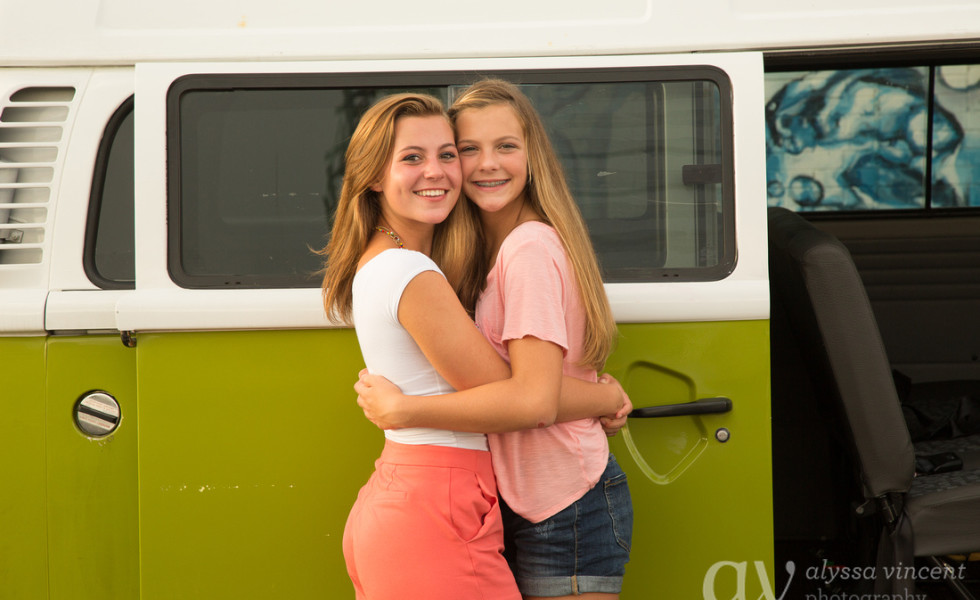 Names: Ivy and Mazzy Marcucci
City/Location: Riverside, IL (just outside of Chicago)
Ivy is almost 17 and Mazzy is almost 14. The rest of the family includes mom, dad, and Ratz, the ball python. Ivy plays the piano and loves to sing. She also loves discovering new restaurants in Chicago, especially donut shops. She plays varsity soccer and club soccer (left defense in the house!) and enjoys doing yoga and kickboxing. She is excited to actually try out her kickboxing skills in the ring this summer instead of just punching and kicking mats. Is it weird that she wants to hit someone? She feels like she is drowning in a sea of AP classes, so maybe she needs to punch something to blow off some steam. Mazzy also plays soccer, holding her own in midfield. She plays volleyball and likes to hit too (the ball) as an outside hitter. Mazzy plays the violin and is now learning to fiddle as well. Ivy and Mazzy started their own baked goods business, called Sugar Sisters.
What led to your interest in starting a business?
Our mom forced us to help her bake when we were younger, and we picked up some mad baking skills. Last spring break, I (Ivy) decided to start my own baking business so I could make some extra dough (pun intended). I roped Mazzy into the enterprise, and Sugar Sisters was born. Each season, we come up with a new menu, and take orders from friends, neighbors, and fellow foodies, and then we bake up a storm.
Did you have any other experiences that helped you get started?
Every time we go to a restaurant or bakery and order dessert, we almost invariably think, "We could make this better at home." We started sharing our sugary creations with friends, and the feedback was really positive, so it seemed like we could make a go of a home baking business.

What strengths or skills do you have that have helped you to start and maintain Sugar Sisters?
We are creative and great problem solvers. For example, one very hot summer day, we needed to deliver a chocolate mint layer cake. My (Ivy's) car was in the shop, so I was stuck driving dad's VW bus, a stick shift. Because it was so hot outside the cake, which was covered in a butter cream frosting and then drizzled with a chocolate ganache, was melting a bit. I had a little bit of a problem getting the VW bus into gear, and the top layer of the cake started to slide off of the bottom layer. We rushed the cake inside, popped into the freezer for a few minutes, and had to quickly make it look presentable. Although our mom was freaking out a bit, I calmly decided to marble the mint butter cream and the chocolate ganache. The cake looked beautiful, and we hopped back into the VW van to deliver the cake. This time, I drove a little more smoothly, and the cake was delivered without further mishap.
Which aspects of having a business are the most challenging?
Our biggest problem is that most of our orders occur during the holidays, so managing our time becomes really important. We have to carefully plan out how and when things will be baked and delivered. It is also tricky to manage orders that are placed during the school week. When you have sports as well as 3-4 hours of homework each night, and seminary on top of that, it's hard to squeeze in cake baking.
Which aspects of having a business are the most rewarding?
We have to admit that we kinda like the accolades. We got a call from someone ordering a carrot cake. She told us that she was ordering the cake for her sister-in-law who had just given birth. The delivery was really difficult, so she had asked her sister-in-law what she could do to help out, and her answer was, "Call Ivy and Mazzy and order one of those carrot cakes for me.  That's all I need."
What did you learn about yourselves from starting Sugar Sisters?
We have learned to work together even when things are stressful. Invariably, we have moments where we want to throttle one another because we are stressed out trying to get things done quickly or one of us makes a mistake. We are developing patience with one another.
What is it like being the only LDS student at each of your schools?
Being the only LDS student at our schools brings lots of missionary opportunities, but it also comes with some difficulties.  Although our area has a lot of very religious families, there are not many teenagers in our schools who share our standards. We have found that we have to set the agenda. We host tons of activities and parties at our house, and all of our friends know where we stand.
Do you have plans for schooling or employment?
Ivy: Over the course of the last year, I have started to think I might want to do this bakery business as a career. I have an entrepreneurial spirit and have really enjoyed the business classes I have taken at school, so I am thinking about majoring in business in college so I can start my own Sugar Sisters empire.
Mazzy: I am still trying to decide what I want to do for schooling and employment, but I am working hard at school so that I have every option open to me when it is time to make those choices.
Any other thoughts or advice would you give to young women?
One of our YW leaders shared this quote recently:  "Our deepest fear is not that we are inadequate. Our deepest fear is that we are powerful beyond measure. It is our light, not our darkness that most frightens us. We ask ourselves, Who am I to be brilliant, gorgeous, talented, fabulous? Actually, who are you not to be? You are a child of God. Your playing small does not serve the world. There is nothing enlightened about shrinking so that other people won't feel insecure around you. We are all meant to shine, as children do. We were born to make manifest the glory of God that is within us. It's not just in some of us; it's in everyone. And as we let our own light shine, we unconsciously give other people permission to do the same. As we are liberated from our own fear, our presence automatically liberates others."
-Marianne Williamson
Our advice to YW is that they let their light shine!  When things get difficult and our light is obscured by clouds (with school or friends or with other tough stuff life throws at us), sometimes we just have to keep pushing through until the clouds pass. The clouds WILL pass, and then our light can shine again.