Cash for College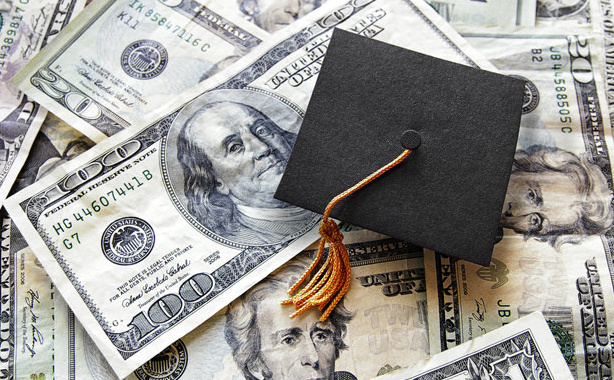 by Heidi Doxey
The number one reason a college student drops out prior to earning a degree is financial; tuition is expensive, books and fees are expensive, living expenses cost more money, and when a student is spending hours a week in class and doing homework instead of earning money all those expenses add up. Many students are unable to shoulder the cost of a college education on their own, particularly students who have families of their own to support. Often times a student will land a great job and it seems like it isn't financially worth it to cut back hours at work in order to take classes and study for exams. I get it. It took me 10 years to earn a Bachelor's degree; I started working full time at age 18, sometimes holding down two or three jobs, working 50+ hours per week, and still trying to take a full load of courses at the university. I burned out, my finances were drained, and several times I had to take a semester or two or three off to earn enough money not only to pay tuition, but to also support myself while I was working fewer hours.
I wish I had someone sit down with me in my late teens (or anytime in my twenties) and explain a little more about financial aid. I knew a college degree was important, but I was really unsure of how, exactly, to pay for it. I'd heard horror stories about student loans and was very hesitant to get myself into debt, so I went about paying for college the long way, ten years long. It's true that I graduated from college (at age 28) without any student loan debt, but I paid a high price for that. I also didn't have a 401k, my car was literally rusting through the floor and I didn't have more than $200 dollars in my savings account. At age 28.
A modest student loan, used to pay for legitimate school expenses at an accredited university with a high graduation rate and a solid track record of placing graduates with employers is a sound investment. Using a low-interest, pay-it-back-later student loan to buy a car, or pay for a fancy wedding, or finance a summer backpacking across Europe is not a good use of that money.
Let's talk a little bit about what a student loan is. Congress sets aside an enormous amount of federal funds every year that are earmarked to help students pay for a college education. The only way to qualify for that funding is to fill out the FAFSA, the Free Application for Federal Student Aid. In the last several years the FAFSA application has been simplified, the questions reduced dramatically, and a lot of the essential information can be ported over from the IRS.
First of all, FAFSA applications are used to determine two different things. The first is Pell Grant funding, which is money given to those with demonstrated economic need. Pell Grant money does not have to ever be paid back. The second is a subsidized student loan which students do not have to pay back until after they leave school, the interest rates are really low and your principal loan amount doesn't start accruing interest until you start making payments (this is what "subsidized" means).
I want to be really clear here, in order to qualify for Pell Grant funding, you must submit a complete FAFSA. The only way to access funds set aside for higher education by the government is to apply for it, the way to do that is by submitting a FAFSA. Some colleges and universities also require a completed FAFSA to qualify for scholarships, it's important to fill it out. Why am I harping on this? Well, in some states—not all—there are literally millions of dollars of student aid that are left on the proverbial table every year because no one applied for it. For example, in Utah, over 40 million dollars of FAFSA funding was not applied for in the last reporting cycle. Forty million dollars. I don't know about you, but I can think of a lot of college students who could have used a little bit of that money to pay their tuition, but again, you have to apply for it.
Secondly, in order to submit a FAFSA you must submit tax information, or more specifically, your parents tax information. If you are a dependent (meaning, your parents claim you on their taxes), the FAFSA algorithms need income and investment information from your parents. This means, before you can submit your FAFSA for the next academic year (2016-2017), your parents need to file their 2015 taxes. For next year's application that will all change, but for this year, that's the requirement. The FAFSA website has implemented a way to port that information over from the IRS; what that means is that if you or your parents have filed your taxes electronically (through an accountant, through HR Block, TurboTax or any other platform), the required information can be downloaded from the IRS right into your FAFSA application. Pretty slick, right? (Yes, back in the time of the dinosaurs we had to do our taxes on paper and our FAFSA on paper; this is amazing.)
Ok, so now I've convinced you to fill out a FAFSA, right? Good. You can find the FAFSA application here: https://fafsa.ed.gov/. The first thing you need to do is apply for an FSA ID number (this replaces the FAFSA PIN for you old school folks), look for the little padlock icon that says FSA ID up at the top of the page. Your FSA ID will be your electronic ID number you use to sign your online applications for the rest of your time in college or university, including graduate school. If you are currently a dependent on a parent or guardian, they will also need an FSA ID. Registering for an FSA ID requires quite a bit of personal information from both you and your parent, it may take you about 20 minutes to get it all done and submitted.
After you have an FSA ID you can fill out the actual FAFSA application. Again, you must have completed your taxes for 2015 first.
Is this a lot of steps? Yes, it is. But you are asking the government to give you thousands of dollars to help pay for your tuition, it's fair that they ask quite a few verifying questions on your identity.
Now, there are a lot of different circumstances that will be taken into account on your FAFSA application, and there is probably not a blog post anywhere that will answer them all directly, this one included. If you have questions—and you probably will—it is a good idea to talk to a college or university financial aid office, or a high school counselor or college advisor. Someone who is well-versed in the FAFSA application will be able to walk you through any of the tricky parts and help answer your questions. And it's TOTALLY OKAY to have questions. It's a federal application, it's kind of tricky, that's part of the gig.
In short:
Filling out a FAFSA is the only way to qualify for Pell Grant funding or subsidized student loans.
You do not have to use loan dollars if you don't want to, but isn't it better to have the option?
You must have your parents 2015 tax information complete in order to submit a FAFSA for the 2016-2017 academic year.
Apply for an FSA ID, then complete the rest of your FAFSA application.
It's totally okay to ask for help.