Career Day: Musician (Orchestra)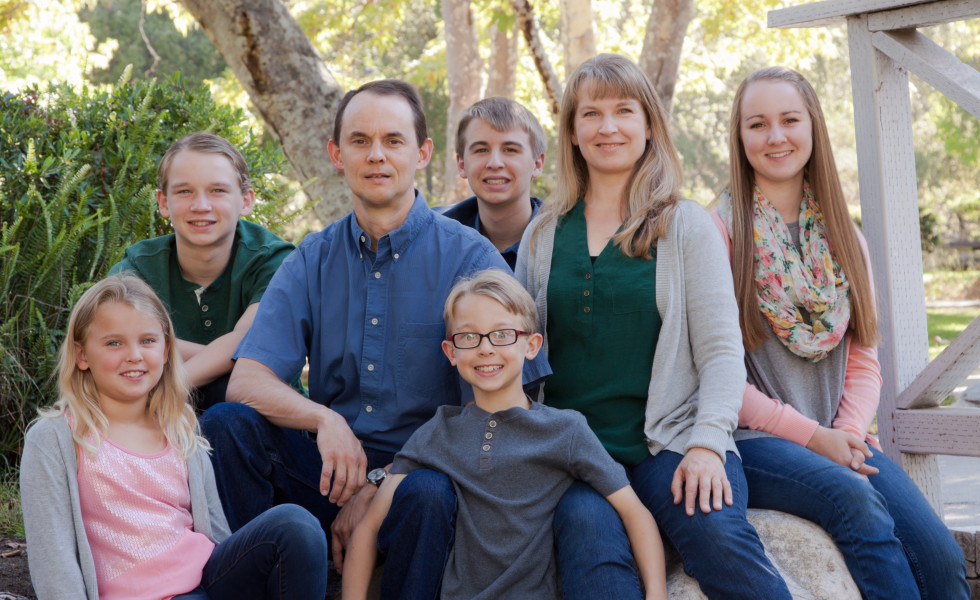 Imagine going to your job and that when you finish for the day, the people around you clap vigorously and smile because they appreciate what you have created with your work. I am Leticia Oaks Strong, a violist in the Los Angeles Philharmonic Orchestra. I love that I am able to create music that can touch people's hearts and that they are then able to share with me their appreciation.
So how did I get to do that?! Practice, practice, practice, prayer, faith, and trust in a loving Heavenly Father that He knew the best plan for my life. You'd probably like a few more details. The story goes that I begged and begged my mother to play the violin just like my older sisters (I'm seventh of nine children). So at the age of three I began violin lessons just like my sisters. I can't remember ever not playing music. At the age of twelve I switched to the viola and really loved it. I played in the local youth orchestra in Utah Valley where I grew up. I had weekly lessons with a private teacher. I entered solo competitions, but I really loved to play in orchestra. After attending an intensive summer chamber music (think string quartet) program in Massachusetts in high school, I decided I wanted to major in viola performance.
The most pivotal point that eventually led to my career was the decision of where to attend college. I made it a matter of prayer and fasting and eventually came to the realization that Heavenly Father really had a plan for me, and it was not to attend BYU like I wanted, but to attend the University of Southern California's School of Music. I was so scared! I was secure in my faith while in Utah, but the thought of moving to Los Angeles where I knew nobody was a real test of my faith. I was married in the Provo Temple after my sophomore year of college to David Strong, also of Provo, and he really supported me in my music and attended UCLA for graduate school so I could continue my studies at USC. Wanting to support us after I graduated from college with my bachelor's degree in viola performance, I auditioned for orchestras in the Los Angeles area. Los Angeles Philharmonic was my second audition.
I really fasted and prayed about whether to audition, because it was such a good job—a dream job. How would I ever leave it be a mother? Could I really do both? I did not want to be a working mom. More than anything else I wanted to be a mother. After receiving spiritual confirmation in the temple that I could do both, I sent in a resume and was scheduled to take the audition.
It was very intense preparing for it. I had been rejected in an audition for a much smaller orchestra in the Los Angeles area shortly after graduation. I realized I would need to be almost flawless. My husband and I lived apart for several months as I attended a summer music camp so I could continue to prepare. My husband was such a great support. There were three rounds in the live audition, with cuts after each round. First round, I played about ten minutes of excerpts from orchestral music. I had been given a list of music to prepare well in advance. I was behind a screen so the audition panel couldn't see me. For the final round, there were six players left, and they had taken the screen away so the panel could see me and I them. It was in the concert hall—just me on that big stage. Before each round I prayed that I would be able to be calm and play as I had prepared. Each round I played better than the previous round. The final round was very intense, as they had me play things again in different ways. I also had to sight read some orchestral music.
When I was offered the job I almost couldn't believe it. I was twenty-two years old and fresh out of college with no professional orchestral experience. I didn't even know what kind of schedule I would have or what amount of money I would be making. I accepted the job trusting that this was part of Heavenly Father's plan for me and my family, and of course I was so excited. It seemed like a dream.
Unlike in a more traditional job setting, there are no fixed educational requirements. Very polished talent is most important. Most players have attended a college to study music because that is how you polish your "raw" talent and get the orchestral training experience—within the college orchestra. Auditions are held behind a screen and the panel does not connect your sound with a resume until the final round when they may only have 3 players left in the pool.  However, the demand for the job is tremendous and orchestra audition committees will only allow a smaller group to come audition live because there is so little time so they look at resumes to cut back on the live audition pool.  That being said, they will not turn you away if you insist on showing up and auditioning even though you were initially rejected.  Several current members of the Los Angeles Philharmonic were initially rejected based on resume and won the job when they showed up to audition anyway (of course they let them know they were coming).  However, if all things were equal in the end and they had to choose based on resume, they would be looking for any experience you had had playing in an orchestra—whether it was in college orchestra or "on the job training" so to speak.
What is it like to be a member of a professional orchestra? Yes, I do get paid. People ask me that quite a bit. Because I'm in a major orchestra, I do get paid very well and have good benefits for my family. I have paid vacation, paid sick leave, and I had paid time off (about three months) when I gave birth to each of our five children. The downside is my schedule is very rigid. However, I receive my schedule more than a year in advance so we can plan around it when possible. I have ended up missing lots of my children's events (school plays, concerts, etc.). I try to attend their rehearsals if I miss their concerts/events. My husband and I have had to let go of the Friday night date night idea. Our dates are quite often a trip down to the concert hall a bit early so we can eat a meal at the café before I head up to the stage and he heads to his seat in the concert hall. Thankfully, he loves to come and listen to the concerts I perform in.
Another thing I get asked a lot is if I ever have to re-audition. No, I don't. I have tenure. For a newly hired musician there is a tenure process of two years (other orchestras may be different). You are reviewed by your colleagues and the music director (resident conductor) and given feedback after the first year, and at the two-year mark you are either given tenure or are released to go elsewhere.
When the kids were small, I'm not going to lie, it was HARD! My children (except one) did not take bottles, and my husband shouldered much of the burden of crying babies at night while I was on stage performing. Luckily, my rehearsal/concert schedule is such that I am usually gone no more than four hours (including my travel) at a time. There is just one day when we have two rehearsals back to back with lunch in between. We average four concerts a week and usually four rehearsals (rehearsals being two and a half hours long). The next week we start over with different music. Although we have no family near us, we have been blessed with a wonderful network of friends in the Church. I was guided to good women who needed work and were wonderful caretakers to my children while I was working during the day and my husband was also working.
When our first child was born, I had to go on a tour with the orchestra to New York. It was for about a week. Luckily my husband could come. It was miserable. My daughter wouldn't sleep very well. After that, we were very blessed to be able to time the births of our children so that I would miss whatever big tour was imminent in the schedule. Tours can be two to three weeks long—usually only once a year. I dreaded them when the children were small. It was so hard to leave them. But now that they are older (ages twenty, seventeen, fifteen, twelve, and nine years), I am able to enjoy the tours more, knowing that the kids are doing just fine without me. Now that all the children are in school, there is only one day a week that I am not home when they get home.
I am grateful to be able to perform most of all in the church setting. If I didn't have my job, it would have been difficult to keep up my musical skill. Viola playing has become so natural to me that when I play in church, I can solely focus on being an instrument for the Spirit, and I love that. For a number of years I was compassionate service leader in my ward and really enjoyed being able to share my music with those members who ended up in the hospital for any reason. Although I often have performances on Sunday, I have learned that keeping the Sabbath holy isn't just about being in church at the required time for the set number of hours. It isn't about "not working on the Sabbath." It is much more than that. When we realize it is about the heart, about our personal worthiness, about our desire to serve our Heavenly Father using the gifts and talents with which He has sent us to earth, then we truly understand the scope of His work, which is to bring to pass the immortality and eternal life of man.
Balancing being a wife, mother, and musician is not always easy. I try to keep an eternal perspective and let go of things that don't matter. At this point in my life I am also serving as the Young Women president in my ward. Because of my concert schedule and our ward schedule this year, I quickly say hello to the girls as they begin Young Women opening exercises and then have to rush off to play a Sunday afternoon concert. I think perhaps the reason I am needed to work with these young girls is to help them see their worth—to help them to know that Heavenly Father has a plan for them. I am grateful to be able to use the talents with which I was blessed and that I have nurtured. I enjoy my job. It is wonderful for my soul.