Career Day: Television News Producer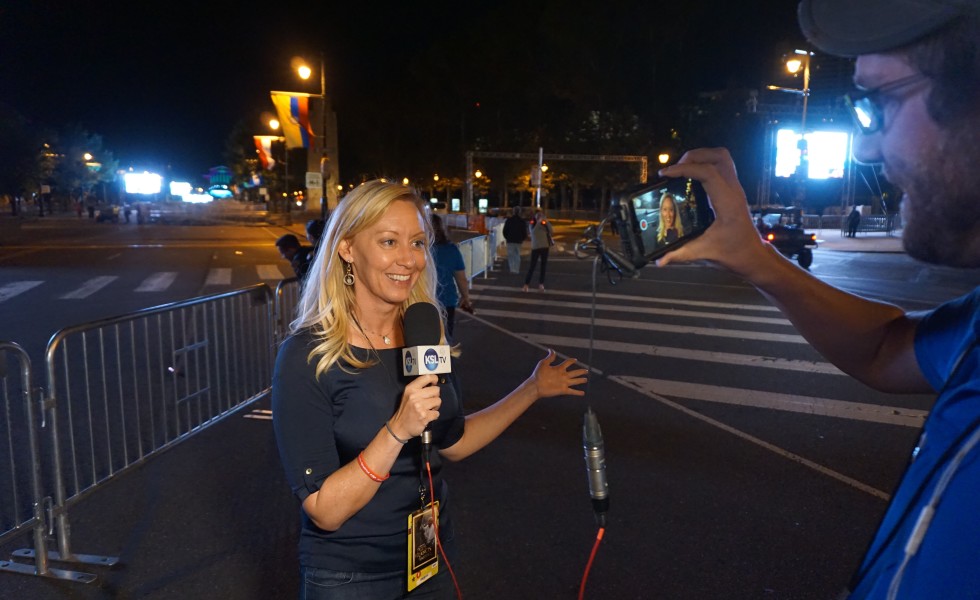 Tell us a little about yourself and about your job? What drew you to the profession?
My name is Candice Madsen and I'm a senior producer of special projects for KSL TV in Salt Lake.
I originally planned on becoming a teacher or going to law school. It had never occurred to become a journalist until I had a random opportunity to visit with Peter Jennings after I ran into him at the airport. I was with a group of BYU students and he invited us all to see him tape a newscast in New York. Seeing all the people working behind-the-scenes opened my eyes to a lot of different job opportunities.
I interned with NBC News at the Washington, D.C. bureau my junior year of college and then started at KSL as an overnight assistant producer (AP) after I graduated.
What does your job entail?
News happens 24 hours a day and so newsrooms are always staffed. I worked most holidays and lots of overtime and weekends when I started out. APs help the producer write newscasts. I eventually worked my way up to producer and line-produced just about every newscast at KSL.
Line producers are in charge of "stacking" a show, which basically means choosing stories and the order of how they flow. They also write, build the rundown so the director can literally call the shots and work closely with video editors, graphic artists and reporters and photographers in the field.
It's a stressful job and because it is live television you learn quickly how to handle everything going wrong because it often does.
After I produced for a couple of years, I asked if I could field produce stories for the anchors and then did some reporting on air.
I began producing special projects about four years ago and it's a dream job. Every day is different and I love the variety of projects I get to work on. I produce long-format stories (usually voiced by an anchor) and also manage and produce content for a weekly news program that features content from the Deseret News.
A couple of years ago I started producing documentaries that air in between sessions of LDS General Conference on KSL and I also write occasionally for the Deseret News and sit on the editorial board.
What kind of education/training is required? What skills/personal characteristics are important to have/develop?
To work as a news producer you need a bachelor's degree, internship, as well as experience in college. It is very difficult for someone to get job without some experience in Television. I wrote for The Daily Universe, the BYU newspaper, and did some reporting for KBYU.
You've got to know how to manage your time extremely well. The news starts at the same time every day so you can never be late or not get something finished on time.
Writing skills are obviously a crucial part of my job (I fear everyone is counting my grammatical and punctuation errors), and writing styles for television, print, online and for social media are each a little different. I pushed myself outside my comfort zone recently and wrote a series for the Deseret News about love and marriage which included a personal narrative about my experience as a single, "older" LDS woman. I wasn't so keen on writing about myself but I enjoyed doing something different.
Interpersonal skills are also important. When I first started it was a little nerve-wracking to interview people, especially when they are grieving. I still get nervous sometimes. I think the key is to be genuinely interested and authentic. I don't take for granted that people are trusting me to portray them honestly.
What kind of job opportunities are there in your field? 
Line producers are in fairly high demand because you need the journalism background and ability to write for TV along with the technical skills for line producing. Also, most journalism majors want to be reporters and don't consider the producing side as much.
The Internet has changed journalism dramatically and there are lots of opportunities online, in addition to traditional news outlets. It's also fairly easy to make the transition into public relations or social media management. I think a background in media opens doors to all kinds of possibilities and the great thing about the job is you cover so many different stories you make great contacts.
What are the best and worst parts of your job? 
The best part of my job is meeting all kinds of people in all kinds of circumstances and constantly learning about a variety of subjects.
The toughest part of my job initially was maintaining the work/life balance. I passed on opportunities to move to bigger markets because I knew it would be hard to have a life outside of work and I wanted to stay close to family. My job can also be really stressful depending on the projects I am working on and the deadlines. In October I was racing to finish two documentaries in time for Conference. Last week, I produced a live special that aired after the Golden Globes and that involved one very intense day of writing and stacking a show. I've produced a few specials on the topic of suicide and making sure we handled the topic appropriately was very stressful.
What opportunities have you had because of your education and profession ?
My job has provided me with incredible opportunities I never could of dreamed of. Last year alone I stood on Yankee field with the Mormon Tabernacle Choir, chased the Pope around Philadelphia, followed an amazing group of LDS women around the UN and interviewed all kinds of amazing people doing incredible things. I count my blessings often that I have a career I love.
What spiritual guidance have you felt as you have pursued your education and developed your career?
I've felt a ton of spiritual guidance in my career. There have definitely been times where I felt like my career was going nowhere or questioned if somehow unintentionally I chose a career over marriage and it's during those time I have really had to seek out guidance.  It seems like I get assigned to a lot of topics that end up helping me personally. I was absolutely dreading working on a special about love and marriage following my own break-up but how do I tell Sheri Dew I don't want to do it because I'm single? Right now I'm working on a project involving the early years of the Relief Society and it has really helped strengthen my testimony.
Any other thoughts, advice, or stories you'd like to share with other women? 
As far as advice goes, I'd say the "secret to my success" was seeking out great mentors. I think I would have quit the business years ago if a few key people hadn't taken me under their wing. Push yourself so others don't have to. Early on in my career I sought out extra projects outside of my regular duties because I wanted the challenge and doing that helped me carve out the job I have now. Don't be afraid to fail. Just fail fast. If you never fail, it means you aren't pushing yourself. Keep learning and be teachable. It is important to be confident but I have gotten myself into the most trouble when I thought I "knew it all."  Be a builder. The world is full of critics, especially newsrooms. People who know how to build people up get the most out of them.  It's easy to criticize but harder to be part of the solution.