Interview with Al Carraway, Author of 'More Than the Tattooed Mormon'
Posted on January 12, 2016 by AMW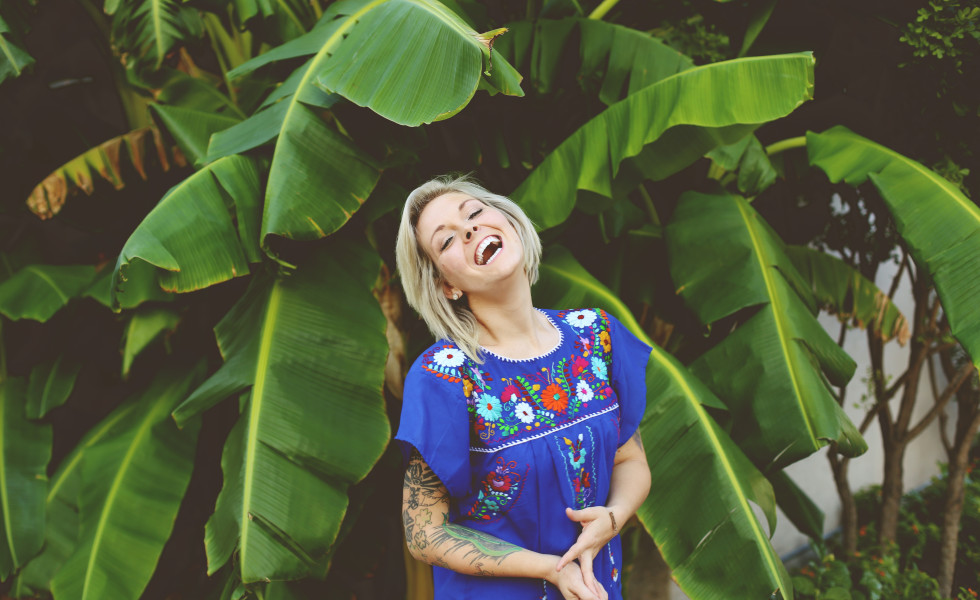 with Naomi Watkins
While reading Al Carraway's book, More Than the Tattooed Mormon, I concluded that Al epitomizes the cheerleader, friend, and support that we all desire in our lives, especially as we strive to be better and greater. Al's book provides her story of meeting the missionaries, getting baptized, the sacrifices and change and heartbreak (yet great love) that came from her baptism, and how her desire to serve God and follow the Spirit have blessed her life and the lives of those she reaches through her blog, YouTube videos, and talks.
I related much to the feelings, desires, and emotions Al unabashedly shares. Her optimism is evidently apparent, and it's hard to read her book and not feel the truths that she shares. As you will read in our interview with Al below, she is a woman who seeks to follow God's will for her. She acknowledges that His path can be difficult and challenging, yet her life is a testament to how embracing His way leads to great abundance and blessings. Al writes, "…when you see opportunities pass, keep going in faith, knowing there is something else to come. You are not being punished. And when it is His time, it will happen almost immediately. It will not just bless you but profoundly help and bless others because of it, because you waited, because you trust Him, because you know that 'he will not fail thee' (Deuteronomy 31:8)" (p. 84).
Thanks for the reminder, Al.
Tell us a little bit about yourself.
I'm a native New Yorker and convert to the church. I have my degree in graphic design & marketing, and I am LDS Motivational speaker, author of More Than the Tattooed Mormon, and blogger. After five years of living in Utah, I am currently living in Arizona with my husband, daughter and two dogs- eating as much pizza and Mexican food as we can.
What were you like as a girl and teenager? What did you like to do? What did you dream about doing at that age?
I've always been really outgoing and driven with the mindset of not needing help from anyone or anything. I have always been kind of stubborn, but I think that comes with growing up where I did. I like to think I was stubborn in good pursuits though, haha.  As a kid I was always trying new things, new sports, new hobbies, new crafts, different clichés of people. Growing up a non-member to the church in the culture that I did, my goals were very selfish and "career" driven. I never grew up longing to be a wife or a mom because that wasn't our culture.  I was raised with having the love of nature, love of reading, learning, love of people of every kinds, of all cultures, love of manners, love of art, joy in the simple things and working hard. My dad is an artist—a painter–and my two sisters and I have had a thick artistic lace drive us. I've always wanted to do something creative.
You graduated with a college degree in graphic design. How would you describe your college experience?
I hated high school, and I loved college. I grew up a lot after high school and I focused on the right things. I went for me and I learned and loved and succeed. But also, I'm really glad I'm done with it and it's over and graduated when I was 20, because I like working a lot more than school.
Many people know you as a blogger and You Tuber, but you also work as a producer for the Mormon Channel, co-own a clothing business with your husband, and can now add "book author" to your many list of accomplishments.  Tell us a bit about your various professional pursuits/identities and how they mesh and fit together.
I'm not sure how many of them I actually sought after myself or ones that just came from following God's plan for me. Nothing has gone the way that I've had in mind. Most times that was really hard and confusing, but everything has been profoundly better than what I was available for myself. I picked graphic designer. God picked everything else in my life–even my job at Mormon Channel (they came to me). Truth be told, after 21 years without hearing of the Gospel, or knowing God, the thought of others not knowing or understanding or taking advantage of it made me sick to my stomach. A simple prayer of "how can I help?" has led me to opportunities I never could have picked—blogging, speaking all over the country (even once with an Apostle and twice with the General Young Women's President), writing a book, YouTube videos, working for the Church, starting a Christian t-shirt company with my husband. Everything. Everything I'm doing now is to help God. At least that's my goal. Everything I'm doing now is driven by passion and the Spirit to help myself and others become better and closer to Him. I think that the best way to live a happy and fulfilling life is perusing and magnifying your desires no matter what they are.
What did you learn about yourself while writing this book? And what do you hope readers learn?
I'm not sure that I realized anything new about myself while writing the book, but as I read it for the first time from start to finish before it got sent to my editors, I was completely overwhelmed with how it came out and the help I had gotten from it, and I was reminded, yet again, how unqualified I am but how great He is at helping me and my shortcomings. There's no doubt about it that God helped me in every paragraph of that book. And although it's a book about my story and trials, it isn't about me. It's about you. That's why I dedicated the book "To the reader." It's about the things you need to overcome and conquer, it's about never giving up in those hard times when you feel alone, or are confused, or those times where it's so hard and want to yell at God. It's about knowing and feeling that you are not alone and you are never forgotten. Happiness exists in this day, and it's about finding it and feeling it in even the darkest of times. To choose happiness is to choose God. And once we choose God, anything is possible.
What spiritual guidance have you felt as you have developed yourself educationally and professionally?
I thought I had my entire life figured out. And then I met the missionaries and they taught me something called prayer. It wasn't until I learned about the Gospel and started talking to God that my life went the opposite direction. Everything I thought I "figured out" in my life didn't come to be. Prayer has led me down different paths to new doors. Guidance has always been there, and although most times it was really hard and confusing to follow, I would hate to imagine life any different than it is right now.
At Aspiring Mormon Women, we talk about #embraceyourAND which encourages women to envision lives of integration. What are your ANDs? 
I'm an author AND wife, mother, motivational speaker, blogger, graphic designer, pizza addict, and lover of all things good AND God.
Any other thoughts or advice you'd like to share with other women? 
From my book:
"Hey you, be kind to yourself. Be proud of yourself, because you matter. What you do matters. you make a difference. you really are good enough, pretty enough, strong enough. You are worth it. You do deserve the best. You do deserve to be happy, always. Do not hold yourself back any longer, because great things await you, just as you are. Strive every day to be a little better, to be the best you. Believe in yourself and believe in God.
Keep going. Keep trying. Keep doing good. And keep smiling, because you truly are so great. I need you. The world needs you,just as you are. We need you and your uniqueness and your efforts, because you make this a better place. You inspire me even with your messy house, your loud kids, and your bad-quality photos. You are so beautiful. You are doing an incredible job. You are loved by so many and always loved by God. Thank you for being you."