Voices from the Past: Maud May Babcock, Educator, Scholar, Thespian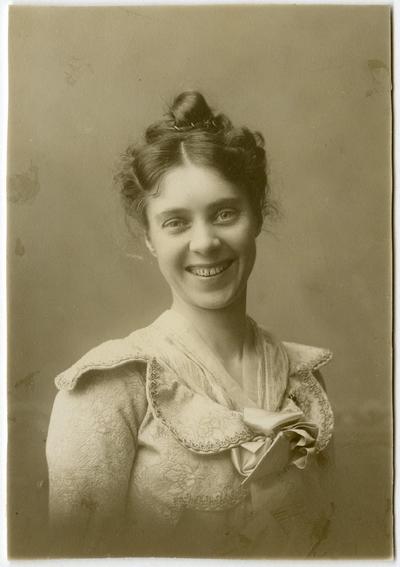 Special Collections Dept., J. Willard Marriott Library, University of Utah
by Brooke Nelson Edwards
When Maud May Babcock arrived at the University of Utah in 1892, she was the only female faculty member. Babcock arrived at the invitation of Susa Young Gates. The two met in 1892 while Babcock was teaching a summer course at Harvard University. Somehow, Gates convinced Babcock that Utah needed her and persuaded the young speech and elocution instructor to come west and bring with her a zeal for education, speech, and theater. Babcock did so and within a few months joined the Church. [1]
Babcock's career spanned more than four decades and her impact was significant. She became Utah's first lady of drama and theater, producing more than 300 plays and becoming a driving force behind the development of the arts among the Saints. [1] She formed the first college dramatic club in the United States, and it is believed that, under her direction, the University of Utah was also the first college in the country to produce a play on stage.[2] She served as the university's chair for the Department of Speech, which she founded. [1] She achieved national prominence as well, serving as the second female president of the National Communications Association and was a member of several other national professional organizations.[3]
She was passionate about elevating the minds and lives of students, choosing to include selections of Shakespeare in a high school textbook she authored. "The choice of literature for interpretation is extremely vital . . . . There is no excuse for using inferior literature. Selections from such writers as Browning, Milton, and Shakespeare are excellent when the student is prepared for them."[4]
Physical activity was also a major part of Babcock's life. She owned property in the mountains where she would take students on hikes.[1] Ultimately, she also founded the U of U's Department of Physical Education and was instrumental in the construction of the Deseret Gym. [5]
Among her students was LDS Church Patriarch Joseph F. Smith. He wrote, "The inspiration, the unswerving rectitude, the dynamic influence—these had to be experienced." He described her as a "symphony of color" wearing "a dark velvet toque, a deep lavender velvet jacket with a white fichu at her throat, a light lavender pleated silk skirt, grey stockings and grey shoes."[1] As to her position at the university, he stated:
"It is not to be wondered at, as the first woman on the university faculty, she had problems. But she eloquently and firmly stood her ground, always on deep-seated principle, and became a formidable champion of any cause, principle, or procedure which she espoused. Everything written about Miss Babcock suggests that she was a very congruent person—her beliefs, her rhetoric, and her behavior seem to have been in amazing alignment. She expected perfection of herself and was able to elicit the same from her students. Perhaps her leadership credibility problems were few and small."[1]
Babcock also devoted tremendous amounts of time in service of others both in and outside of the Church. She served for twenty years as a trustee for the Utah Schools for the Deaf and Blind, formed a local group of women to provide relief to aid victims of the Sino-Japanese war, served as the president of the Mutual Improvement Association in the Ensign Stake (the equivalent of a stake young women president), and founded the Lucy Mack Home for Girls.[1][3] Babcock also served as the chaplain for the Utah Senate, the first woman in any state to do so.[5][6] Today, her legacy lives on in the Babcock Theater on the University of Utah's campus and in the Maud May Babcock Doctoral Writing Society.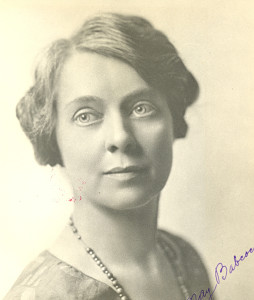 Babcock was a champion of girls and women and worked tirelessly to help them achieve their goals and dreams. Her dedication to action is well summarized by her remarks at a National Communications Association event: "On this occasion of five living women past presidents honoring the five more who have passed on, it occurs to me that having women as presidents of this association is important to the panelists and, perhaps, to the audience. Perhaps, it would be wise, if this be the case, to stop writing and talking about it and start going about the business of encouraging more women to assume the position!"
One of my favorite items I came across while reading about Babcock was this program from a Mutual Improvement Association conference in 1917 where the youth and their leaders in what appears to be a several-day event similar to today's youth conferences. There were testimony meetings and dances and speakers. This program also states that a play was performed under Babcock's direction and awards were given out for a speech contest she likely helped with and oversaw. How lucky these youth were to have one of the best speech and drama teachers in the country directing them through what was basically a stake play. And yet, based on everything I've read about Babcock, I'm sure she loved every moment of it and approached this church assignment with the same energy and excitement as her position in academia or on national boards.
This little glimpse into Babcock's life was such a fun reminder to me of my own young women leaders and other ward members who inspired and lifted me as a teen. There was the camp leader who was a professional caterer and used her talents to elevate our menu for the week from the level of hot dogs to chicken cordon bleu. There was a neighbor and ward member, who was also a former broadcast journalist, who rallied a panel of women in my ward to attend a practice session she hosted so I could prepare for an intense group interview. Another ward member, who sang professionally, helped calm my nerves and provided feedback as I prepared for a terrifying vocal solo. My whole life, from Primary to Young Women and beyond, I have been blessed to see women bend down and lift and elevate the sisters coming up behind them with the talents they have developed both in and out of the Church. As I reflect on these experiences, I hope that I won't be guilty of just "writing and talking about" the importance of encouraging girls and women to reach for great things, but that I can pay forward the encouragement of other women I have been so lucky to receive and, like Babcock, become a woman of action.
[1] Sharon A. Ratliffe, Maud May Babcock , President of the National Communication Association, 1932, Review of Communication, 5(1), 56-62, available at https://www.natcom.org/uploadedFiles/About_NCA/History/Womens_Leadership_Project/PDF-WomensLeadershipProject-Maud_May_Babcock.pdf
[2] Ann Engar, Utah Education Network, Maud May Babcock, available at http://www.uen.org/utah_history_encyclopedia/b/BABCOCK_MAUDE.html
[3] John William Leonard, Woman's Who's Who of America: A Biographical Dictionary of Contemporary Women of the United States and Canada 1914-1915, pg. 63, available at https://books.google.com/books?id=GvwUAAAAYAAJ&pg=PA62&hl=en#v=onepage&q&f=false
[4] John S. Tanner, "Shakespeare Among the Saints," Journal of Mormon History, Vol. 32 No.1 (2006), available at http://avp.byu.edu/wp-content/documents/shakespearesaints.pdf
[5] Trent Toone, "Politicians, missionaries and mothers: 11 remarkable women in LDS Church history," Deseret News, May 6, 2014, available at http://www.deseretnews.com/top/2478/9/Maud-May-Babcock-1867-1954-Politicians-missionaries-and-mothers-11-remarkable-women-in-LDS.html
[6] "A Dramatic Leader," Utah Division of State History, available at http://ilovehistory.utah.gov/people/difference/babcock.html