YW Spotlight: Tabitha, Soccer Player & Humanitarian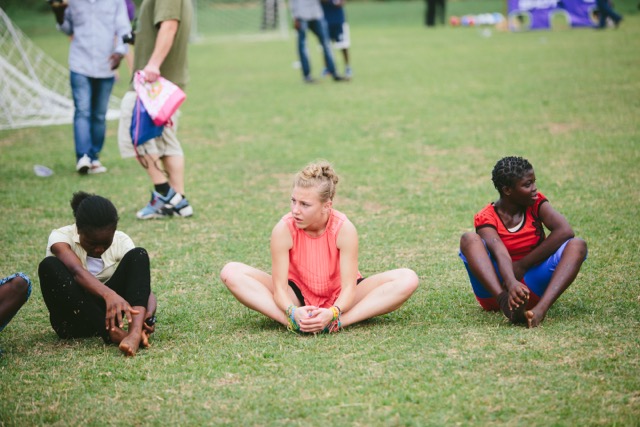 Name: Tabitha Smith
Location: Utah
Tell us a little about yourself:
I am 14 years old. I am the oldest child and the only girl. I love soccer, traveling, and hanging out with friends. I have been playing soccer since I was six. I played on my high school soccer team this year. I enjoy Young Women's and am currently the first counselor in the Mia Maids. I have a passion for volunteering. I have spent time volunteering with an organization called Families Feeding Families collecting items, taking food, hygiene kits and winter clothes to the homeless. In April 2014 I visited Nigeria with the Bridges to America program.
What is the Bridges to America Program?
The mission of Bridges To America is to provide aid to African families, in the form of food, educational resources, recreational goods, and other necessities for children. They have had several successful missions to Ghana and Nigeria and have expanded their efforts to include building a world class soccer academy, holding a national youth soccer tournament, and conducting numerous humanitarian soccer clinics hosted by young American women volunteers in Nigeria.
What was it like playing soccer in Nigeria?
We played at a local park, ran clinics, and played an official game. When we were playing at the park all of the guys there wanted to play. We passed the ball around and joggled on the dirt field. It was so much fun. We invited the girls to play but they said that they weren't allowed to. They danced instead. At the soccer clinic most of people who attended were boys but we did have a few girls come. Many of the kids that came to the clinic were missing either shoes, cleats, socks, shin guards, or all of the above. Many people came up and asked for our boots, or as we call them, cleats, and our shin guards.I felt like we learned just as much if not more from them. They were all so amazing. The boys were astonished that us girls knew how to play because they weren't used to that. The official game we played was one of the coolest experiences. Before the game we sang the U.S. National Anthem and then the Nigerian Anthem. The field was absolutely immaculate, probably one of the nicest fields I have ever played on. It was really hot all of the girls were drenched in sweat and exhausted. The way the other team moved the ball was crazy. Even though we lost it was such a fun game to play in. They were so kind to us. After the game they even threw us a party.
What do you like best about playing soccer, and how has soccer helped you in other areas of your life?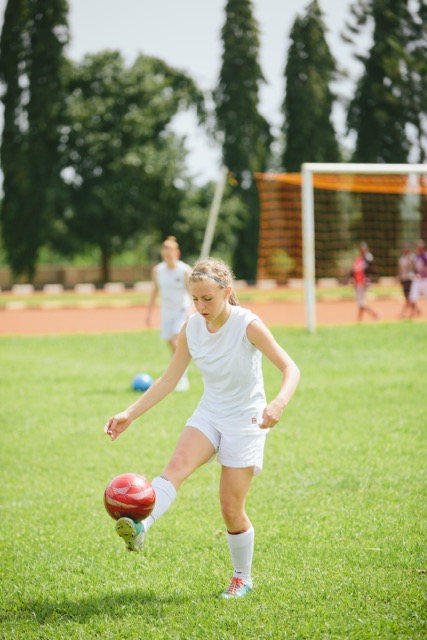 One of my favorite parts about playing soccer is my team. My team is honestly my second family. I love how eleven girls can come together and make dreams that we've had since we were little into a reality. I love how we can push each other and help each other reach our highest potential. I've really enjoyed all the people that I've met through soccer. People I never would have had the opportunity to meet if we didn't share the same passions. I've also always been very competitive and have loved competing in games and tournaments. I love working hard and achieving goals. Soccer is more than a game. It's my life. I have learned so much from it, on and off the field. I've learned that sometimes it's going to be hard and you're going to be tired and all you want to do is give up, but you can make it through because there's always "a goal at the end of the field". I've also learned that everyone has a role and that no one "position" is better than another because even if only one person is not playing their part the "team" can't "play" to its full potential. I've also learn that sometimes people are going to tell you that can't do it, or you're not good enough, or if they couldn't do it than neither can you. That is absolutely not true. You can do anything you want with enough practice and dedication. I've learned that if you work your butt off and believe in yourself nothing can stand in your way.
What led to your interest in visiting and helping girls living in Africa? Did you have any specific experiences or impressions that led you to participate?
A few years before I got the opportunity to go to Africa, my mother went on a humanitarian trip to India. I saw what a huge impression it left on her and how much it changed her perspective and her life. Ever since then I had a burning desire to serve others.
What strengths and skills do you have that have helped you reach out to girls in another country/ raise money for this cause?
I am motivated, passionate and confident. I have always loved the feeling I get when I serve others. When the opportunity to go to Africa was presented to me I knew that I was going to do whatever it took to go. I knew that it wasn't going to be easy but in the end it would be worth it.
Who has supported you while participating in the Bridges to America group?
I had so much support from everyone it was almost overwhelming. I constantly had people talking to me and asking about it. My biggest supporters by far though were my parents. They went through everything with me. My mom would go out with me in rain and snow to try to raise money. My parents were constantly pushing me and telling me that I could do anything I put my mind to. My community and everyone around me we were the ones who truly made it possible for me to go. Without them and all their generosity I wouldn't have been able to go. Everyone who helped me were really helping more than just me. They were helping the thousands of kids that were and are going to be impacted by what Bridges to America is doing.
Which aspects of participating in this group have you found most challenging?
Raising the money wasn't necessarily hard but it took a lot of time and was sometimes embarrassing and very discouraging. There were many times when I got a door shut in your face or didn't meet the goal I had set for that week. Sometimes it was very challenging just to get out the door, because it was pouring rain or snowing and I didn't feel like I had the energy to endure it. It was also hard trying to find time between everyday life, school, sports, family, and church obligations.The most difficult part was leaving the children in the orphanages. I wanted to take them home with me or somehow provide them more than what I found them with. I just wanted them to feel and know they were loved.
Which aspects of doing this work have been the most rewarding?
I think that the most rewarding part was seeing the smiles on the people's faces who we encountered and just the feeling of pure and genuine love that I felt while I was there. That is something that I can never forget and will always leave a huge impression on my heart.
What did you learn about yourself from visiting Africa and meeting girls from another country?
I learned that I am so blessed. I took almost everything I had for granted. I've learned that sometimes I think my life is hard and life can't get any worse, but it could. Everyday millions of people are starving and dying and don't know how or where they are going to get their next meal. Yet, they still smile and try to give you everything they have. Not wanting anything in return. In America being a female I can be whoever/whatever I want to be. In Africa that isn't always the case.
What are you most looking forward to doing with the Bridges to America group in the future?
I am so excited to continue working with Bridges to America because I know that it is only getting better. I can't wait to go out and help build the soccer academy.
What are your plans for schooling or employment?
I want to start out going to school studying criminal justice and eventually end up working in anti-human trafficking and modern slavery task force.
Any other thoughts or advice would you give to young women?
If this or anything like this is something you're interested in, Do it! I know it has changed my life, and will change yours too. Also sometimes life might knock you down, and it will keep hitting you even when you think you've hit the bottom. But it's just making you stronger. You're learning and you're growing and when you rise back up to the top, which I promise you will, and show the world what you are made of and what you can do it'll be amazed. Life is a lot like this trip it's hard but it's worth it. Never give up on your hopes and dreams.
You can learn more about Tabitha's trip at http://weareonebook.com