The Student Record: Amee, PhD Anatomy and Cell Biology, Specialization in Neuroscience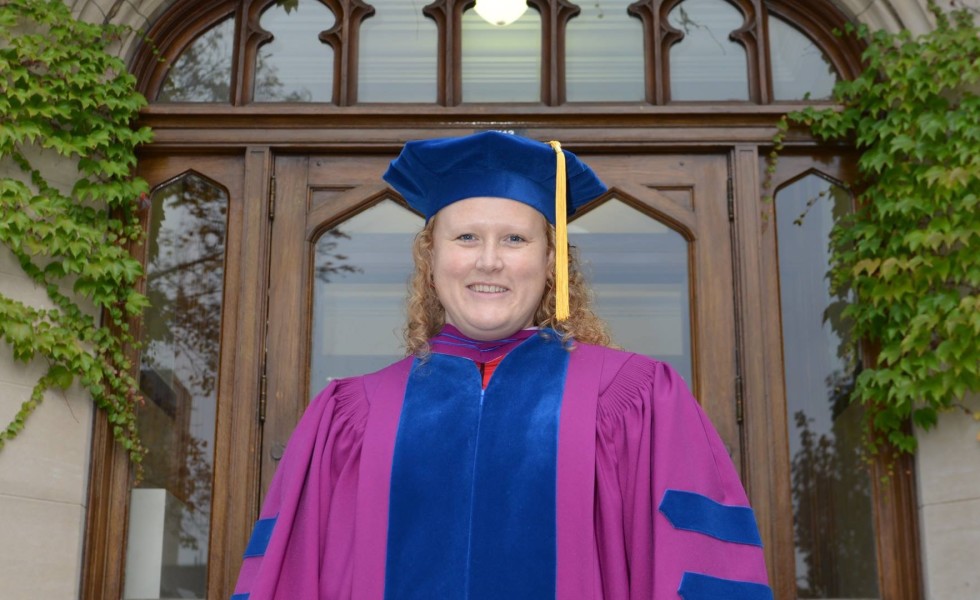 Name: Amee J Hall
School/University: University of Western Ontario
City/Location: London, Ontario
Major/Field of Study: Anatomy and Cell Biology, Specialization in Neuroscience
Marital status/children: Divorced, one child
What led you to the program that you are currently pursuing or have completed? Why did you select this major or field of study? 
I did a Girl Scout badge when I was approximately 10 years old that required me to look into future careers.  I interviewed several people at the local hospital and, at the end of my "research," I announced to my family that my plan was to be a paediatric neurosurgeon.  Even at 10 years old I was interested in the brain.
After high school, I took a couple years off education and worked.  By the time I was ready to go back to school, I was working full time as a 9-1-1 operator.  I worked the night shift full-time while going to the local community college part-time, majoring in biology.  I still wanted to learn more about the brain.  When I entered university, I quit working and used loans.  I entered the University of Texas at Dallas with a goal of going to medical school at the end of my bachelor's degree.  Within a semester of starting, I learned there was a neuroscience degree offered there.  My first course was an introduction to neuroscience and it was everything I had imagined.  I loved it and, as an added bonus, the professor was incredibly personable and engaging.  Within a month, I was volunteering in his neuroscience-based laboratory and was infatuated with research.  After completing my bachelor's degree, I moved to Canada to pursue research and completed my master's and, most recently, my PhD.
What feedback did you receive from friends, families or acquaintances about your schooling?
My family were truly my rock throughout my education.  My parents, brother, and sister-in-law were my biggest supporters encouraging me to continue even when things got really hard.  I loved being able to call them to celebrate when my most recent paper got published or commiserate when an experiment wasn't working out as planned.  In fact, about a year ago, I was so defeated that I considered quitting all together and it was my family that encouraged me and got me through that difficult time.
At the beginning of my PhD, I was married and my husband was incredibly supportive.  Four months after starting my PhD, I had my son who has been the light of my life and one of my biggest reasons to keep going.  Unfortunately, my marriage did not survive to the end of my degree and my son and I have had to go it alone for about 3 years now.  However, I am incredibly thankful for my son. He has kept me grounded so that I didn't disappear into the lab.  He can't fully comprehend what I have fought for and accomplished. We have had fun heading out to school together and having him point out: "I have a backpack just like you, Mom!"
What advice would you give to a student pursuing a similar course of study?
Upon starting my PhD I think one of the hardest things I had to learn was how to balance my work/school life with my family and church life.  All of the other students I was in the lab with were single and had no children and were putting in 16 hour days including weekends.  I was forever feeling guilty that I had to leave each afternoon, like I wasn't putting in as much as the other students.  On the other hand, when I was at work I was constantly thinking about how much I wasn't doing for my son while I was at school.  I attended church on Sundays and watched my leaders and felt like I wasn't giving enough to my ward.  I discovered that the reason I felt that way was because I was comparing myself to everyone around me.  At work I was comparing myself to the students around me.  At home I was comparing myself to the mothers I was observing at church.  At church I was comparing myself to my leaders.
I realized that I was most at peace with all aspects of my life when I let go of all those comparisons and just did the best that I could do.  Following this epiphany, I was a lot more relaxed and found I was a better student, mother, and member of the Church.
My advice for those who might be thinking about doing a similar degree would be JUST DO IT!  When I was considering beginning my PhD, I had a lot of self doubt.  I was the first of my family to have an advanced degree and everyone around me seemed so much smarter, driven, and hard working than me (see that, comparing myself again!).  I remember vividly having discouraging thoughts at the get go; I am so glad that I didn't let those thoughts stop me, because the achievement is so much better than I could have imagined!
What did you learn about yourself when you became a student?
As I look back at myself from where I sit now, I am amazed at how different I am.  Yes, I have gained a lot of knowledge, but I have also gained so many life skills that it would be hard to name them all.  I have learned how to effectively manage a project from conception to publication, how to communicate effectively using logic and reason, how to bring together multiple resources and people to achieve a single goal, and how to be a better public speaker.
All of these skills have helped me to be a better mother to my son and better servant in our Heavenly Father's church.  I have also noticed that skills I have learned through the church have improved my effectiveness at school.  Having given numerous talks since I was in Primary; I was already comfortable speaking in front of an audience. As a leader in various callings, I already had experience organizing projects and coordinating resources and people.  I am a better student because of my membership in the church and a better member because of my experience in school.
I was exceptionally lucky that my school and field were well funded compared to others.  I received a monthly stipend for my work in the lab during both my master's and PhD.  Although it was nominal at best, it was enough to survive with some help from my parents.  The only debt I accrued was a result of my bachelor's degree which was already substantial.
I never experienced, or was aware of, any bias as a woman while I was a student.  However, as a woman in a fairly male dominated field the pressure was always on to be "just as good." This field is very competitive already and the addition of being a female, especially with a child, was an added level of pressure at all times.  I think more than being a woman I received the most criticism for being religious, let alone a Latter-Day Saint.  Many times I was questioned about my beliefs, especially on evolution since I was in a science major, with a tone which implied I was naive or indoctrinated.  On the other hand, this led to many very fruitful discussions where I practically gave the first discussion many times.