How to Thrive as a Working Mormon Mom
by Alison Herzog
I went through phases growing up – one being a period where I believed I would be a doctor or a lawyer with a husband who stayed home with the kids – and the rest, believing I would be a stay-at-home mother, just like my mom.
When the time came for my first son to arrive, to be perfectly honest, I didn't know if I was returning after my maternity leave, or if I did, for how long. I thought that if the righteous thing to do was to stay at home with my child, then the Lord would provide a way. It never occurred to me that God's will for me was to keep working – but indeed it was. At first my husband and I both worked, and arranged our schedules so that we only needed childcare one day a week. When my son was a year old, I accepted a new position working for FamilySearch, the family history arm of the Church, and we made the decision for my husband to stay home full-time with our son and to begin chipping away at his degree.
It has been an incredible experience. I know there is so much mom guilt and at times, incorrect cultural barriers (some of which working moms might even self-impose), but the reality is that when the decision is made for the correct reasons, being in the workforce can be a significant thing. I can name many reasons for how it has blessed my family and myself – but the greatest blessing has actually been the impact I have been able to make at the organizations I have been a part of – both as an intelligent and educated professional – but also specifically as a working Mormon mother.
Occasionally, women reach out and want to know how it works. Here are a few of those frequently asked questions.
Q: The church teaches pretty strongly that the husband is supposed to provide for the family. How did you and your husband become at peace with your situation?
A: I'm not going to lie. My husband is taking a religion class at BYU-Idaho right now and he said after reading a section on husbands as the providers, he felt pretty lousy. But here's the thing. God is our direct source of revelation. Our religion is unique because we believe that we have personal relationships with God and that He speaks to us directly. God spoke to us directly and told us this was His will. It would be pretty hard for us to argue or for anyone who would ever question our situation when we relate that this was a direct desire of our Heavenly Father's.
Every situation is different. Sister Julie B. Beck said, "The question of whether or not to work is the wrong question. The question is, "Am I aligned with the Lord's vision of me and what He needs me to become and the roles and responsibilities He gave me in heaven that are not negotiable? Am I aligned with that, or am I trying to escape my duties?" If your answer is that you and your husband are both aligned with the Lord's vision and have faith in Him, the rest doesn't matter.
Q: How did you decide the division of labor in your home? (laundry, errands, chores, cooking, etc)
A: I have friends whose husbands also stay home with their children. One husband is a chef and loves to clean – I think their conversation was short. When we made the change for my husband to fully stay at home it meant that we had to be that much more focused on communicating. Mostly we share responsibilities. When I need him to do more, I speak up. He takes care of feeding the kids when I am at work, and when I get home, we figure out dinner together. Sometimes he cooks, sometimes I cook, and sometimes we eat out. We have learned to relax about what really matters versus what is a bonus. It would be lovely to have an always clean house and healthy meals – but I'd rather have a happy husband and happy children who I spend time with when I am home. We love Amazon Prime to make some things easier. We grocery shop together – because we like the outing. We fold laundry together in front of the television. I love that our children are very much a part of getting things done at our house and that they see mom and dad working together. I'm not saying that this is always easy – we have discussed getting an occasional housekeeper and I think we are getting a robotic vacuum. The most important thing I can say is to speak up and to let go.
Q: How did you deal with disapproval from family, friends, or ward members?
A: You know what's funny? We really haven't had any. At times, I think we have been sensitive and felt there might be judgment – but for the most part, we've actually had an incredibly positive experience. I had one negative experience – which I got over. No one trumps God. The work I'm doing is His and it is important. My family and my husband's family has been very supportive and proud of what we are doing. They are proud of my professional success, my husband's progress in his academics, and of his special role at home. Ward members have expressed how wonderful it is that he stays home and other fathers have expressed that they wish they could be lucky enough to have the same experience. If you ever did encounter disapproval, you will have to decide whether it merits acknowledgement or not. Some conversations are not worth having. The people who really matter will take the time to listen to you and understand the opportunity you have in your personal situation.
Q: Did your husband find any support groups or resources online to help him feel comfortable in his role as an at-home dad?
A: No – although, I think this is a worthwhile activity. What did help was that we encountered other stay-at-home dads when playing at our local park and I think that helped to see that there are others out there – and that this is becoming increasingly common. Again, I think that it has helped my husband to be more comfortable as other fathers have expressed how lucky he is and how they wish they could stay home also.
Q: Do you have any other advice for us?
A: Being the primary or only breadwinner in your family does not have to be something that you only survive or somehow just get through. This was an unexpected path for both of us and yet has blessed our lives and other lives in ways we never could have imagined. I'm glad God knows more than we do and that we have the ability to be guided by Him. I would not have pursued an MBA without that guidance and without my MBA, I would not have been able to make the impact that was required. My education has allowed me to engage in a career that is flexible, has higher financial rewards, and increased my ability to impact the organizations I work with. There is no perfect life but there is a right one for you. I considered myself open-minded until my situation changed and I realized I was judgmental unknowingly. It's good for us to be stretched and shaped. Focus on what matters in life, and the rest will work itself out.
If you have other questions, send them along. There is a larger network of Mormon working moms with stay-at-home husbands than you might think. We'll get them answered and help you to know you are not alone.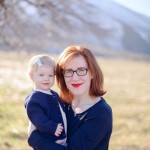 Alison J. Herzog works as a marketing director with ownership of global social business and digital marketing strategy for Dell. Her focus at Dell is on creating a customer centric experience through creation of scalable infrastructure, governance, best practices, and optimal grounds for breeding innovative thought leadership in the digital sphere. Herzog was raised in the Bay Area and southern Oregon. She received a B.S. and an M.B.A. from Brigham Young University. Herzog is married, has two children, and currently resides in Austin, Texas. Read Alison's Career Day Feature about work as a social media strategist.