Individually Adapting for our Family's Circumstances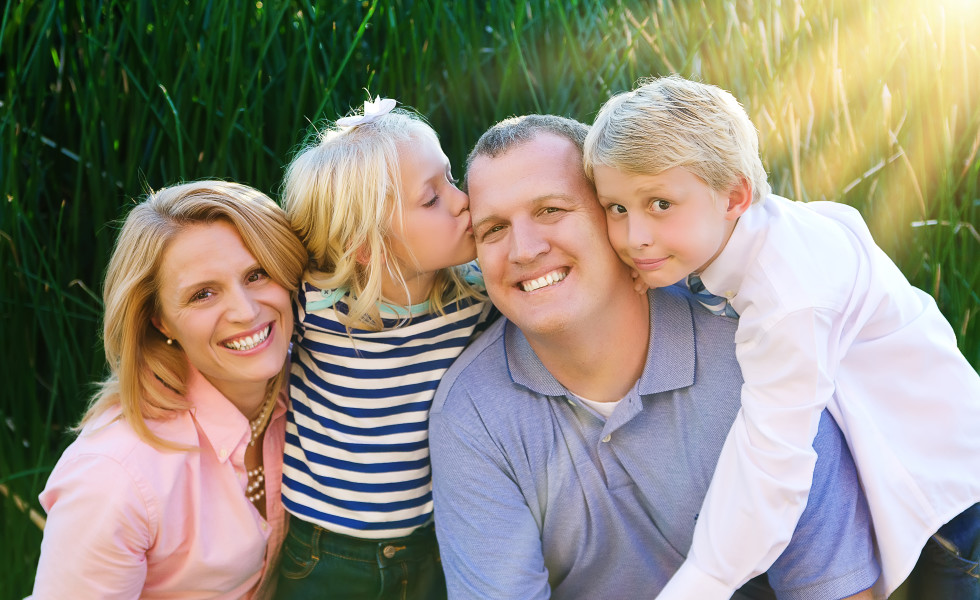 by Joanna Hadlock
I never considered myself a conventional Mormon. I always figured I'd be married with kids one day and have the stay-at-home mom life, but I guess I never really thought about the details until it was time to make the decision. After the birth of our first child, a situation presented itself and for the good of our family, we reversed parental roles. I continued to work and my husband remained home. We've had a lot of ups and downs the last nine years. I've learned a lot about myself and having faith in God's individual plan for our family.
When I found out I was pregnant, I was working as a training consultant and traveled about 90% of the time. My husband and I agreed early on in our marriage that one of us would be home to raise our kids, and I assumed that would be me. Health insurance was the reason for the decision. We learned a month before the end of my maternity leave that we didn't qualify for any type of private insurance. My husband was self-employed and starting on his second career. We had some past medical issues that were added to the pre-existing conditions list. We realized that if we had one major health crisis, we'd financially struggle the rest of our lives.
We prayed and got the confirmation. My husband and I believed me returning to work was the right thing to do for our family. We knew our decision was unconventional. We both came from homes with stay-at-home moms and we just expected we'd do the same.  I would have never imagined that my family would be what the The Family: A Proclamation to the World notes as, "…other circumstances may necessitate individual adaptation."  However, we were committed to following the answer to our prayers and the decision seemed doable.
I remember the day I got on the plane for my first business trip just a few weeks after I returned to work. I felt a wall surround me. A little piece of me died inside. I knew the decision we made would change my family dynamics and me forever. Mix that with all the parenting books, church lessons, Mormon and working mom stereotypes, and all the other personal expectations I had, and shame and guilt settled in quickly.
I knew that if I let myself "feel" what was really happening, I would collapse. The image I held in my mind and what I always felt to be the right way to raise a family was not happening, as I now took on the responsibility of the family breadwinner. I was jealous of my husband. He now got all those little moments moms talk about. I struggled to see how my new life was supposed to look and how I was supposed to feel. A weight sat on my shoulders. I wanted to provide for my family, but I had a hard time letting go. The battle I was having internally wouldn't give me permission to let my husband take on his new role, which he willingly (albeit very hesitantly) accepted. We both experienced a bit of an identity crisis.
The first year was rough. I traveled — a lot. We knew if we were going to make this work, we had to be all in. My job took me around the Western United States. I would fly out Sunday night and my husband would drive and meet me at my hotel Monday night. It was usually a 12-hour drive for him, but if it wasn't for my husband, I'm not sure I would have seen my son's first year.
At the end of the first year, we decided to move so I could have an office-based job with less travel. The new position got me off the road, but it also was a slight dip in pay with fewer travel perks.
Fast forward nine years and a daughter later, I still work for the same company and never would have imagined some of the professional successes I've had. I now have a position with work-from-home flexibility and a vice president who understands work-life balance. However, I have emotionally struggled to live up the image of what I thought I was supposed to be as a working Mormon mother.
I eventually let go of some of the small stuff. My husband does all the grocery shopping and cooking. He makes sure the kids get to doctor appointments, practices, and play dates. He volunteers for field trips, snack time, school parties, and coaching. I eventually adjusted my office days to take on the morning routine, so he could lock himself in the office to pursue his second career.
Our decision did change our family and me forever. I really wanted to be "the one family" that could make it work out perfectly. The Lord gave us this trial, opportunity, struggle (whatever you want to call it) for a reason. I wanted to prove we could come out on top. However, it's hard and I fake it or barely make it most of the time.
I try to get enough sleep each night. It's a little miracle each week when the laundry gets done. Sometimes Family Home Evening is only 5 minutes. We usually have pizza, hot dogs, or something quick at least two nights a week due to late night practices, work meetings, or church stuff.
I have mixed feelings about my professional successes. I'm grateful for the professional opportunities and choices I've had, but struggle with the knowledge that it came at the expense of my husband's ambitions. I ache when I get the call from the school that my daughter is sick but say, "Her dad will be there in a few minutes to pick her up." I feel shame that I'm getting more comfortable with missing some of those special moments.
I can't forget that my husband struggles, too. With both kids in school, he struggles to find himself again. Does he go back to work, stay home, or what? Is it time to take the big risk we put off and really push forward with his second career or is it time for me to do what is needed for the next phase of my career? As our kids get older, he's learning how the role of the stay-at-home parent changes and evolves. We feel like we're in a space between no longer and not there yet. (Thank you, Naomi Watkins, for your post During Dark Times.)
I believe the Lord put us on this path for a reason. That reason may be for me to learn more about myself; it may be for my husband or my kids. The reason may never be known in this life. The connection my kids have with their father is priceless. I hold on to that every day. My husband and I have learned a lot about ourselves, our marriage, and that there isn't a right or wrong way to raise a family, if the Lord is the one guiding you down the path. We are a team. We give and we take. We talk about our future and what matters most. This took time. It took a lot of long nights and quiet mornings to work through some of the disconnect, but in the end, we've learned to respect that we both have dreams, goals, and ideas about what we want from our personal and professional lives. The confirmation we got almost ten years ago was strong and we followed it. It hasn't been without its struggles and a few identity crises along the way, but we are on the journey together.